CPU Cooler
Reeven Okeanos CPU Cooler Review: A King in Yellow
« Test System and Benchmarks
Final Thoughts about the Reeven Okeanos

It doesn't take a true detective to know that larger surface area means better performance, but as seen in the past few reviews of dual-tower coolers, you can't judge how well a cooler will perform in terms of looks. Thankfully, after testing, guesswork is not required for the Reeven Okeanos showed respectable performance compared to the likes of other dual-tower coolers and at 4.2GHz, it actually outperformed the Noctua NH-D15S. While this can of course be partly attributed to the high RPM fans bundled which were running at 1800 RPM and 1700 RPM respectively, the noise levels are not particularly pleasant. However, the good news is that with the speed-switch attachment cables attached, the noise levels dropped below 40dBA from 45.7dBA while the performance penalty is not too severe. Even with the lowered fan speed, the Reeven Okeanos had no problems with the 4.2GHz FPU-only load unlike the Cryorig R1 Ultimate.
In terms of design and build quality, it is one of the more attractive CPU air coolers out there with a clean aluminum finished top, devoid of extra protruding heatpipe wicks. The mounting is also very secure and tight. For those concerned about LGA1151 CPU PCB warping, Reeven has also bundled aluminum washers that ease the pressure applied on the surface to circumvent this potential issue.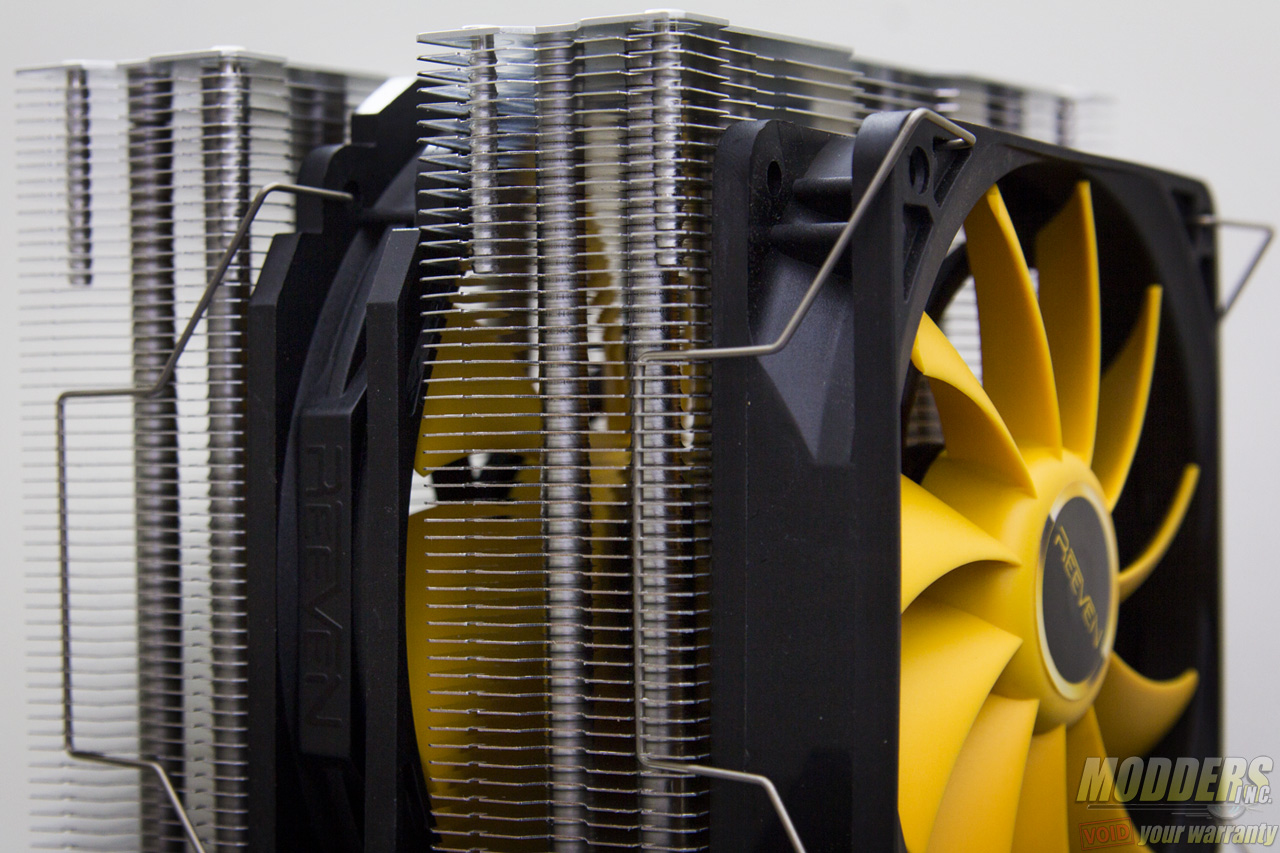 Currently at $72, the Reeven Okeanos remains competitive considering its performance and what it delivers compared to other high-end dual-tower air coolers. The use of sleeve bearing on a high-end model was a bit of a letdown as well as the fan clip attachment which was a little too loose for my liking. I actually mounted it towards the back of the fan (which latches to a groove anyway, although it's not the designated one by default) or it can be mounted with the hook of the clip on the frame toward the middle instead of the mounting hole (see photo above). Users can also just simply bend it a bit to make it tighter so that it stays put. Overall however, the Reeven Okeanos is better than most and a good alternative for those looking for a good-looking dual-tower air cooling solution.