CPU Cooler
Reeven Ouranos CPU Cooler Review: Size + Smarts
Closer Look at the Reeven Ouranos »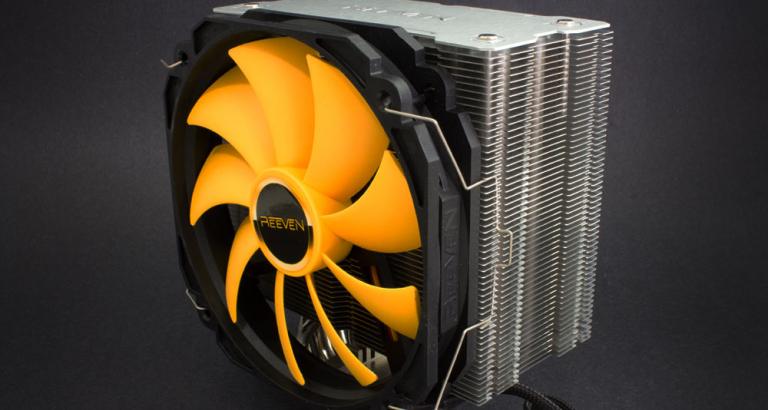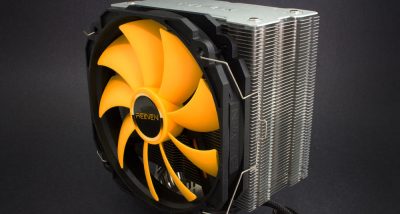 There was a time when the prevalent design philosophy for CPU cooler design was "the bigger, the better". That is no longer the case as users now look for smarter implementations that are much more convenient and functional than simply brute-force cooling. Smaller coolers present the advantage of better compatibility with various components so the latest generation of large CPU coolers have to adapt to this need while delivering the thermal performance expected of their size.
Named after the Greek god of the sky, Reeven's Ouranos answers the prayer of many who wish for a smarter CPU cooler design. The Ouranos' six heatpipe cooler's aluminum fin stack is shifted towards the back to allow for extra RAM clearance with the 140mm fan installed. This simple, yet effective change makes a big difference on the type of components that can be used on the motherboard. For upgrading or replacement convenience, the Ouranos uses standard 120mm fan mounting on its 140mm bundled fan so swapping out or adding on an extra fan is equally issue-free as well. With a pricetag of only $48, the Reeven Ouranos is poised competitively to go against many 140mm CPU coolers value-wise.
[sc:sponsor sponsor="Reeven" product_link="http://www.reeven.com/ouranos/" product_name="Reeven Ouranos CPU Cooler" product_price_link="http://amzn.to/1zRIdcq" product_price="$48″ ]
The packaging is fairly compact with a glossy full-color cover. There is not much in the way of padding inside with the heatsink and fan directly up against the side walls except for extra cardboard lining and one side is padded with the accessory box is. Dimensions and measurements are given on the box as well so potential buyers get an estimate of compatibility.
Inside, the mounting accessories are housed in a smaller box while the main compartment houses the Reeven Ouranos heatsink itself with the 140mm fan to the side. Accessories include a fold out documentation for installation, thermal compound in a packet, hex locking tool, 4x bracket nuts, 4x mounting post screws, 4x silicon washers, 1 x LGA775 backplate pad, 4x fan mounting clips, 4x plastic spacers, 1x universal backplate, a mounting bar and one universal bracket. Unlike the Hans, the Ouranos also comes with a 4-pin adapter with a resistor for lowering the fan speed.
Specifications:
Model Number
RC-1401
Socket
INTEL: LGA 1150 / 1151 / 1155 / 1156 / 1366 / 2011
AMD: AM2 / AM2+ / AM3 / AM3+ / FM1 / FM2 / FM2+
Overall Dimension
(W)143 x (H)161 x (D)95mm
Fan Dimension
140 x 140 x 25mm
Heatpipe
Ø6mmx4 + Ø8mmx2
Fan Speed
300~1700(*300~1300)RPM
Air Flow
16.3~92.4(*16.3~69.9)CFM
Static Pressure
0.002~0.091(*0.002~0.048)inchH2O
Noise Level
5.8~36.4(*5.8~24.7)dBA
Weight(with Fan)
1030g
*Equipped with SSA(Speed Switch Adapter) to lower the noise & RPM rate.