Keyboards
ROCCAT Isku+ Force FX Gaming Keyboard Review
The ROCCAT ISKU+ Force FX gives the consumer a different way to play
A Closer Look at the Roccat Isku+ Force FX Gaming Keyboard »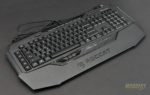 When we talk about switches with keyboards there are two main types: mechanical and membrane switch keyboard. Granted, there are more than just those however, most involve a switch. A switch (in the case of a keyboard switch) is designed to break or create the electrical contact which, means that it can only exist in either the on or off position. The Roccat Isku+ Force FX keyboard is quite different. The main portion of the keyboard is a membrane style switch but the QWEASD keys are pressure sensitive. These pressure sensitive switches do not always have to exist in the on or off position. They can be set to exist in various states in between.
Packaging, Specifications and Features
Roccat's packaging has always been very bright and colorful and the Isku+ Force FX is no different. The front of the box shows a clear graphic of the keyboard and shows a little bit of info on the features of the keyboard. The back of the box goes into more detail about the features and specifications of the Isku+ Force FX.
Inside the box, the keyboard is protected by a plastic bag designed to protect the finish and the keyboard is isolated from damage by and additional layer of cardboard on the perimeter.

Features
Pressure-sensitive key zone
recognizable as controller, with pressure-sensitive QWEASD keys
Improved RGB key illumination
enhanced lighting, 6 adjustable brightness levels
3 unique Easy-Shift[+]™ zones
for easy key duplication
36 easy-to-reach macro keys
including 3 ROCCAT® thumbster keys
Macro Live! Recording
with dedicated M-Rec button; for up to 180+ macros stored in 5 game profiles
8 configurable media & hotkeys
for quick access to more than 25 functions
Medium-height keys
with an optimum keystroke response, 1000Hz polling & advanced anti-ghosting
ROCCAT® Swarm
Swarm software suite optimized
Extra-large granular wrist rest
with newly-improved sweat- and smudge-resistant surface
Talk® FX + AlienFX™ support
lighting effects for your favorite games
Specifications
Pressure-sensitive QWEASD key zone
RGB Illuminated keyboard with 123 keys
Enhanced anti-ghosting capability
3 programmable thumbster keys
5 programmable macro keys
3 Status LEDs (Caps Lock, Easy Shift[+]™, Num Lock)
1000Hz polling rate
1ms response time
1.8m USB cable