Keyboards
ROCCAT Isku+ Force FX Gaming Keyboard Review
The ROCCAT ISKU+ Force FX gives the consumer a different way to play
« Roccat Swarm Software
Performance and Conclusion
The ISKU+ Force FX is interesting to say the least. First off, it is a membrane keyboard and the keys do feel like a membrane keyboard. They have a "mushy" feeling to them which is very similar to other membrane style keyboards. However, Roccat takes it just a little further by adding analog keys that react based on the pressure you place on them. The analog keys ditch the on/off state of the keys and can actually tell how far or hard you've pressed down on the key.
Games that use an analog style of control such as racing or flying games take on a whole new meaning. For the throttle, you can set the W key to use the range from 0 to 100% and if there's a light press on the key it may register as 25% throttle. The same type of configuration can be set for left and right. There are six keys that have the analog functionality. A similar configuration can be used for first person games. I set it so that a light press made the character walk whereas a harder press was set to run. Controlling games in this fashion does take a little getting used to but, like every change with a little practice it doesn't take long before it begins to become normal.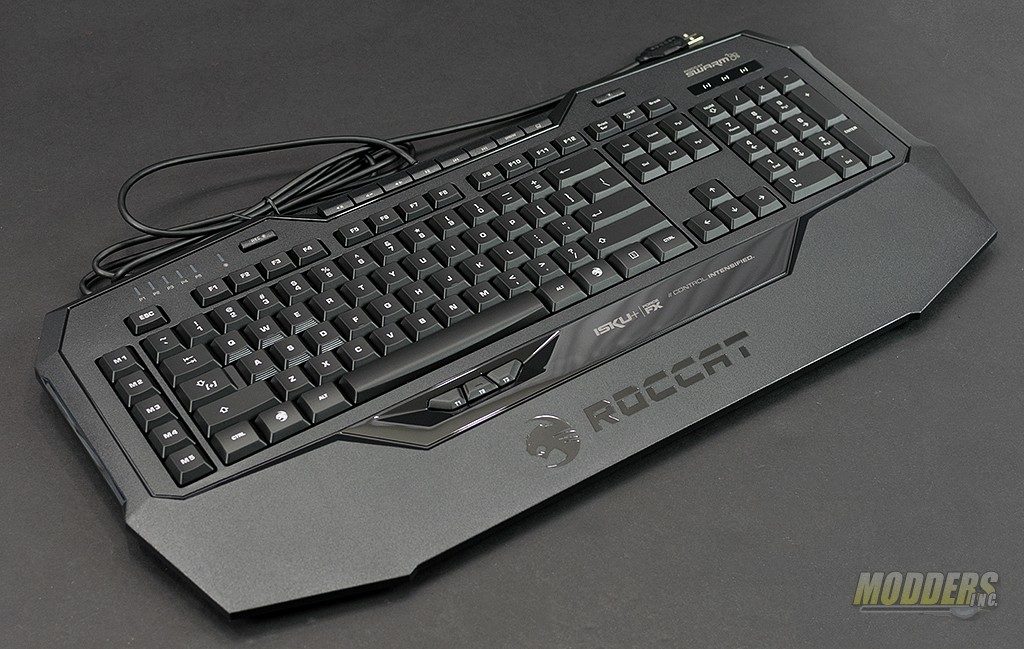 I like the ISKU+ Force FX and the technology behind it but, I feel there are a few shortcomings. As stated above, it is a membrane keyboard. Switching from a mechanical keyboard back to a membrane keyboard took a little time for me. Your results may be a little different. NKey Rollover (KNRO) is non existent on this keyboard. I could get the 6 analog keys to register all at the same time but the next keys didn't register. Through more testing I find that overall the keyboard would support 9 keys pressed at the same time. The final thing that I see as a shortcoming is the lack of a USB or audio jacks. While it's not a deal breaker, there are other keyboards on the market that offer them at a similar price point.
On the positive side, the analog keys are an awesome way to incorporate new technology into a gaming keyboard and offers a new way to play. Roccat's SWARM software gives the user the option to configure a lot of options and tweak and tune to their hearts content. There are plenty of macro keys and with the Easy Shift+ many more macros can be assigned to the keys. After I got used to switching back to a non-mechanical keyboard, I found that typing on the ISKU+ Force FX was comfortable as well.
At $85.00 USD the ISKU+ Force FX isn't the cheapest keyboard on the market but it is not the most expensive either. I think that it offers a decent price for the analog tech inside. I'm excited to see where the next generation of this keyboard will go. Maybe we will see some type of hybrid mechanical/analog switch. The ISKU+ Force FX gives the consumer a different way to play and offers up options to using a standard game controller.