PC Power Supply
Rosewill Photon and Quark 550W PSU Overview: Affordable Power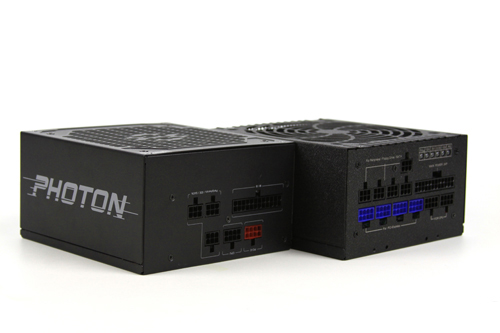 While many companies may offer a vast selection of hardware to choose from, Rosewill's product portfolio is able to dwarf the best of them with a range that spans basic hand tools and peripherals to household and kitchen equipment. They are mostly known in the DIY PC market for their enclosures and power supplies however whose relative affordability, reasonable accessibility and practical functionality have earned them multiple awards. Just from their power supply series alone, Rosewill has released almost two dozen different series. Of which the most notable series are the Capstone and Lightning series Super Flower units.
Down to the more affordable spectrum, Rosewill offers two different 550W fully-modular power supply units from two different series. The Quark 550W PSU is an 80-Plus Platinum single rail unit with a diagnostic LED indicator while the Photon 550W PSU is an 80-Plus Gold single rail unit. Other than the obvious and physical, pointing out what differentiates the two will require a closer look.
[sc:sponsor sponsor="Rosewill" product_link="http://www.rosewill.com/catalog/product/view/id/1624/#product_tabs_Overview" product_name="Rosewill Quark 550W Power Supply" product_price_link="http://amzn.to/1Sa20ze" product_price="99.99″ ]
Quark 550W: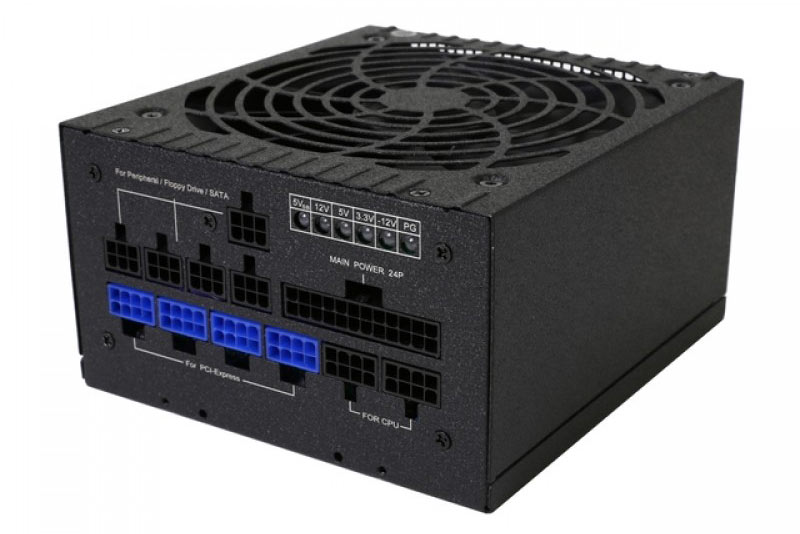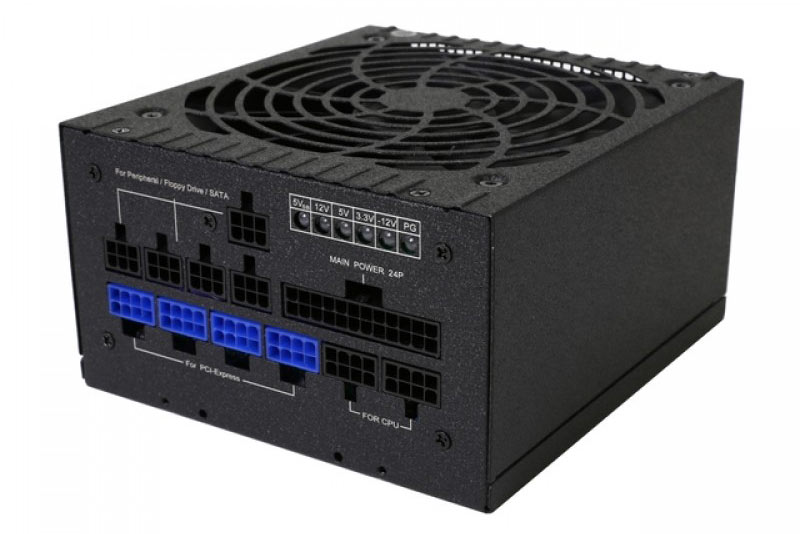 AC INPUT
100 ~ 240V | 8 – 4A | 60 – 50Hz
DC OUTPUT
+3.3V
+5V
+12V
-12V
+5VSB
20A
20A
45A
0.3A
2.5A
100W
540W
3.6W
12.5W
TOTAL POWER
550W
[sc:sponsor sponsor="Rosewill" product_link="http://www.rosewill.com/rosewill-photon-550-photon-series-550w-fully-modular-power-supply-80-plus-gold-certified-single-12v-rail-intel-4th-gen-cpu-ready-sli-crossfire-ready-1.html#product_tabs_Overview" product_name="Photon 550W" product_price_link="http://amzn.to/1QzjveF" product_price="79.99″ ]
Photon 550W: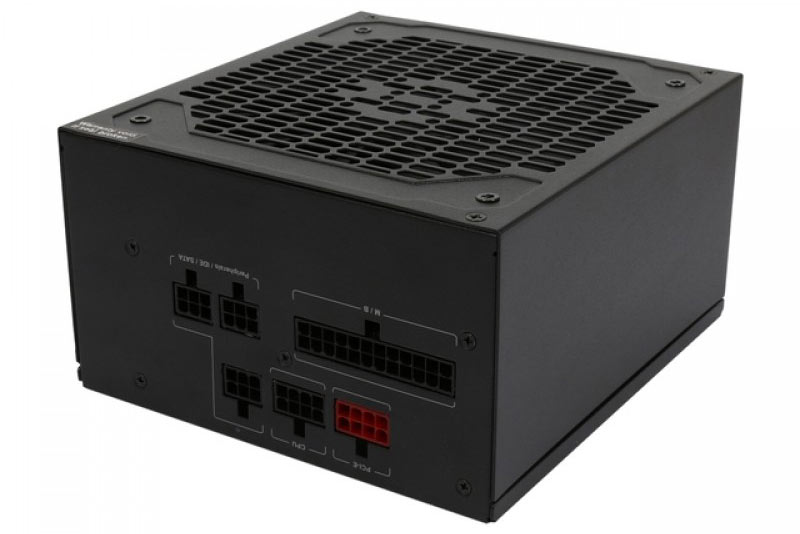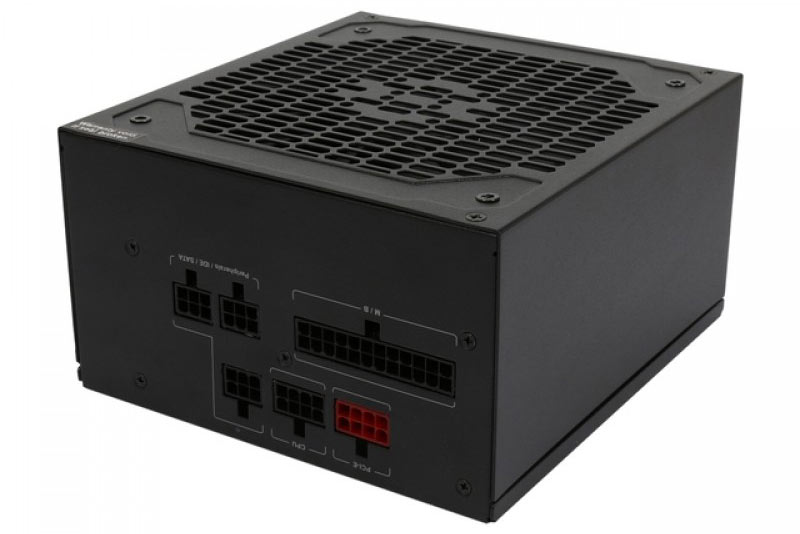 AC Input
100 ~ 240VAC 8A 50/60Hz
DC Output
+3.3V
+5V
+12V
-12V
+5VSB
20A
20A
45.9A
0.3A
3A
105W
550W
3.6W
15W
Total Power
550W
Packaging and Accessories
The packaging is almost identical for both units although the Quark has a notable green accent inside the sea of black while the Photon's corners have a tapered, framed look that is also present on the enclosure design of the unit itself. The table of power values are available at the back as well as a list of features with the same design layout. Both are similarly packed inside as well with the modular cables stored in its own labeled bag to the right side.
The differences being to be more noticeable with the cables as the Photon (left) uses flat ribbon cables except for the 24-pin while the Quark have the typical rounded mesh sleeved cables. Zipties for cable management and screws for mounting are also included.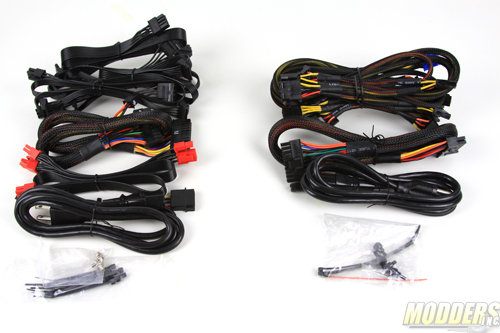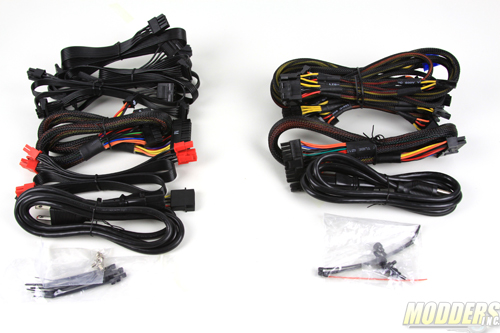 Photon
Quark
1x 20+4-Pin Main Connector
1x 4+4-Pin ATX12V/EPS12V Connector
2x 6+2-Pin PCI-E Connector
6x 5-Pin SATA Connector
3x 4-Pin Peripheral Connector
1x 4-Pin Floppy Connector
1 x 20+4-Pin Main Connector
1 x 4+4-Pin ATX12V/EPS12V Connector
2 x 6+2-Pin PCI-E Connector
6 x 5-Pin SATA Connector
4 x 4-Pin Peripheral Connector
1 x 4-Pin Floppy Connector
The Photon measures 87 x 150 x 160 mm (H x W x D) while the Quark measures 86 x 150 x 160mm so they are nearly identical in terms of physical dimensions with the exception of a the Photon being a millimeter taller. Although both power supplies are similarly dark colored, the Quark has a more prominent texture feel. The Photon has less connectors with only one 8-pin for PCI-E, three 6-pin for peripherals and an 8-pin for the EPS12V as well as the 24-pin motherboard header. The Quark has five 6-pin peripheral headers, four 8-pin PCI-E connectors, two 8-pin EPS12V connector and the 24-pin main connector. It also features a voltage debug and power good status LED for quick troubleshooting.
Both power supplies have punched out grills, although their patterns are different. The Photon uses an elongated honeycomb mesh while the Quark has a rounded grill with eight curved struts across it.
Both use a 140mm fan but the Quark uses a Yate Loon D14BH-12 ball-bearing fan which can run up to 2800RPM and push up to 140CFM at 48.5 dB. The Photon uses a more budget oriented Globe RL4Z S1352512HB which can run up to 2000RPM and push up to 123CFM at 44.1 dB. The "S" in the beginning of the model number means that this uses a sleeve bearing rather than a ball-bearing fan.
Exhaust air is pushed through the rear which is a full honey-comb mesh cover for both PSUs, although the power plug and switch placement is different.
Internally, the Quark is revealed to be an Enhance unit. One X-caps and two Y-caps are on the line filter continuing on to two coils, two Y-caps and TVS diode. A Champion Micro CM6502S is used for the active PFC. The electrolytics are Nippon-Chemicon capacitors inlcuding the primary 450v.
The Photon on the other hand is a High-Power OEM unit. Line filtering also has one X-cap with two Y-caps and continues on to two more X-caps, two more Y-caps and a pair of coils. The primary capacitor is verified to be Japanese as well, this time from Rubycon.
There is good value here considering the components. The price difference between the two can vary depending on availability but it is usually around $20 between them. Even at only 550W Platinum, the Quark unit provides a great bang-for-buck feature wise while the Photon despite being more value oriented surprisingly uses Japanese capacitors unlike other manufacturers whose rationale is that Taiwanese capacitors are practically "good enough" for units in this price range. The sleeve bearing fan however is where concessions were made to keep the price lower unlike the Quark which uses ball-bearing Yate Loons. Nonetheless, both are fully modular (although with varying degrees of flexibility) with practical advantage such as longer cables at 600mm for regular system builders who are assembling in a larger enclosure or just for cable management's sake.