« Fan Noise Temperature and Overclocking
Final Thoughts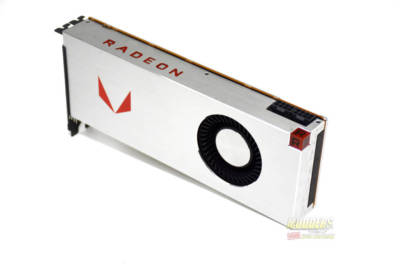 Although this is technically a reference PCB, the design of the RX Vega 64 Limited Edition for Sapphire is undoubtedly an improvement over the plastic shroud of the reference card. The brushed aluminum finish on the shroud and back plate looks great. It's one of the cases where less is more. There may not be any RGB lighting on this card, and I'm thankful for that. The illuminated Radeon logo and GPU Tachometer have the only LED lighting on this card. This compliments the simplicity of the cards design and works well. I do like that you can change the LED color from red to blue with the flip of a switch, or even turn the LEDs off without the need for software.
The card performed well. Game play was very smooth, with few dips here and there. One thing of note was the minimum frame rates. Except for Hitman in DX12, the games seemed to have higher minimums than I've recorded with many other cards. The RX Vega 64 LE is a great card for 1080p gaming. Even in 1440p, several games stayed well over 60 FPS including Shadow of War and Battlefield 1. Both are very graphically intensive titles. Rise of the Tomb Raider was even able to average over 60 FPS in 4k.
All that's great, and if they card was priced a bit more aggressively, it could be a great option for gamers in need of an upgrade. If sold at its MSRP of $499,99 USD, this card is a solid option, more so if caught on sale. At the time of this review, the Sapphire RX Vega 64 Limited Edition is priced at $569.99 USD on Newegg. That's come down from the $699.99 the card was priced at launch. But, it's still seems a bit high when its performing slightly better than a GTX 1070. There are still reasons to purchase this over a green team card. AMD still has 3 DisplayPort's on their cards. Nvidia is pushing the VR ready configuration at the expensive of a DisplayPort being exchanged for an HDMI port. Also, the only way to get a card with HBM memory is going with an AMD card, for now. So if price to performance doesn't factor into your decision when buying a card, the RX Vega 64 LE is a viable option that I'd recommend, even if not the best.