« Introduction
|
A Closer Look at the Sapphire RX Vega 64 Limited Edition-Internals »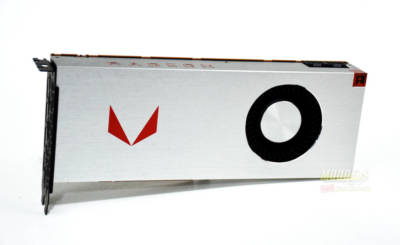 The RX Vega 64 Limited Edition measures 272 mm x 112 mm x 40. Its an averaged sized, 2-slot card. The RX Vega 64 Limited Edition looks identical to the Frontier Edition with one exception. The Frontier Edition has a blue shroud where the RX Vega 64 Limited has a brushed aluminum finish. The cooler is a single fan, blower style cooler. The front of the card had the Vega V logo next to the single fan. The side has the RADEON branding on the side, and it lights up red. The RX Vega 64 Limited Edition is powered by 2 x 8-pin power connectors This card requires a 750-watt power supply and is capable of drawing upwards of 600 watts from the wall.
The mounting bracket on the card is all black and looks great on the brushed aluminum finish of the card. The card has a single HDMI port and three Display Ports. The underside of the GPU, where the PCIe connection is, is where you'll find the model and serial numbers as well as the multiple certifications of the card. Further down the card we find a small black switch. This is the bios switch. Since the RX Vega 64 Limited Edition is a dual bios card, this switch makes it easy to swap between the two bios.
There is a red cube on the corner of the card. Like on the packaging, this cube has a black R printed on all visible sides. Above that is the dual 8-pin connectors. Just above the power connectors is something unique and interesting. This card has a GPU Tachometer. A series of LEDs show GPU usage. On the back plate, near the GPU Tach, there are 2 dip switches. The first one turns the GPU Tach on or off. The second changes the color of the GPU Tach LED from red to blue.
The RX Vega 64 Limited Edition comes with a very attractive back plate. Like the rest of the card, the back plate has a brushed aluminum finish. The back plate is vented to help dissipate heat. There is also a cut out for a bracket. This bracket secures the cooler at the four corners of the GPU die. Six screws attach the back plate to the PCB. Underneath the back plate, there are several foam rubber pads that keep the back plate up off the PCB.