« A Closer Look at the Sapphire RX Vega 64 Limited Edition-Internals
|
Real World Benchmarks »
Test System
Core I7 7700k at 5.0 GHz
Sapphire RX VEGA 64 LIMITED EDITION
AORUS Z270X Gaming 5 Motherboard
32 GB of G. Skill Trident Z DDR4 3200 MHz CAS 14
Swiftech H320 X2 Prestige AIO Cooler>
1 TB Samsung 850EVO M.2 SSD
Enermax 1350-Watt Platimax 80+ Platinum PSU
PrimoChill Praxis Wetbench
To keep things consistent, I do all testing on my standard test bench with a 7700k running at 5.0 GHz. I keep the ambient temperature at 21°c, or about 70°f. I do this to get the accurate results possible. To get idle temps, I let the PC idle for no less than 30 minutes before recording the idle temps. The stock boost clock speed of the RX Vega 64 Limited Edition is 1546 MHz. All synthetic and real-world benchmarks are run at the cards stock clock speeds. The exception to this is 3DMARK Firestrike and Time Spy. Both of these programs are run with the card overclocked and are used to validate the overclock.
Synthetic Benchmarks
Synthetic Benchmarks
3DMARK Firestrike
3DMARK Time Spy
Unigine Heaven
FurMark
3DMark is a computer benchmarking tool created and developed by Futuremark used to determine the performance of a computer's 3D graphic rendering and CPU workload processing capabilities.
The Heaven Benchmark is a DirectX 11 benchmark designed to stress your GPU under heavy loads. The Heaven Benchmark can be used to determine the stability of a GPU under extremely stressful conditions. I ran the heaven benchmark with the Sapphire RX Vega 64 LE on a custom Preset, Ultra Quality, Extreme Tessellation, AA X8, in 1080p using the DX 11 API. With these settings, card received and overall score of 2100 with an average FPS of 83.4, a minimum or 34.8 and a maximum if 179.1. Although this card is scoring around where a reference 1070 scores, I will note that the minimum FPS is on the higher side for most of the cards I have tested.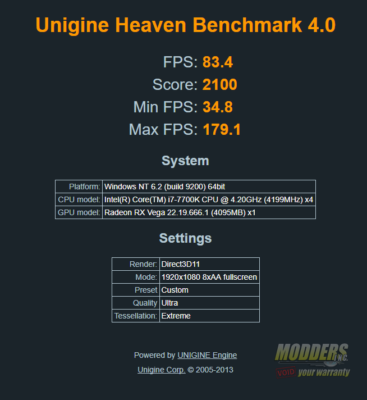 FurMark is a very intensive OpenGL benchmark that uses fur rendering algorithms to measure the performance of the graphics card. Fur rendering is especially adapted to overheat the GPU and that's why FurMark is also a perfect stability and stress test tool for the graphics card. I ran FurMark on its 2560 x 1400 preset. The test runs for about five minutes. The RX Vega 64 LE hit a max temperature of 87°c. For a single fans, blower style card, that's not terrible.