« Test System and Benchmarks
Final Thoughts about the Scythe Mugen 5

After being so impressed with Scythe's Ninja 4 heatsink reviewed last year, finding a superior CPU cooler was something I had not even considered. When word came out that Scythe would be releasing an update to their flagship Mugen line, naturally my curiosity was piqued. The Scythe Ninja 4 outperformed everything when it came to lower CPU temperatures but it was not without its faults. Most of its impressive cooling capability came from its massive size which had some clearance caveats to consider. It also came bundled with a sleeve bearing fan, which although performed well as a relatively silent fan in PWM mode (or in medium or low presets), it tops out at 1500 RPM registering a 43.5 dBA noise level.
The Scythe Mugen 5 on the other hand does not have any of those faults. While it is still a chunky bodied CPU cooler, the heatpipe offset takes care of the clearance issues with the DIMM slots and it is also only 130mm wide with a fan installed, so it will not interfere with PCI-E graphics cards even those with a backplate when installed on a micro-ATX or mini-ITX motherboard.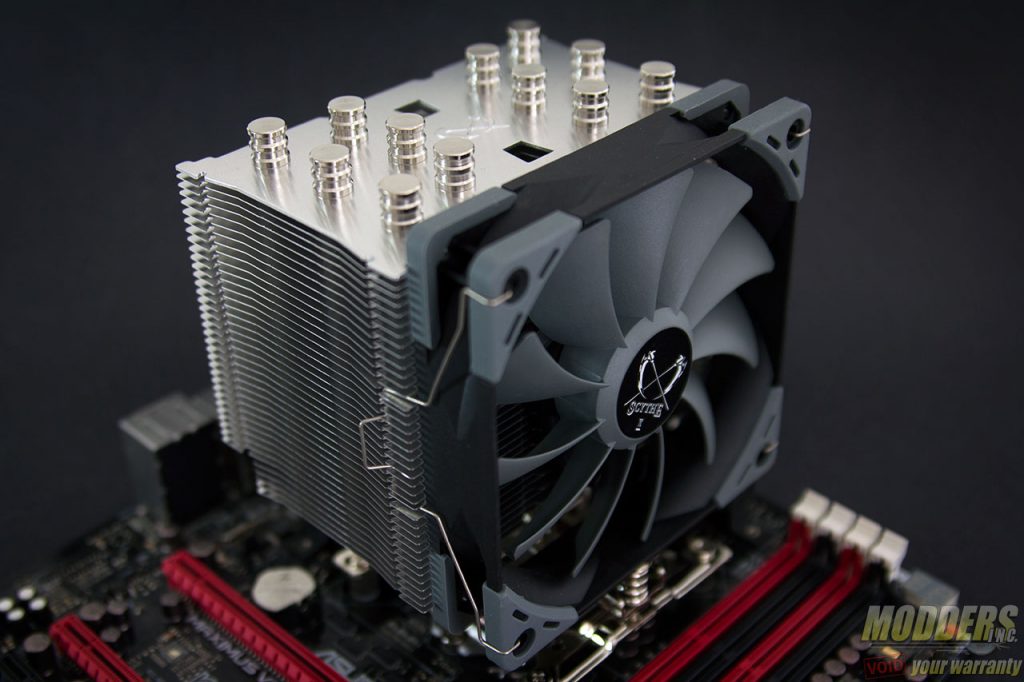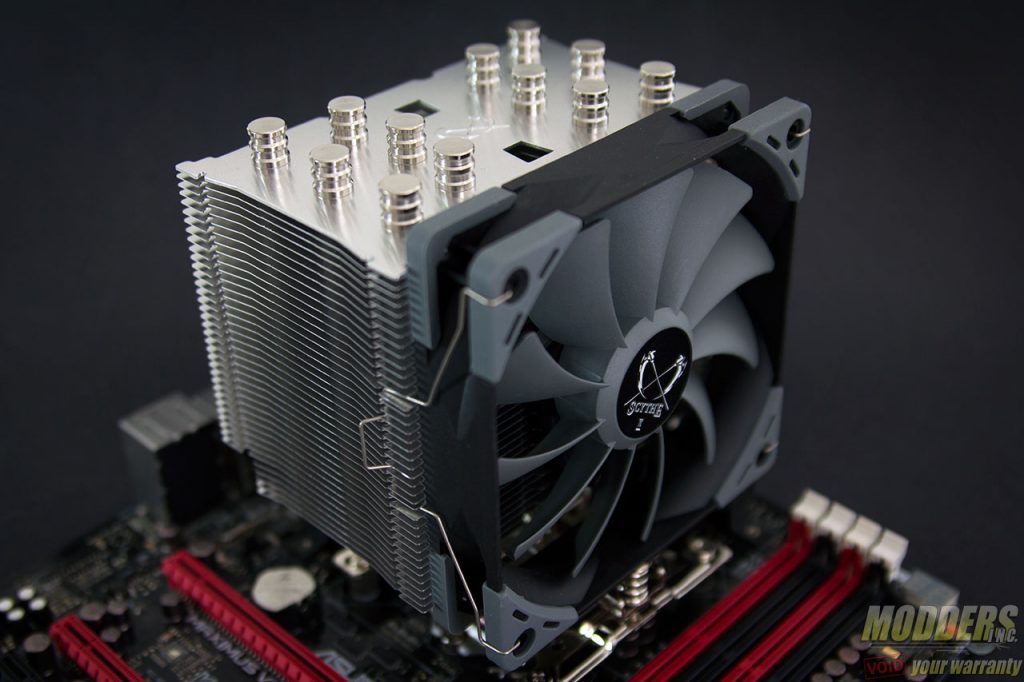 The new Scythe Kaze Flex 120 PWM fan with the latest generation fluid dynamic bearings steals the show however with its incredibly silent performance. It only ramps up to 1200 RPM registering 37.7 dBA and it really does not need to operate faster to perform well. That is the most silent max RPM CPU cooler fan I have tested. Even quieter than be quiet!'s fans so that is quite impressive. Even more impressive by the fact that it operates well below 1200 RPM in PWM mode and is virtually inaudible most of the time. The fluid dynamic bearings also means that it has a longer operating life than the Scythe Ninja 4's sleeve bearing GlideStream fans. The Kaze Flex 120 PWM fan just operates much more smoothly than anything out there. Needless to say, it easily earns the Editor's Choice award, even before factoring in the fact that its MSRP is only $42.99. That prie is lower than even most mainstream CPU coolers that are not nearly half Scythe's quality, performance and silence.
It won't be much of a review if I just gush about how great it is though and as a reviewer I have to find something to criticize as nothing is truly without fault. Scythe's mounting system is incredibly intimate with the CPU integrated heat spreader applying a lot of pressure. In fact I only needed to secure the screws on the mounting bar partly through and the performance delta with a thoroughly secured mounting bar is indistinguishable. While the mounting bar screws are spring loaded, I am not as comfortable with securing it thoroughly through on a Skylake or Kaby Lake CPU as much as I am with a Haswell or older CPU.