Packaging »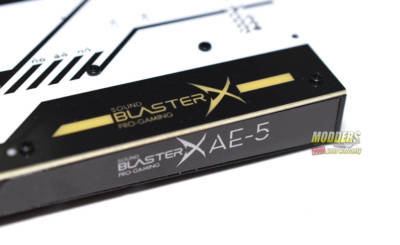 Over the last few generations, motherboard manufacturers have really stepped up the onboard audio on their motherboards, especially on the higher-end boards. This has sparked a debate in the community on whether an add-in sound card is even necessary anymore. Well, if you ask the guys over at Creative Labs, makers of Sound Blaster products, they would say the answer is a firm yes. Many enthusiasts, myself included, would agree with them. However, being an audiophile, I demand the best audio quality when listening to anything. So, where onboard audio has gotten better, an add-in sound card can create a much more immersive listening experience with crisper, cleaner sound that onboard audio just can't match. So, if you're like me and want the best possible audio experience, you want to go with the best. On deck for review is the Sound BlasterX AE-5, Hi-Resolution PCIe Gaming Sound Card and DAC with RGB Aurora Lighting System from Creative Labs.t.
To many people, a sound card is a luxury item or something you buy when your onboard audio dies. The goal of this review is to change peoples thought process a bit. I want to try and show the benefits of using an add-in sound card. To me, a sound card isn't a luxury, it's almost a necessity. A good sound card can help to immerse you in the game you're playing, the music you listen to and the movies you watch. We're going to put my theory to the test against the ESS SABRE reference DAC on the AORUS Z370 Gaming 7. So, let's see how the two compare.
Review Sample Provided By: Creative Labs
Product Name and Website: Sound BlasterX AE-5
Product was given in exchange for work to produce review.
SPECIFICATIONS
Power
PCIe bus power, +5V for Aurora lighting (requires 4-pin Molex peripheral connector from PC power supply)
Audio Technology
Dynamic Range (DNR)
Connectivity Options (Main)
1 x TOSLINK Optical Out, 1 x 1/8″ (3.5mm) Mic In/Line In, 1 x 1/8″ (3.5mm) Headphone/Headset Out, 1 x 1/8″ Front Out, 1 x 1/8″ Rear Out, 1 x 1/8″ Center/Sub Out
Connectivity Options (Accessory)
1 x Front Panel Header, 1 x RGB LED Header (support 5V RGB strips)
Headphone Amp
Supported Headphone Impedance:
Audio Technologies
Supported Operating Systems
Windows® 7, Windows® 8, Windows® 8.1, Windows® 10
Dimensions
SYSTEM REQUIREMENTS
Windows
Intel® Core™ i3 or AMD® equivalent processor
Intel, AMD or 100% compatible motherboard
Microsoft® Windows 10 32/64 bit, 8.1/8.0 32/64 bit, Windows 7 32/64 bit
1GB RAM
>600 MB of free hard disk space
Available PCIe slot
PACKAGE CONTENTS
Sound BlasterX AE-5
1 x LED Strip (30cm/10 LEDs)

4 RGB LED Strips with the Pure Edition

1 x Extension Cable
Quick Start Leaflet
Warranty Leaflets
WARRANTY
1-year Limited Hardware Warranty
DOWNLOADS