« A Closer Look at the Sound BlasterX AE-5 | Software and Benchmarking »
Subjective Testing and Hardware.
The Headphones I used for testing were the Sennheiser HD598. Although they are not studio-grade headphones, they are far from cheap and sound great. My current speaker set up on my PC is a Sony SA-CT60. This is a 2.1 surround sound bar with a 60-watt powered subwoofer. It connects to the SPDIF on the sound card or motherboard.  However, since it hooks up through SPDIF, has a built-in amp and uses a powered subwoofer, it basically sounded the same on the Gaming 7 and the AE-5. At least, to me, it didn't sound much different.
Headphones
For any kind of audio review, I have a set method I usually use. I listen to a mix of different music genres. One example is the Eagles Hotel California. Reason being, its what I listened to when I tested Sennheiser's $55,000 Orpheus Headphones at CES. I then listen to a few random songs on my playlist. This usually consists of some Disturbed, Sublime, and Tupac. I always watch the same movie for testing audio hardware of any kind.  My movie choice is always Black Hawk Down, which won the Academy Award for best sound in 2002. It offers the perfect balance of highs and lows, as well as excellent surround sound. It's in my opinion, the perfect movie for testing any audio equipment. With the AE-5's virtual 5.1 surround sound feature, this movie was a great choice for testing.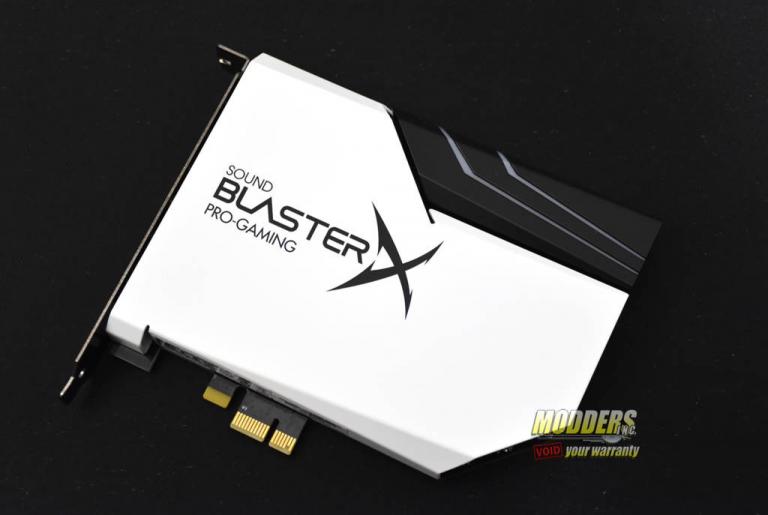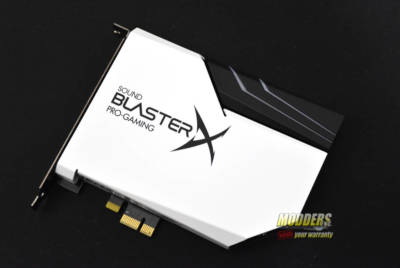 I used the Sennheiser HD 598s more than the soundbar. Reason being, this is how I consume most of my content. While editing pictures, I listen to music, TV shows or movies. I compared the sound for the AE-5 to the onboard audio on the AORUS Z370 Gaming 7. The onboard audio on the Z370 Gaming 7 is actually very good. The Gaming 7 sports a 121dB SNR AMP-UP Audio with ALC1220 & High-End ESS SABRE 9018 DAC with WIMA audio capacitors. We tested the Gaming 7's onboard audio in depth during the review of the Gaming 7. Both the Gaming 7 and the AE-5 have an ESS Sabre DAC. One of the differences is the AE-5 has Dynamic Range, or DNR of 122 decibels, compared to the DNR of 121 on the Gamin 7. Both support 32 bit and 384 kHz playback.  Due to the relatively similar specs, I had expected similar results. However, I was wrong.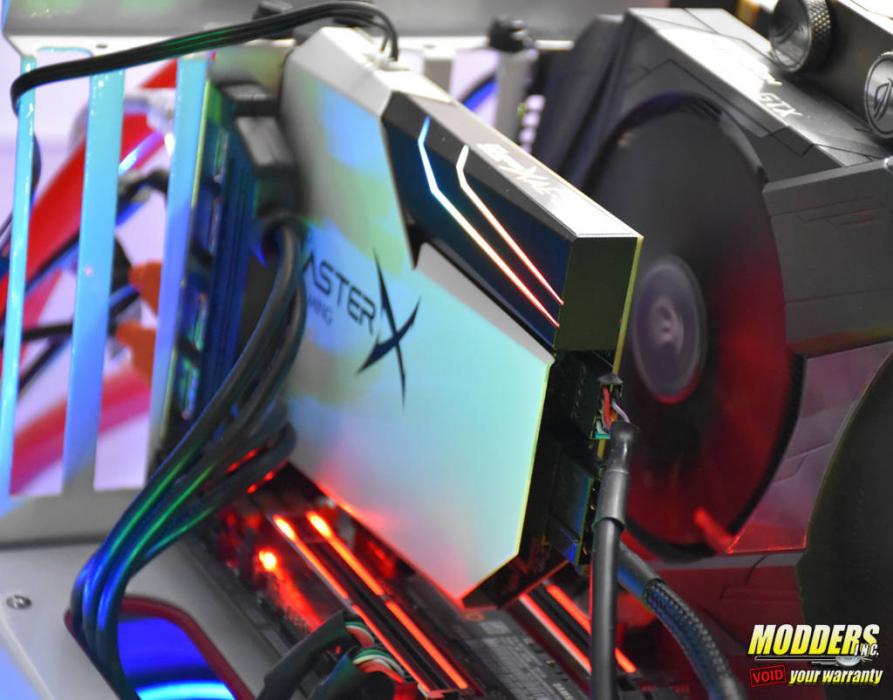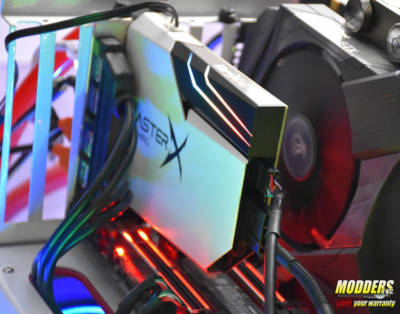 The audio on the Gaming 7 was very good. It produced clear sound, almost distortion free. However, the sound on the AE-5 was noticeably better. Especially on the headphones, the sound was much crisper, cleaner and with deeper bass and, with the proper settings, zero distortion. I big part of this is Sound Blasters XAMP headphone amp. The average headphone amp has a single amp, that powers both channels. The XAMP on the AE-5 has a discrete amp for each channel. This means the right and left driver on your headphones, each has their own amp powering them. I can honestly say, my HD 598s never sounded better.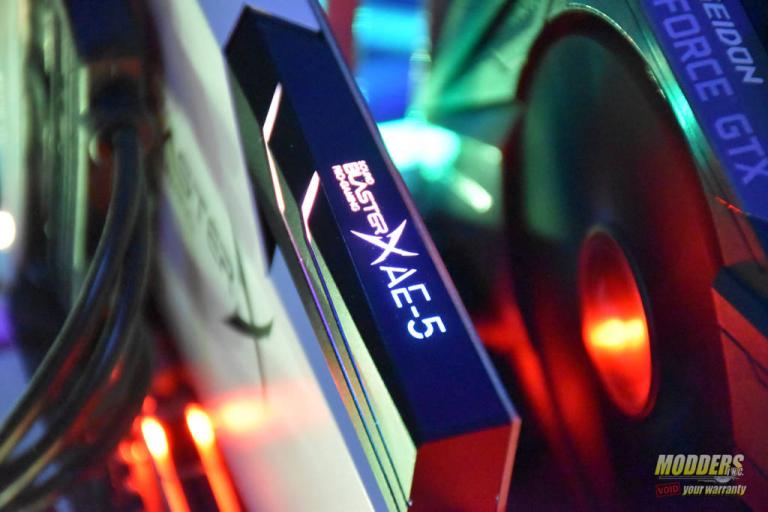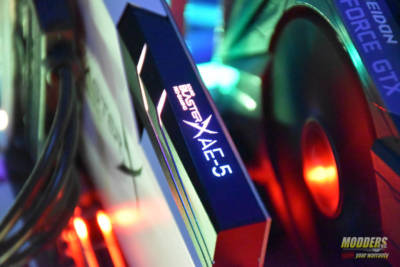 For gaming, I used Grand Theft Auto V on my HD 598's hooked up to the AE-5. Due to its open world, there are sounds all around you. From birds chirping to people conversating, to bullets flying by your head, the open world of Los Santos is great for testing audio in the game.  I had intended to treat the game as if I were benchmarking a graphics card and play for 15 minutes or so on the AE-5 and on the Gaming 7's onboard audio. However, I got so immersed in the game, I played for hours. It sounded great. I never noticed how alive the world is before. I could hear conversations all around me that grabbed my attention that I never noticed before. I spent about 45 minutes walking around the city listens to random NPCs conversations. You can hear some funny comments from NPCs.
I watched Black Hawk Down, from beginning to end, using my HD 598s. Using the Sound Blaster Connect software to fine tune the sound and enable 5.1 virtual surround sound, this movie sounded amazing. Being a standard in every audio review I've ever written, I've watched this movie several times. You can hear bullets flying by your head clear as day. There is also a 5.1 surround sound test I like to use. If you'd like to try is out, here is the link. https://youtu.be/PvnlpPWAcZc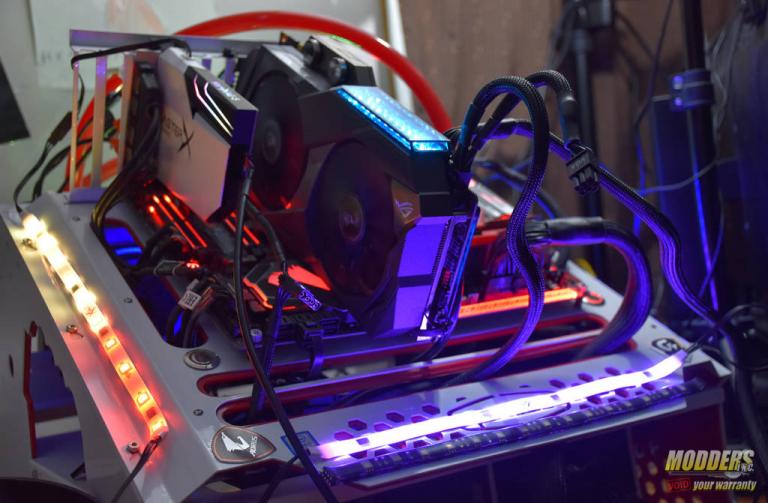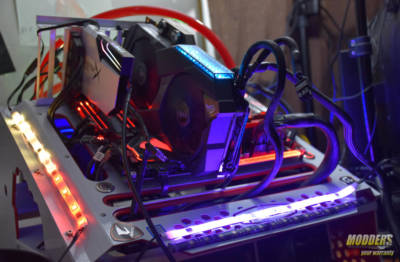 Listening to music on my HD 598s was an absolute pleasure. In the SB Connect software, I used the Stereo and the Direct settings. I preferred the stereo setting as it sounded better to me, and it was louder. I already listen to a wide variety of music as it is. Once the equalizer had been fine-tuned to my liking, I began listening to music. I have a YouTube playlist with a hundred or so songs on it. It has everything including heavy metal, Reggae, 70's Rock, Rap, Hip Hop, Pop and Grunge Rock. One issue I always have with headphones when listening to rap is distortion for too much bass. When hooked up to the AE-5, this was not an issue. The equalizer in the SB Connect software was a big part of this. Also, the XAMP was also a contributing factor. Heavy metal is another genre that tends to give me issues with headphones and distortion. I listened to several songs from Disturbed with no issues. No matter how loud I turned up the volume, it sounded crisp, clean and clear. For all types of music, the AE-5 provided an excellent listening experience. The sound produced by the AE-5 was noticeably better than the sound put out by the Gaming 7's onboard audio.  One thing I must note is the volume. On the onboard audio, I can handle the volume on about 80% with the headphones before its too loud and bothers my ears. However, with the HD 598s plugged into the Ae-5, 50% is the highest I could handle.