SP/ Silicon Power Launches the Upgrade Solution of External Thunderbolt™ Palm Drive—Thunder T11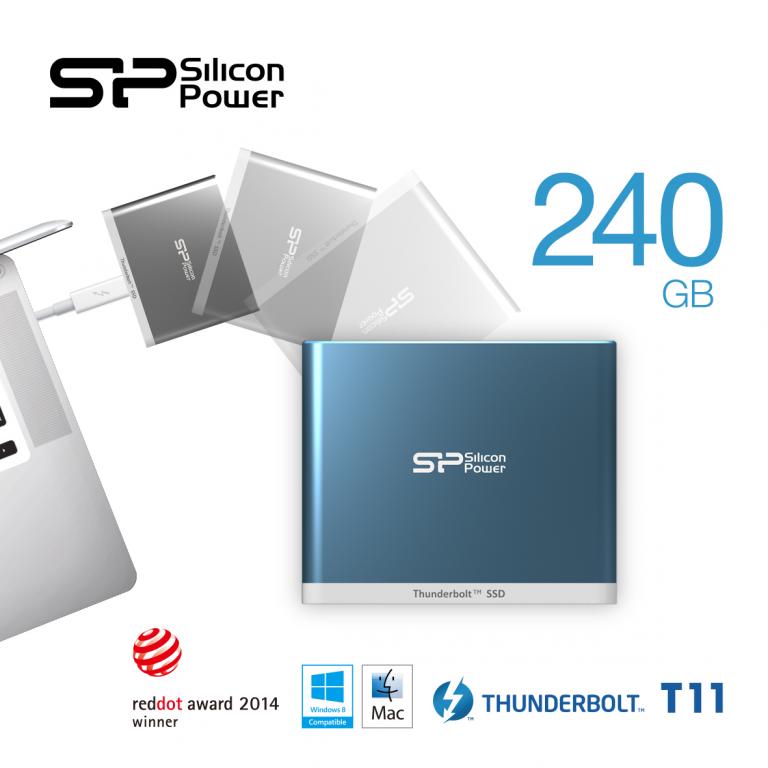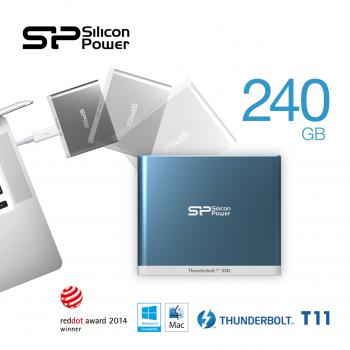 Taipei, Taiwan – April 22nd, 2014–SP/ Silicon Power, the world's leading provider of memory storage solutions, today presents the upgrade solution of its revolutionary Thunderbolt™ external solid state drive- Thunder T11 with great capacity of 240GB. In addition, Thunder T11 gets the new color variant—starlight blue to brighten up itself with more elegance and flavor. Featuring advanced Thunderbolt™ technology and exceptional product design, SP Thunder T11 has acquired great attention and support from worldwide professional designers and Apple fans since its debut last year. Thunder T11 also proved its superiority with the recognition from red dot award: Product Design 2014, which is the most influential and prestigious design award all over the world.
Beautiful yet powerful
Along with evolving technology development and increasing demands for data storage efficiency, Silicon Power introduces the pioneering Thunderbolt™ external SSD—Thunder T11, which enhances storage solution with Thunderbolt™ SuperSpeed I/O technology and delivers astonishing transfer rates up to Read/Write 380MB/340MB/sec. With such incredibly high transfer speed that is three times that of USB 3.0 HDD, Thunder T11 is ideal for professionals who attach importance to speed performance, such as photographers, videographers, video gamers and businessmen. Moreover, Thunder T11 stands out by its stunning look with extremely tiny and featherweight design. Only weighting 65g and having half the size of ordinary storage devices, Thunder T11 is not only the lightest but also the smallest Thunderbolt™ SSD on the market. Accompanied with exquisite Aluminum enclosure, Thunder T11 creates a truly hi-tech product with high fashion design and is perfect for trendy professionals on the go.
Stronger and brighter—the best upgrade package for you
In order to meet the needs for high-capacity storage devices and to satisfy users' desire for chic lifestyle, Silicon Power especially unveils the upgrade solution of Thunder T11 with higher capacity of 240GB and the brand new color choice—starlight blue. Therefore, Thunder T11 enables the whole package for users with multiple specifications of dramatically fast transfer speed, extremely large capacity, slim lightweight design and various style choices. Thunder T11 is now available in 120GB and 240GB with two color options: shiny silver and starlight blue and is covered by 3-years limited warranty. For more information, please visit the SP/ Silicon Power website: www.silicon-power.com.
Thunder T11 Product Features:
Lightest and smallest Thunderbolt™  SSD on the market
Ultra-fast data transfer speeds up to Read/Write 380MB/340MB/sec
Ideal for professionals on the go
Noise-free with the use of SSD
Bus-powered design, without the need of additional power supply
Mac OS friendly
Thunder T11 Product Specifications:
Size:74 x 62 x 15 mm
Weight:65 g
Capacity:120GB、240GB
Color:Silver、Blue
Interface:Thunderbolt™
Operating Temperature:5°C~40°C
Storage Temperature:-20°C~70°C
Supported OS:Windows 8/7/XP, Mac OS 10.3.x or later
Certification:CE, FCC, BSMI, Green Dot, RoHS, WEEE
Warranty:3-years limited warranty