« Introduction
|
H240-X Closer Look Continued »
A Closer Look at the Swiftech H240-X
Size wise, the Swiftech H240-X is 240mm and should mount using two 140mm fan mounts in a chassis that supports it. However, it is the height that may be a concern. The radiator is thin at one end then widens to house a small reservoir on the other. Make sure when planning your installation to allow for the extra height. The kit measures in at 290mm x 140mm x 115mm (including fans and reservoir).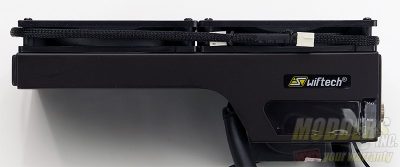 The reservoir features a window for the user to see the water level. For customization purposes, Swiftech now offers colored windows that can be ordered separately and are available in red, green, blue and clear. Our sample has the clear window installed.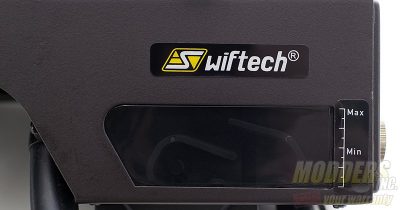 The pump and reservoir are located on the larger end of the cooler but mounted towards the front side. Looking from the back of the radiator, you can see the pump and reservoir mount in a way that prevents an additional fan in this location. So if you wanted to run a push/pull configuration, you could only have three fans installed on this cooler. The included Swiftech MPC30 pump I am told, will support another radiator and a GPU block if you so desire.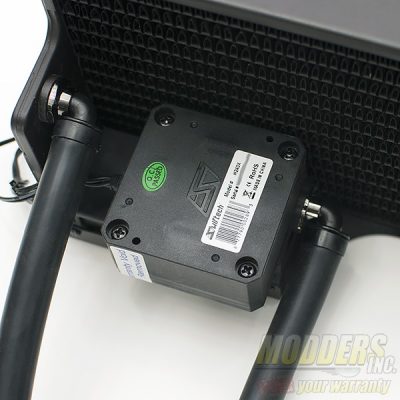 The fittings on the pump and the radiator are barb fittings and can be swapped out to G1/4 fittings. The pump will need the G1/4 compatible replacement outlet in order to mount a G1/4 compatible fitting, but the radiator will accept the fitting without any additional parts. The tubing that is included with the H240-X is 10/16mm or 5/8″ x 3/8″.
The included water block is Swiftech's very own Apogee XL. The XL features reduced flow restriction resulting in better cooling characteristics than previous models. While I haven't seen it offered, the XLC is the clear poly body version of the XL. The fittings from the factory on the water block are barbed fittings that, again, can be replaced with standard G1/4 fittings.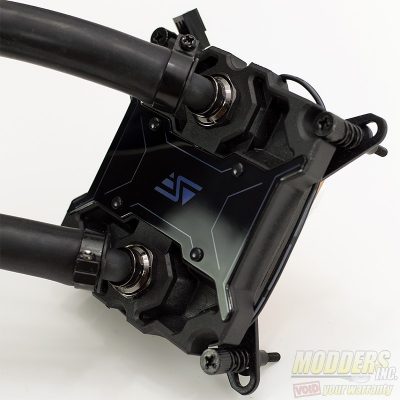 The base of the water block is machined out of one piece of copper. The base is highly reflective with very little machining marks present. Swiftech includes the mounting accessories for both Intel and AMD systems.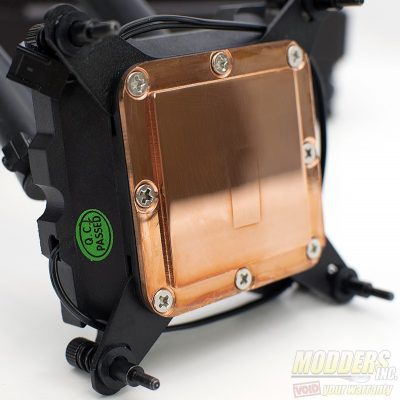 In the default configuration, the two Swiftech Helix 140mm fans are set to a push configuration. This configuration pushes the air from the outside of the case through the fins of the radiator and finally exhausting out of the bottom of the radiator and inside the case.