Closer Look at the Synology RT2600AC »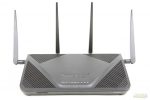 We were first introduced to Synology routers at CES 2016.  Synology's RT1900ac router was their first crack in to wireless products.  The router was a hit however, development didn't stop there.  After a year of improvements and adjustments, Synology released their second router; the RT2600ac. RT2600ac router is a quad stream router that offers up to 2.53Gbps of combined bandwidth. What makes this router to stand out in the crowd is its operating system. Synology calls it SRM which stands for Synology Router Management. SRM is a light weight OS that has very intuitive look with advanced features. You don't have to be an expert to use this Wi-Fi Router as it has a simple wizard that guides you through initial set up in just few minutes.  Not only does RT2600ac have a comprehensive set up it also has a list of advanced features such as dual WAN failover/load balancing, VPN and IPS (Intrusion Detection System).
Review Sample Provided by: Synology
Product Name: RT2600ac
Price at time of review: $ 239.95 USD
Product was given in exchange for work done to produce this review.
Packaging
As always, Synology packaging is environmentally friendly. They stepped away from full size graphic images of a product and moved on to just stickers. Both of the stickers provide just enough information about the product to keep potential customers interested. Some features and specifications are displayed on the back of the product however I feel that with all of the advanced features that RT2600ac has to offer, more information would be preferred.
The RT2600ac supports MU-MIMO. MU-MIMO stands for Multi User – Multiple Input, Multiple Output Technology.  In a nutshell, it adds more device capacity to your wireless networks however, not necessarily more speed. MU-MIMO is part of the recently ratified 802.11 AC Wave 2 standard. An average household can have more than 10 WiFi devices connected at the same time and communication in traditional wireless networks are slower because of the signal wait times.  With MU-MIMO a router can support a larger number of concurrent connected devices than in the past.
Internal packaging is as simple as the overall packaging. RT2600ac is wrapped in the plastic/anti-static bag to protect the unit from any accidental shipping scratches. Contents of the packaging is pretty simple and included are four antennas, a power supply, CAT5 cable, RT2600ac,  and a quick installation guide. The installation guide is very straight forward with very little chance of confusion.
Technical Specifications
Hardware Specifications
CPU
Dual core 1.7 GHz
Hardware Layer 7 Engine
Yes
Memory
512 MB DDR3
Antenna type
4×4 MIMO Omni-directional high-gain dipole (2.4GHz / 5GHz)
LAN port

Gigabit (RJ-45) x 4
Gigabit (RJ-45) x 3 (Dual WAN)

WAN port

Gigabit (RJ-45) x 1
Gigabit (RJ-45) x 2 (Dual WAN)

External Ports

USB 3.0 x 1
USB 2.0 x 1
SD card reader x 1 (SDXC, SDHC)

Button and switch
WPS, USB/SD eject, Power, Reset, Wi-Fi On/Off
Appearance
Size (Height x Width x Depth)
77 mm x 280 mm x 169 mm (without antenna)
Weight
0.7 kg
Others
AC Input Power Voltage
100V to 240V AC
Power Frequency
50/60 Hz, Single Phase
Power Consumption*
10.80 W (Access)
7.94 W (Idle)
Temperature
Operating Temperature
5°C to 40°C (40°F to 104°F)
Storage Temperature
-20°C to 60°C (-5°F to 140°F)
Relative Humidity
5% to 95% RH
Certification

FCC Class B
CE Class B
BSMI Class B

Wi-Fi Certification
Warranty
2 Years
Wireless
IEEE 802.11ac

IEEE 802.11a/b/g/n/ac
Simultaneous dual-band Wi-Fi
2.4GHz: 800Mbps
5GHz: 1.73Gbps

IEEE 802.11ac wave 2

MU-MIMO
2×2 160 MHz (contiguous 80 + 80 MHz)
2×2 80 + 80 MHz (discontiguous)

Beamforming
Yes
DFS
Yes
Schedulable Wi-Fi
Yes
WPS 2.0 (Wi-Fi Protected Setup 2.0)
Yes
3G/4G mobile dongle support
Yes
Maximum MAC filters
64
Maximum connected devices
100
Note

In real-world testing, at least 120 devices can be concurrently connected to RT2600ac.
Not all of the connected 120 devices are transmitting data, some remained idle.
RT2600ac supports at least 100 connected devices concurrently transmitting data.
The numbers above are for reference only. Actual performance and behavior may depend on network environment and settings.

Network
Internet connection
Dynamic IP, Static IP, PPPoE
Port forwarding
Setup via manual management or UPnP
Maximum port forwarding rules
64
Maximum UPnP rules
64
Port triggering
Yes
Maximum port triggering rules
32
Minimum port triggering timeout
30s
Maximum port triggering timeout
3600s
DMZ
Yes
IPv6
IPv6 DHCP server/client, IPv6 tunneling
DHCP
Server/client mode, client list, MAC address reservation
Maximum DHCP reservations
500
LAN/WLAN IGMP snooping
Yes
VPN

VPN server/client (PPTP, OpenVPN, L2TP/IPSec)
VPN pass-through (PPTP、IPSec、L2TP)

Policy route, Static route, Network Address Translation (NAT), PPPoE relay
Yes
Maximum IPv4 static routes
100
Maximum IPv6 static routes
100
Diagnosis tools
Management
Operating system
Synology Router Manager (SRM)
Free OS upgrade
Yes
Anywhere access to SRM
Synology QuickConnect & Dynamic DNS (DDNS)
Operation modes
Wireless Router, Wireless AP
Wake on LAN (WOL)
Yes
WOL over QuickConnect
Yes
Maximum connected devices
100
Notification
Email, SMS, push service (via DS router)
SSH
Yes
SNMP
Yes
Configuration backup & restore
Yes
User account management
Yes
Printer server
Maximum printer: 1
Parental Control
Customized Internet schedule
DNS-based web-filter with built-in database
Customized allow/block list
Setup by single / multiple devices
Maximum devices
50
Maximum blocked URLs
100
Maximum allowed URLs
100
Traffic Control
Internet ban, device speed & priority
Yes
Application layer (L7) quality of service (QoS)
Yes
Maximum device rules
64
Maximum application rules per device
32
Traffic Monitor for graphical live / history statistics
Yes
Security
Wi-Fi encryption
WEP, WPA/WPA2-Personal, WPA/WPA2-Enterprise
Wi-Fi MAC address filter
Yes
Firewall/SPI Firewall
Yes
DoS Protection
Yes
Auto block
Yes
SSL certificate
Yes
Security Advisor
Yes
Mobile Apps
DS cloud (Android/iOS)
Yes
DS get (Android/iOS)
Yes
DS file (Android/iOS)
Yes
DS router (Android/iOS)

Network traffic overview
Wi-Fi management
Parental Control
Traffic Control
Network security (firewall, port forwarding, Internet ban)
Wake on LAN

VPN Plus (Android/iOS)
Yes
USB/SD Card File Service
File System
EXT4, FAT, NTFS, HFS+
Access support

File explorer (via LAN only)
Web browsers: Chrome™, Firefox®, Internet Explorer®: 8 onwards, Safari® 7 onwards, Safari (iOS® 7 onwards on iPad®), Chrome (Android 4.0 onwards on tablets)
Mobile device: DS file

Protocol support
Windows file service (CIFS), Mac file service (AFP), FTP/FTPS, WebDAV
Apple Time Machine
Yes
Shared Folder privileges
Yes
Storage hibernation
Yes
Package Center
Cloud Station Server
Sync data from multiple platforms, centralizing it on the router while easily keeping historical versions of important files.
Maximum Concurrent File Transfers
128
Note
Cloud Station ShareSync is not supported
DNS Server
Helps users find and translate domain names into IP addresses
Download Station
Supported download protocols: BT/HTTP/FTP/NZB/eMule
Maximum concurrent download tasks
50
Maximum concurrent BT download tasks
20
Media Server (DLNA/UPnP®)

Media indexing
DLNA certified
PS3/PS4/Xbox 360/Xbox One supported

RADIUS Server
Provides centralized authentication, authorization, and accounting for wireless network access
VPN Plus Server
Easily create and manage secure VPN access through a web browser or client. Supports various VPN services — WebVPN, SSL VPN, SSTP, OpenVPN, L2TP over IPSec, and PPTP.
Maximum Connections
20
Intrusion Prevention (Beta)
Greatly enhance the security of your router with IDS and IPS systems, designed to safeguard your network against internet threats.
Intrusion Detection System (IDS)
Yes
Intrusion Prevention System (IPS)
Yes
Environment & Packaging
Environment
RoHS Compliant
Packaging Content

Main Unit
Antenna x 4
AC Power Adapter
RJ-45 LAN Cable
Quick Installation Guide