« Page 8
Conclusion and Closing thoughts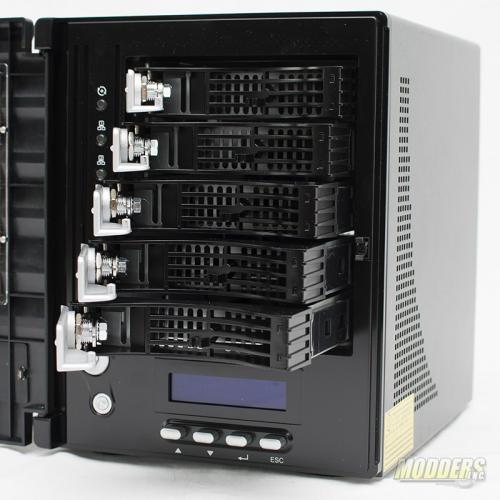 With multiple people living at home having a large storage pool is almost a need vs. a want especially if the data is important. With the N5550 the options on how you configure that pool depends on your needs. If the data isn't important and you want the maximum speeds possible, maybe a RAID 0 configuration is for you. If you need a little bit of fault tolerance and decent speeds, then maybe you go with a RAID 10 configuration. The configuration is going to depend on the requirements and Thecus has provided a lot of options with the N5550. For me the ability to have a 12 tb RAID 5 array and be able to divide that space up between all the different things I've got going on is important. I think we are reaching the limit to which the Intel Atom processor is able to handle the RAID arrays and transfer data. The RAID arrays that can be configured with the N5550 are software arrays. That means there is not a secondary card to off load the RAID data, the processor has to do that as well as handle everything else on board the N5550, but don't let that scare you away. A single dedicated RAID card can cost as little as the N5550 or cost as much as a small SUV.  The empty N5550 can be had for as little as $400.00 and considering it's small size, I feel that's a very good price. But handling your storage needs isn't the only thing the N5550 can do. Depending on the applications installed it can be a media hub for the whole house or run as a web development box or even a web proxy server to compliment network security.
Thecus has done a great job bringing a lower cost 5 bay NAS to market but didn't sacrifice much in terms of performance. Using the Atom processor allows power draw to be lessened as well as heat and noise.
A small business environment, less than 10 users, is one of the perfect places for the N5550 and business has an even bigger need for large networked storage pools than households do.
Needless to say I was very impressed with the N5550 and if you need large storage across more than 2 disks, then the N5550 should be on your short list. In the coming weeks I will be doing more in depth testing with the N5550 as well as looking at the available applications Thecus has made available on their website.
[sc:must_have_award ]