« A Closer Look at the Thermaltake Cronos Go headset
To start, headset testing for audio is very subjective in our reviews. This means what I think sounds good, you may not think so. It all depends on the individual's likes and dislikes.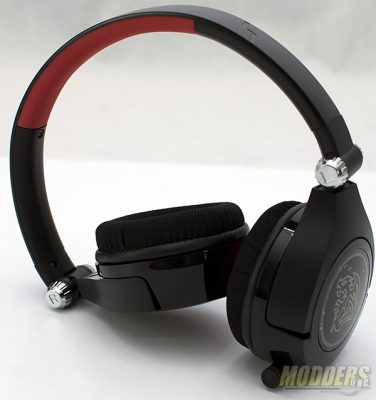 Personally, I have never been a fan of on the ear headphones. In the past I have had headphones that put too much pressure on the fleshy part of my ear and press it against my head. This tends to make the headset uncomfortable and I can't wear them for long periods of time. My preferred headset is an over the ear style. However, the Cronos Go doesn't put too much inward pressure on the ears and doesn't rely on the ear cups to keep the headset in place. The headband bears most of the weight and the ear cups have a surprisingly light touch on the ears. I was able to wear the headset for about 3 or 4 hours at at time and quite often did I not notice they were on my ears.
To test the headset, I used it as I would any other headset. I tested it in various PC games, video calls in Skype, and listening to music on both my PC and my phone. I reset any EQ settings to flat before testing. Audio performance is good. The range of sounds doesn't sound muddled. The bass is clean and clear but not over powering. The mid-range tones were sharp and clear and the highs were crisp with out being distorted or annoyingly loud. Audio calls were clear and the other end reported the mic was clear but background noise could be heard.
When I leave the house, I tend to travel light. I don't really like to carry stuff around in my hands and tend to carry stuff that I can fit in my pockets. The Thermaltake Cronos Go won't fit into any of my pockets but when traveling around it is light enough and can be folded up small enough to be carried around very easily. If you are looking for a good set of headphones that can serve a dual purpose, the Thermaltake Cronos Go should be one of your options. Don't let the smaller size fool you, the Cronos Go stays true to its namesake and delivers good sound and great portibility.
[sc:recommended_hardware_award ]