« Introduction
|
Conclusion and Final Thoughts »
A Closer Look at the Thermaltake Cronos Go headset
The Thermaltake Cronos Go is quite a bit smaller than the other headsets that I have reviewed in the Cronos line. The headband is narrower at just 15/16″ and the ear cups are just under 3″ at 2 7/8″.
The outward facing sides of the ear cups feature Thermaltake's dragon logo which is back lit and is powered by the USB connector. The hinges for the Cronos Go are made of sturdy plastic and each side is labeled with either L or R for proper orientation.
The ear pads of the Cronos Go are a soft foam wrapped in a black fabric. The texture of the fabric is slightly rough to the touch but hardly noticeable when wearing the headset. The speaker grill is covered with a red "stretchy" fabric on the inside. This headset is a Supra-aural headset and is designed to be worn on the ear rather than around them.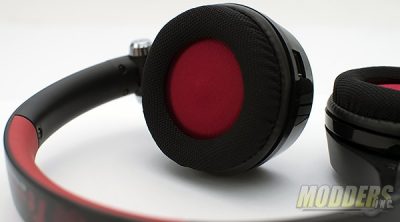 The inner headband is a soft silicon shell covering a foam insert. The outer edges of the headband are hard plastic.
There are two sets of cables that are included with the Cronos Go. The first set below is for the PC connection. The two 3.5mm plugs are for the microphone and headset ports on your sound card and the USB connector provides power to the light for the logo on the side of the ear cups. The other set of headphones is for mobile devices such as cell phones or tablets.
The other end of the cables plug into the right ear cup at the location pictured below. Initially, I was a little concerned that the connector would pop out during use but, the connector locks into place with a solid click.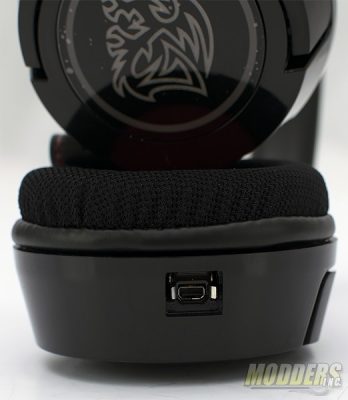 The omni-directional microphone is retractable and is nearly hidden when retracted. The boom of the mic is very flexible and can be easily moved into position. To extend the mic pull it out away from the ear cup. To retract the mic, push it back in.
The headset has  also has a basic set of controls for volume and muting of the microphone. What I really liked about the controls is the positioning of them. They sit closer to the headset rather than closer to the connector end. This allowed me to tidy up the cable as they ran to the PC and I didn't have to hunt for the controls.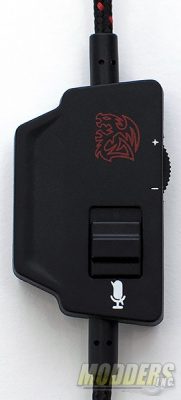 The headset can be folded up for storage. When folded, the ear cups fit inside the space between the headbands.