A Closer Look at the Thermaltake Cronos Go headset »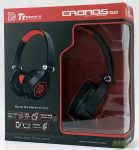 As time moves forward, it seems there is a cycle in the size of devices and their accessories. First they get smaller and smaller and then for some reason, we as consumers want the devices to get larger. When it comes to taking music with us on the go, I find that most ear bud style headsets miss the mark in truly representing the sounds the device is playing. Don't get me wrong, they sound OK and are fine when you're running through the park or on a treadmill or working out in the gym. Their light weight is ideal for those type of activities. The popularity of over and on the ear headphones is increasing as evidenced by the amount of products in the marketplace. Thermaltake  has an outstanding headset line with the Cronos series and has released a more mobile friendly version with the Cronos Go. The Cronos Go is designed as a dual purpose headset with a smaller size to ease with portability but yet retaining the sound performance of the other headsets in the Cronos product lineup.
[sc:sponsor sponsor="Thermaltake" product_name="Cronos Go" ]
The packaging for the Cronos Go gives a clear view of about 1/2 of the headset through a window on the front of the box. The back and sides of the box go into detail about the features and specifications of the headset.
The headset and the accessories are protected by a form fitting, clear plastic shell.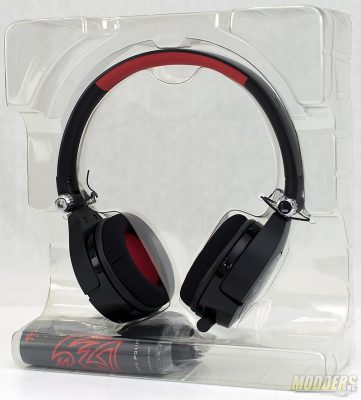 The parts included with the Cronos Go are: a warranty information pamphlet, a 3.5mm mobile device cable, and a 3.5mm PC cable.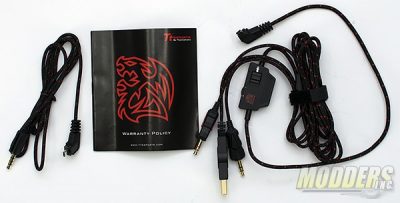 Specifications
Headphone
| | |
| --- | --- |
| Driver Unit (mm) | 38mm Neodymium Magnet Speaker |
| Frequency Response | 20Hz-22KHz |
| Impedance | 32 ohm |
| Sensitivity | 97 +/- 3dB |
| Max. Input |  100 mw |
Microphone
| | |
| --- | --- |
| Characteristic | Omni-directional |
| Frequency | 100Hz-10KHz |
| Impedance | <2.2 Kohm |
| Sensitivity | -40 +/- 3dB |