Observation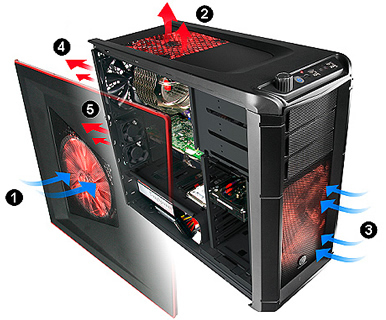 To test the thermal performance of the case, I looped 3DMark07 a total of 8 times per test to tap on everything and then capture the min/max temperatures. Let's put this bluntly folks, the fact that the video cards stayed reasonable during all of the loops (while I had 2xAA enabled and I upped the filtering levels to tax the video system on all the tests) says something about how much air was flowing.
Ambient temperature in the room was 74 degrees Fahrenheit. Looks like my "quad" SLI was not working properly, as you can see that one pair of cards seemed to take the brunt, while the other pair seemed to go out to lunch… ;) S'ok actually, as I was more wanting to see how the cable management handled the burden of all of the additional PCI-e cabling.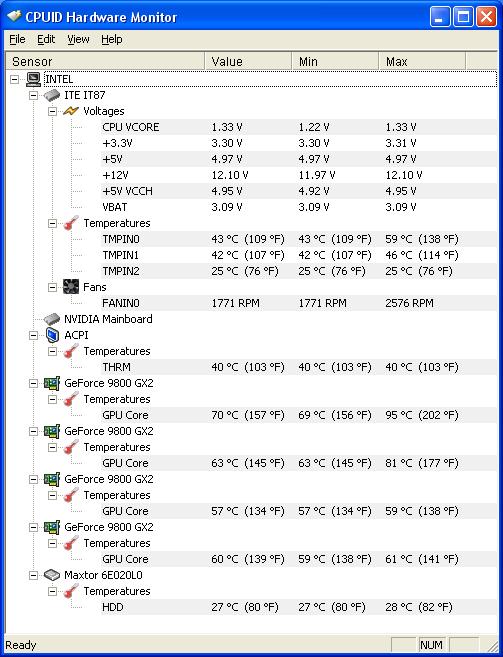 TMPIN0 is the P4EE CPU
This performed admirably… *and quietly* through the entire test. I performed a second round of tests while my wife was working at the table. She tends to hear things that I might miss. The case never once got loud or made her notice it. She worked for several hours in the same room (tile floor, wood table, active acoustic room) while the tests were running. Not a complaint.
The power button is a *bright* backlit blue. It can be distracting how bright it is. I've heard others complain about the proximity of the reset switch to the power button, but I never hit the reset by accident. The fans worked flawlessly all the way through the testing. There were no failures after the initial whoops was rectified.
The case held all of the equipment stably, and securely, and provided excellent cooling for the components in the case.
I moved the fully loaded case around the house several times and never once did I experience any case flex, or popping, and more importantly, nothing broke free of it's location.