Conclusion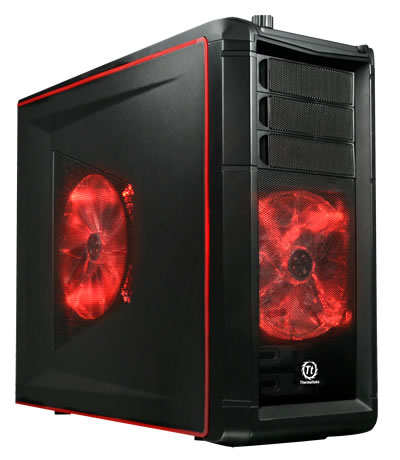 The external construction is interesting with the textured powder coat, mesh and color changing fans. Or if bling is not your thing, you can completely turn off the fan lighting. That is indeed some very nice visual flexibility, as not everyone that may want this case is going to want the lit fans. TT was smart to build that functionality into the case. Wider market appreciation, kudos on that decision. The fans push a good amount of air into and out of the case keeping the hottest components, thermally managed. The side panel contact pads instead of using a molex is also a huge point in my book. That is so much cleaner than having an anchoring power cable that you have to remember to disconnect if you are pulling off the side panel.
The cable management helps that fact by allowing for a good, unobstructed path for air to flow through.
The outside design of the case is subdued without being boring. Stylistically, it is like looking at a sport/touring motorcycle. It has a more subdued appearance, but has the ability to perform with the wilder bikes should the need arise. Same thing here. Red color strips add a nice flair, the color cycling fans (or no color at all) lend flexibility to where the case will be used and how visually dynamic you want it to be.
With plenty of room for all of your build, and an insane amount of hard drive space *including* special places for your new SSD drives, this case can keep you happy for a good, long time. 
My only gripe was that I had to take the case apart to repair what should have been working in the very beginning. I'd like to think this is an isolated incident, but looking on New Egg I saw several customer reviews with the same issues. I think if they would have taken a few minutes, their case would have performed properly.
To visually go over a quick summary of my experiences, please view the following video:
Pros

---

Cons

---

+Appealing styling and flexible fan lighting
+Very good cable management options
+Side panel fan uses a contact pad for power!
+Abundant storage bays and SSD mounting!
+Q-U-I-E-T

-Front fan required troubleshooting when I first pulled it out of the box.