Page 2 »
The people over at Thermaltake have unleashed the Element G on the masses. Does the gigantic gaming, glittering, gradational glaciated goodness grab the general gamer? Glean the gratuitous guidance from our inspection of this gob of goodness!

Sponsor: Thermaltake
[hr]
First Impression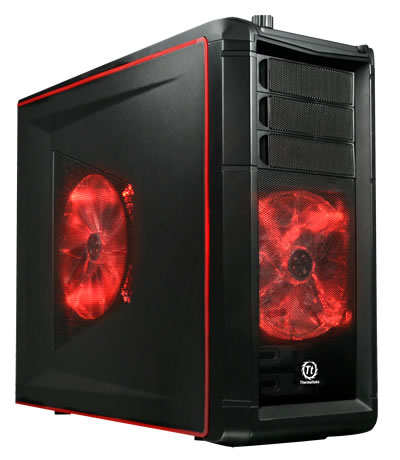 The Thermaltake Element G is a mid-tower case that is taking square aim at the enthusiast that does not want the bulk of a full tower case, but has the need for a LOT of storage and an extreme need for airflow with lots of heat generating components.
The specifications on the case read as follows:
Case Type   

Mid Tower

Material   
SECC
Front Bezel Material   
Plastic
Color   
Black
Side Panel   
solid w/23cm side fan
Motherboard Support   
Mini ATX
Full ATX
Motherboard Tray   
No
5.25″ Drive Bay   
3
Ext. 3.5″ Drive Bay   
0
Int. 3.5″ Drive Bay   
7
With Additional 2 x 2.5″ HDD / SSD bay
Expansion Slots   
7
Front I/O Ports   
USB 2.0 x 2,
HD Audio ports
Cooling System   

– Front (intake) :
  200 x 200 x 20 mm Touchcolor (600~800 RPM, 12~14 dBA,49.735/65.30 CFM)
2 x 120 x 120 x 25 mm (optional)

– Rear (exhaust) :
  140 x 140 x 25 mm TurboFan (1000 rpm, 16 dBA, 50.0 CFM)

– Top(exhaust) :
  200 x 200 x 20 mm Touchcolor (600~800 RPM, 12~14 dBA, 49.735/65.30 CFM)

– Side(intake) :
  230x 230 x 20 mm Touchcolor (600~800 RPM, 12~14 dBA, 57.0/76.0 CFM)
– VGA (exhaust) :
 Two 60 x 60 mm fan (optional)

Liquid Cooling Capable   
No
Liquid Cooling Embedded   
No
Power Supply Supported   
Standard ATX PSII(optional)
Power Supply Included   
No
Dimension (H*W*D)   

565 (H) x 231(W) x 526(L) mm
22.2(H) x 9.1(W) x 20.7(L) in

Net Weight   
 
Security Lock   
 
Application   
 
Warranty   
3 Year
With 3 fans equal to or greater than 200mm in size, there should be a goodly amount of air pushing through the case without the normal whine of 80-120mm fans
The fan knob looks to only control +/- 200RPM rpm on the fans, so you will not really notice a difference in the noise profile, since chances are the equipment you have in the case will have louder fans than the case has. This case will add little to no additional noise to your environment @ a rated 12-14dBA. The other part that has me confused, and will have others confused as well is the bit about "Liquid Cooling Capable". The specs say "no", but the case (to me at least) says "yes":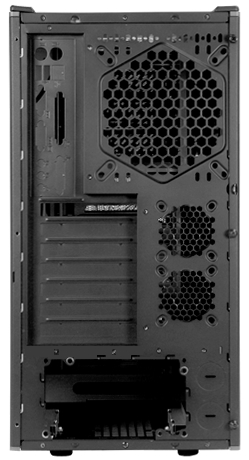 Look at the bottom, just to the right of the PSU, see those two knockout circles? Looks like preconfigured tubing holes to me, what say you? If I was reading that specification *and* I was wanting to watercool, the "official specifications" might put me off buying the machine.
The outside of the case is a lightly textured powder coated matte finish. The bezel on the front is molded plastic, and the internal case frame of the chassis is a powdercoated smooth, matte black. To break the stealth black monotony, Thermaltake incorporates some red accent trim ingeniously around the edge of the side panels. The trim is actually screwed into the side panels. Now, with my oily, alkaline skin, I'm leaving fingerprints on this rig. Black seems to amplify this problem with me. Textured, matte finishes seem to make that situation even worse for me… if you can even imagine that. So, keep that in mind if you suffer the same corrosive, metal eating consistency that I have.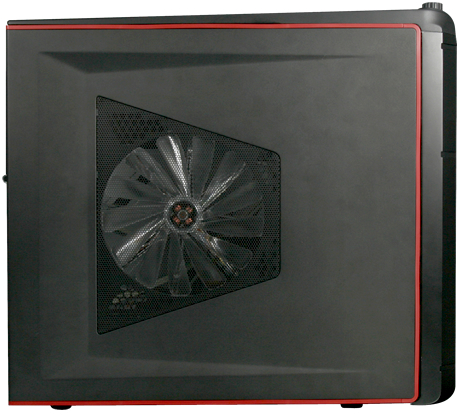 The bottom feet are a harder plastic, and there is a mesh "breathe hole" since the power supply is a basement dweller in this unit. PSU's can draw in air from their base (that used to face down from the top mounted positions) or from their rear. For the units that draw air from below, there is a perforated base section that allows ample fresh air to be drawn in to the PSU to keep it cool.