« The Build
Final Thoughts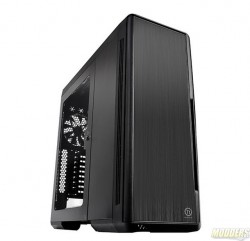 Be sure to catch some of the MODS the Modders-Inc. Staff have done with this case. There will be a full article about the fun we had with the Staff MOD-OFF at QuakeCon using the Thermaltake Urban T81 case. We've also posted a build log of each of our T81 Mods/Builds.
So, with all these MODS and builds in the Thermaltake Urban T81 I think we have some experience with this product. It's built well, has classic features like suicide doors, beautiful looking magnetic front door, filtered intakes on 3 sides, 6 USB ports four 2.0 and two 3.0. Closed the case is very quiet, the dual side suicide doors are a gift to anyone working in their case often and the price shows everyone Thermaltake is serious about getting your attention, business and showing they are enthusiastically devoted to customers who's interest is building a good, decent, super or ultimate build.
Modders will take heart in knowing this is built for the MOD, I know, I did it in not just one but I liked this case so much my own personal rig is in one and being modded as I write this article. To me it's so good, The PUNISHER will become my Modders-Inc. review/test Bench Rig case.
The only thing some might find tight is the space for cable management. It's a little tight but not a drawback.
At the time of writing this the Thermaltake Urban T81 can be found at NewEgg for $169 
This is definitely a water coolers case. You don't have to water cool your build to enjoy the room, ascetics and beauty of a case like this. It's still a fantastic case even without water cooling but it is feature rich and many are for cooling.
"This is a classic in the making, Builders and Modders REJOICE!"
[sc:editors_choice_award ]