« Deep Inside the Urban T81
|
Final Thoughts »
The Build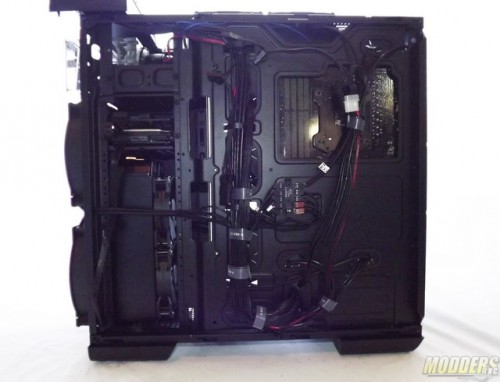 Here is the back side fully built and loaded showing the nice cable management guides and prongs built into the case. My only comment/suggestion would be with this case is the width of the cable management space between the side panel and the motherboard side and it's a little tight. There is 3/4″ plus another 1/8″ protrusion of the side panel center. Room behind the bay/drives section is 1 1/4″.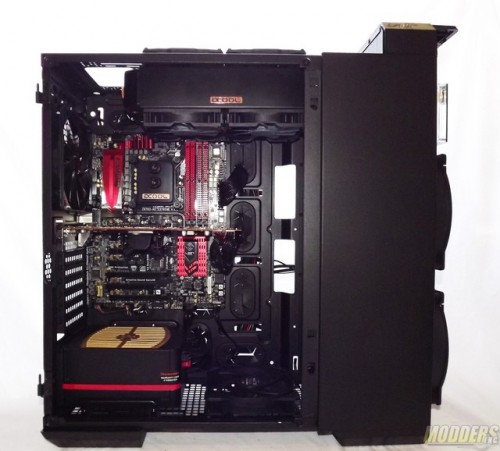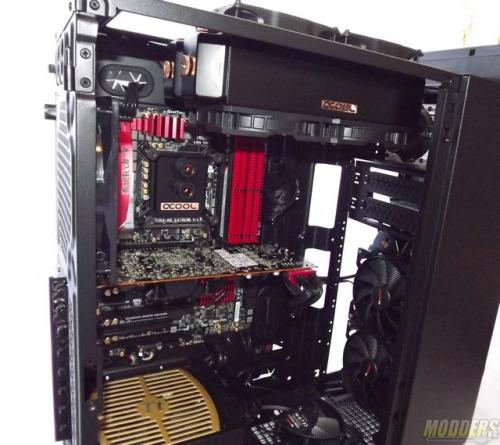 The PSU fits nicely leaving room in the floor for a 120mm, 140mm fan or radiator.  If the front radiator/fan was placed and slid up even a 2 x 120 or 2 x 140 radiator and fans would fit on the floor.
Full sized ATX mother boards fit easily with grommet pass through access all around a full sized board. The rear fan mount is set-up for 120mm or 140mm fan/radiator mounting. I put a HUGE 280 x 124 x 86mm Alpha Cool NexXxos 240 MONSTA radiator with push fans under and pull fans above the upper frame with plenty of room and access to things normally blocked by this set-up like memory and upper motherboard pins and connections like PWM fan headers. Everything is cabled up in this picture so you can see how well the cable pass through work by allowing a close pass through stealth look.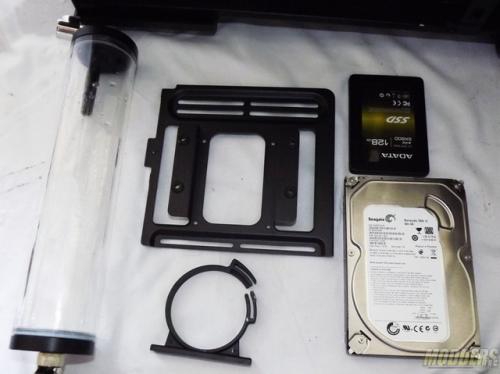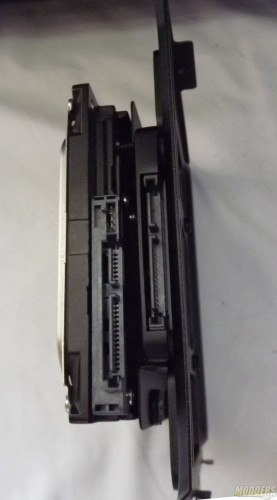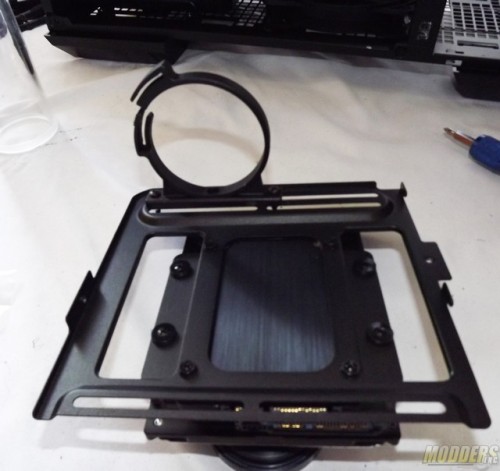 The special HDD+SSD hanging bracket also allows mounting holes for a reservoir too.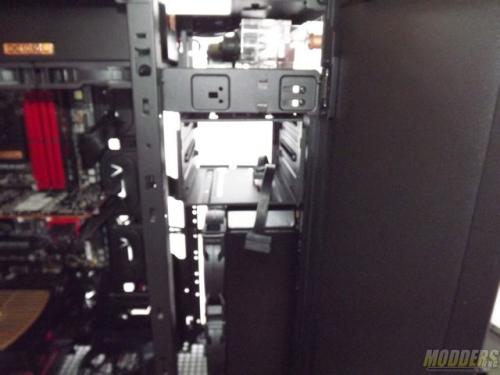 Here I have another XL 240 NexXxos Alphacool MONSTA, 86mm thick here with fans in the push and fans out front in pull.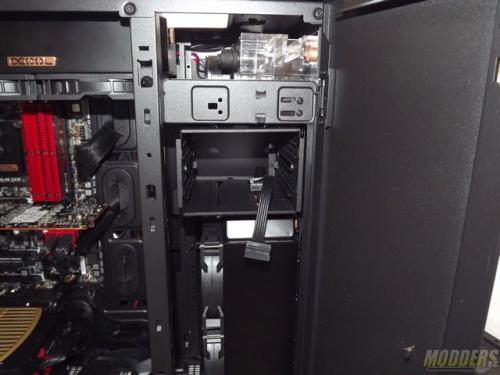 Even with a 240 Monsta below there is room for the two slot internal drive bay.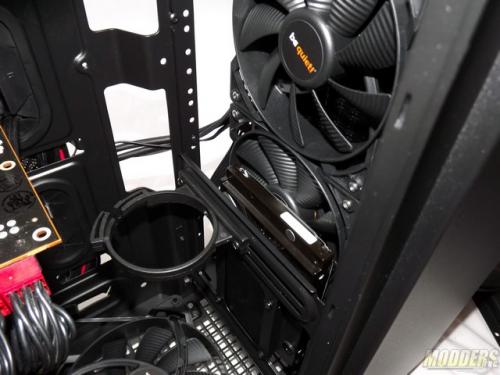 This is how the HDD + SSD / Res bracket mounts up on the center cage rails. Granted it's tight with the MONSTA, there's about 1/2″ but with a MONSTA you can go with three fans easy and pull that lower push fan out. With a normal 20 – 30mm radiator it would be just fine, even a XL radiator at 55-60mm thick would breath enough to push air.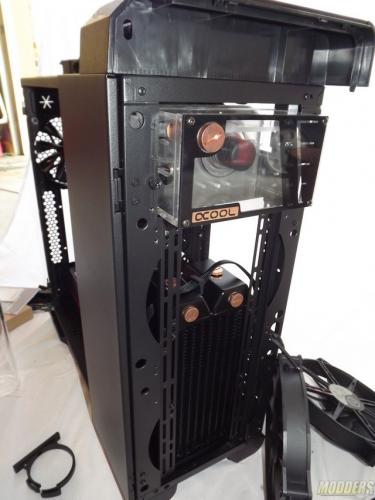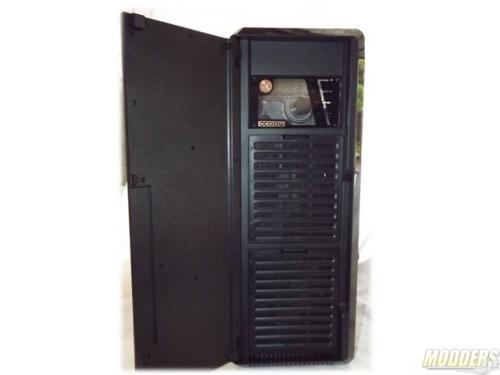 There is only 2 external 5 1/4″ bays so choose how you use it wisely, here I choose a Alphacool Bayres V2 to show off there's an awesome water cooling build inside.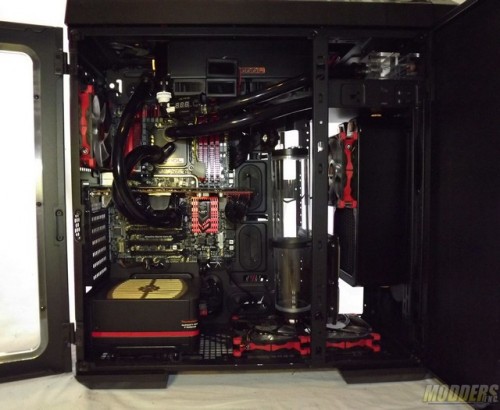 The build before tubing, MONSTA Radiator slid up, HDD+SSD / Reservoir mounted, two 120mm Luxa2 fans below on the rad and mounted in rear.
This build SPECS:
MOBO: ECS GANK Z87H3-A2X Extreme
CPU: Intel Core I5 4670K
GPU: Sapphire HD7970 3GB
MEM: Corsair Dominator GT DDR3 1866 MHZ
PSU: Thermaltake Thoughpower DPS 850 SMART series
FANS: Thermaltake LUNA 12 Red LED
COOLING: Alphacool KIT enhanced with 2 of my MONSTA Rads
1x Alphacool NexXxoS XP³ Light – Acetal Edition – Intel/AMD
1x Alphacool Repack – Single Laing D5 – Dual 5,25 Bay Station
1x Alphacool VPP655 – Single Edition
1x Alphacool NexXxoS UT60 Full Copper 240mm (substituted 2 x 240 NexXxos MONSTA rads by Alphacool
3x Alphacool tubing AlphaTube HF 13/10 (3/8″ID) – clear
6x 13/10 (10×1,5mm) compression fitting G1/4" – matte black
2x Alphacool NB-eLoop 1200rpm – Bionic Lüfter ( 120x120x25mm )
1x Coolant Clear 1000ml
1x ATX bridging plug (24 Pin)
The kit was provided courtesy of Aquatuning US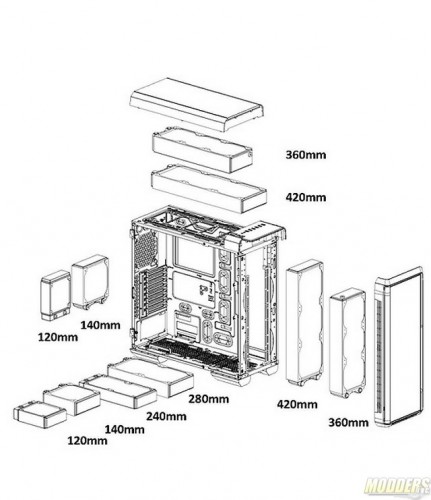 This is a schematic of the watercooling possibilities. Even though the options are almost endless be sure of your measurements when planning out your loop. This was the first loop I was able to put the MONSTA on top and use push fans underneath without blocking my memory or in front without losing the floor fan. This case you have more freedom to use more products combined without worry but it's always good to measure out your loop parts for the sure fit as you like it. For example, the schematic show rads under the upper shroud and average rads will fit but a MONSTA will not. But any case that fits 2 Alphacool NexXxos MONSTA's in it without giving up something is my kind of water cooling case.