Tt eSPORTS DRACONEM Aluminum mouse pad
Tough enough for the hardest of battles
Tt eSPORTS, the leading expert in professional eSports gaming
peripherals is releasing the new DRACONEM Aluminum mouse pad. The DRACONEM
is a premium aluminum mouse pad that caters to every need in a mouse pad possible. The
DRACONEM stands out from other aluminum mouse pads in the market, due to some of its key
design elements. The DRACONEM is one of the largest aluminum pads in the market, which also
comes with two surfaces to suit all types of gamers.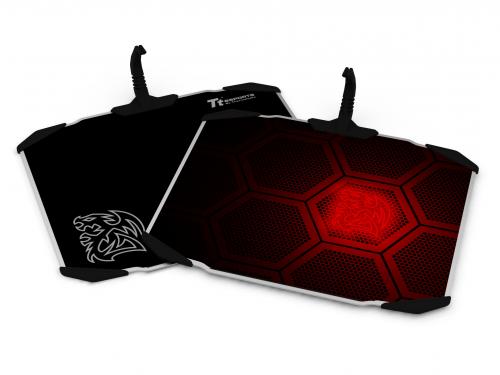 The aluminum frame which is 2mm thick, also features a brushed anodized finished for great
durability and style. The DRACONEM offers gamers two surfaces to use; a low-friction (effortless
glide) and a high-control (extreme precision) surface perfect so suit any situation in-game to allow
gamers to play their best. Four rubber stoppers in the corners make sure the DRACONEM sits still
and secure on the desk. The mouse bungee can be attached from all four sides, to match any setup a
gamer may use during gaming. The mouse bungee can be further disassembled into two halves, for
convenient carrying on the go.
The DRACONEM aluminum mouse pad MSRP is USD $39.99, and is available from late April
in select regions of the world. Please kindly refer to your local stores for information regarding its
DRACONEM Aluminum mouse pad Part No.: MP-DCM-BLKHSS-01
DRACONEM Aluminum mouse pad MSRP: $39.99
DRACONEM Aluminum mouse pad Part Features:
l ALUMINUM BASE for great durability and style
The DRACONEM features a solid 2mm aluminum base with a brushed, anodized finish.
l Optimized DUAL Surface design
The DRACONEM comes with two different surfaces,
allowing you to choose between low-friction and high-control
to match your gaming style. The surfaces feature an
optimized polymer for the highest precision tracking with
both optical and laser gaming mice.
l Non Slip Rubber stoppers on corners
A total of four non slip rubber stoppers located at each
corner, keep the DRACONEM secure on your desk &
at just the right height to securely hold down the
mouse bungee. The stoppers are also removable,
should you prefer not to use them.
l Versatile Mouse bungee
The attachable mouse bungee can be put any of the 4 outer sides of the DRACONEM. Allowing
users a convenient mouse bungee & mouse pad arrangement for any setup. The mouse bungee,
furthermore, separates into two halves for convenient transport. To use, just slide your mouse cord
into the cord groove of the mouse bungee.
l Size where it matters
Regardless of the surface or mouse sensitivity you prefer, the DRACONEM has you covered. The
DRACONEM is larger than most aluminum mouse pads as well as most dual surface mouse pads
offered from leading competitors. Don't ever run out of space for your mouse when it matters with
the DRACONEM.
DRACONEM Aluminum mouse pad technical specifications:
Technical specifications
Dimension 360*300*5mm
Mouse Pad Base 2 mm solid Aluminum, brushed anodized finish
Surface material Optimized Polymer
SURFACES 2 (Low-friction & high-control)
Accessory Mouse bungee- attachable on any side
Stoppers Removable Non-slip rubber stoppers on corners
Tt eSPORTS DRACONEM Aluminum mouse pad
http://www.ttesports.com/productPage.aspx?p=141&g=ftr#.U2rj9tlRdFs