« FireStorm Software
|
Gaming Benchmarks »
Test System and Synthetic Benchmarks
I want to thank Zotac and EVGA for providing their respective GPUs as comparison cards for this review.
Testing Methodology:

There are many ways to benchmark GPUs. With these benchmarks our goal is to do two things: first to show the performance of the card and secondly to make them easy to replicate. With a similarly configured system, you should be able to get similar results to compare your current graphics card against. There will always be a variance from system to system. All games for this review are tested with the HIGHEST IN GAME  PRESET unless otherwise specified. No changes were made to the operating system.
Synthetic Tests
3DMark Firestrike from Futuremark is a Semi-synthetic DirectX11 benchmark designed for high-performance gaming PCs. Firestrike performs advanced geometry, illumination and particle tests with its Graphics benchmark and performs physics simulations using the CPU. Firestrike Ultra Kicks it up a notch and ratchets up the resolution to 4K and turns the quality up a bit.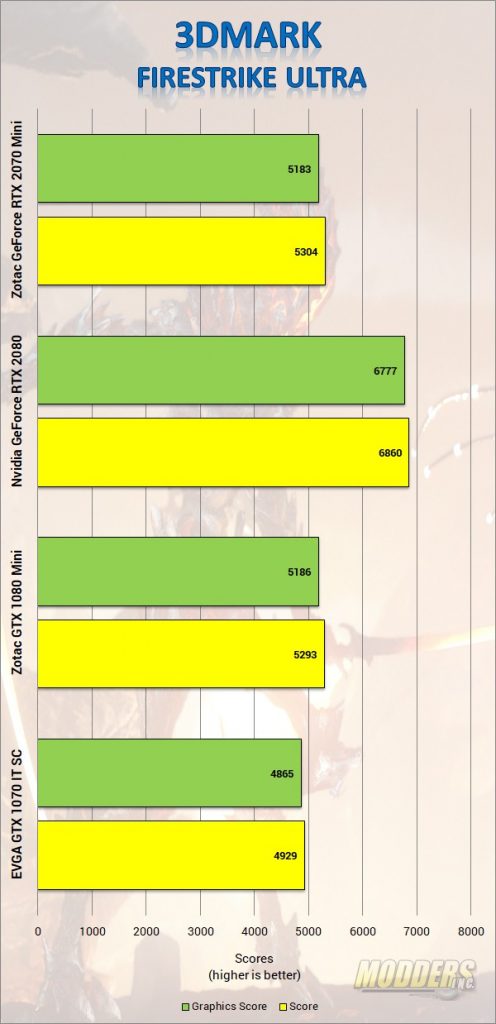 In 3D Mark Firestrike, the Zotac RTX 2070 mini pulls away from the GTX 1070 TI and matches the GTX 1080 GPU. In Firstrike, the Zotac RTX 2070 mini had an overall score of 5304 points with a graphics score of 5183.
Timespy is an additional test in 3DMark which represents DirectX 12 gameplay. The extreme version is meant to test the highest end graphics cards at 4K.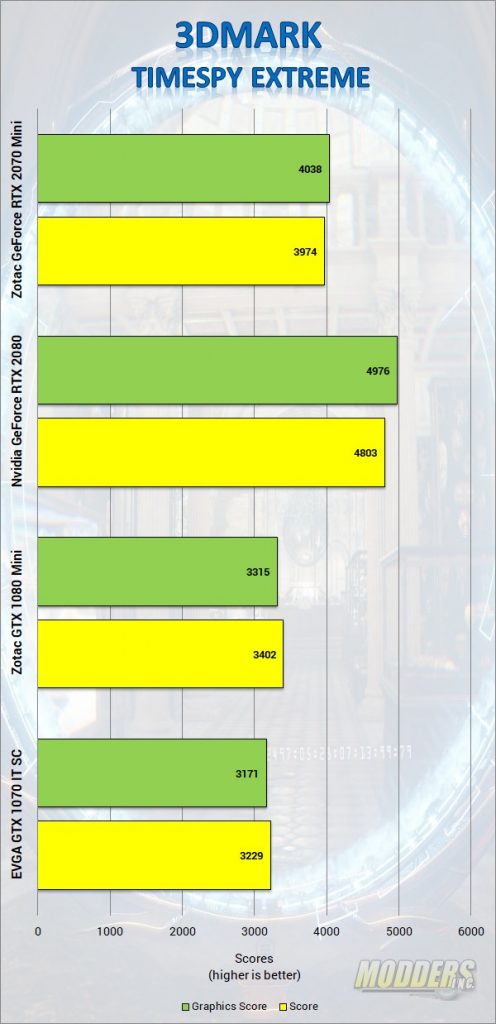 In 3D Mark TimeSpy, the Zotac RTX 2070 mini is able to extend its lead over the GTX 1080 a bit more. The Zotac 2070 mini scores 4038 in the graphics test as compared to the 3315 of the GTX 1080 in the same category.
Unigine's Superposition features both a monitor benchmark but also a VR load as well. I used the 4K optimized and 8K optimized presets. Superposition also allows you to explore the environment in VR Mode with your headset connected.
In Superposition the Zotac RTX 2070 mini was tested in 4k optimized and 8k optimized. The Zotac RTX 2070 mini socred 6659 in the 4k test and 2985 in the 8k test besting all the test cards except for the Founder's Edition 2080.