« Gaming Benchmarks
|
Conclusion and Final Thoughts »
Gaming Benchmarks Continued
Tom Clancy's Ghost Recon Wildlands is a tactical shooter game set in an open world environment and played from a third-person perspective with an optional first-person view for gun aiming. Players play as members of the Delta Company, First Battalion, 5th Special Forces Group, also known as "Ghosts", a fictional elite special operations unit of the United States Army under the Joint Special Operations Command. The game can be played as a single player experience or you can invite up to 3 of your friends to fill out your squad.
Ghost Recon: Wildlands is the first game so far to bring the average FPS below 60 in 1440p. At 1080, the GPU was able to average 66 frames per second. At 1440, it dropped to 52 FPS, and at 4k, 32 FPS was the average.
Deus Ex: Mankind Divided is an action role-playing game with first-person shooter and stealth mechanics. Players take the role of Adam Jensen, a man equipped with mechanical cybernetic implants called augmentations.
In Deus Ex: Mankind Divided, the Zotac RTX 2070 mini did very well in 1080p averaging 79 fps. In 1440p, it fell short of 60 with an average of 55 fps. Under 60, but still very playable. The game was barely playable at 4k and averaged 30 fps through the benchmark run.
Battlefield V is a first-person shooter video game developed by EA DICE and published by Electronic Arts. Battlefield V is the sixteenth installment in the Battlefield series. Battlefield V features a limited single-player campaign in the form of War Stories, the rest of the missions and adventures are online multiplayer.  For this specific test, I did not have DXR turned on.
The RTX 2070 mini did well in terms of performance in BFV. At 1080p, we were once again able to average more than 100 FPS with an average of 113. In 1440p,  it drops a bit to 87 FPS, and in 4k the game in very playable at 50 FPS. Keep in mind, these specific tests were without RTX.
Raytracing & DLSS Testing
At launch, the 20 series GPUs boasted the ability to do real-time raytracing and use a new feature called DLSS or Deep Learning Super Sampling, however, at that time there were no games out that supported either of those features. Without being able to test those features, I think the 20 series got off to a rocky start. Fast forward to Novemberish 2018; Windows 10 1803 update was finally released that enabled the ray tracing libraries in DX12. With that, Nvidia released a new set of drivers and EA/Dice released the 1st patch for BattleField V however, the patch wasn't without issues and performance was at least halved as compared to non-DXR tests. EA/Dice have now released a new patch that performs quite a bit better. However, there is still a performance penalty for enabling DXR in Battlefield V.
For the DXR testing in Battlefield V, I chose to use 1080p as the resolution and the base graphics settings to Ultra. DXR was set to Low, Medium, and Ultra. I also included the results with DXR off as well.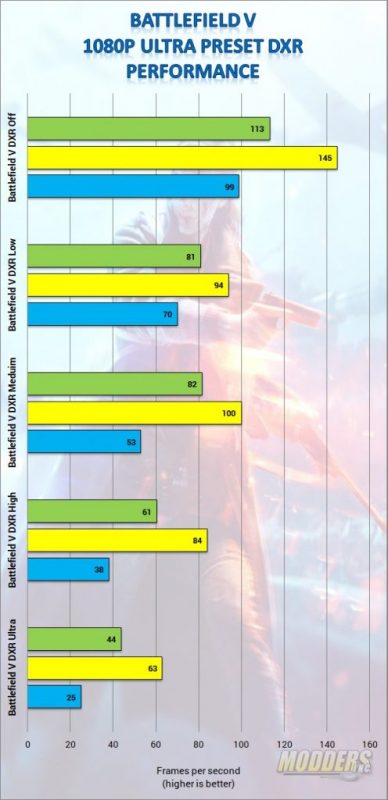 The different levels of ray tracing start to change the level of detail in the reflections.  Between medium and low settings, there is not much of a performance difference. I expected to see a drop in performance similar to the difference between high and ultra settings.  The mirror in the image below shows a clear reflection at all levels of DXR, however, the details reflecting in the puddles change quite a bit.
Note: Recently Battlefield V and Metro Exodus were released with both DLSS and RTX features available. Another article is coming with our thoughts on DLSS and RTX.
The only game to support DLSS at the time of this review is Final Fantasy XV. DLSS leverages Nvidia's Tensor cores on the RTX 20 series cards. It works by basically rendering at a lower target resolution then, sends the frame to the Tensor Cores and the Deep Learning network to get upscaled and the "AI" fills in the information for the anti-aliasing. DLSS is only available in 4K. For this test, I chose to run the beginning missions around Hammerhead and occasionally heading back to the gas station.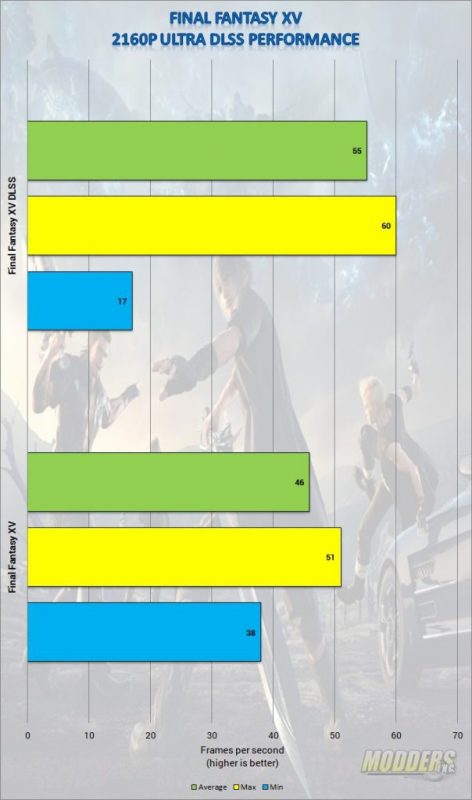 During gameplay, I didn't notice too much of a difference. There were some softer parts to the image once DLSS was enabled. As I continue to go through the game, more images will be captured. The Ultra preset settings were used, however, in order to enable or disable DLSS you have to use the custom option and the DLSS can only be turned on in 4k.