« Introduction to the Zotac GeForce RTX 2070 Mini
|
FireStorm Software »
The Zotac GeForce RTX 2070 mini is, well, just that: mini. It's small size measures in at 211mm (8.3 in) long, 129mm (5.08 in)wide, and 41mm (1.61 in) tall. Even at this smaller size, Zotac was able to fit a 90mm and a 100mm fan to help keep the card cool. On the back, the backplate actually wraps around the back edge of the card. During testing, the back plate did get a bit warm and aids in the cooling of the components.
There are two different size fans on the Zotac RTX 2070 Mini and each size fan has unique fan blades, the front fan which is 90mm has fan blades that have a sharper angle to them. This allows the fan to have a higher static pressure. This fan is positioned over key components. The 100mm fan has flatter blades. This is done to maximize the airflow over the area and move as much air as possible.
Under the fan shroud, you can get a peek at a couple of the 6mm heat pipes that run through the heatsink. All total there are five heat pipes. The fans, heatsink, and the backplate are all part of Zotac's IceStorm 2.0 cooling solution.


On the case side of the card, a LED-lit Zotac Gaming logo is present in the center. When in use, this logo lights up in white and cannot be changed. You can also see the edges of the backplate are bend and shaped to meet up with the fan shroud. A single 8-pin PCIe power connector is required to power the GPU.


At the rear of the card, the back plate again wraps around the PCB and meets the edge of the fan shroud. This is designed to add functionality in the form of protection for the fins on the heatsink and hide the heatsink.  Because of the back plate, there are no exposed heatsink fins on the Zotac RTX 2070 mini.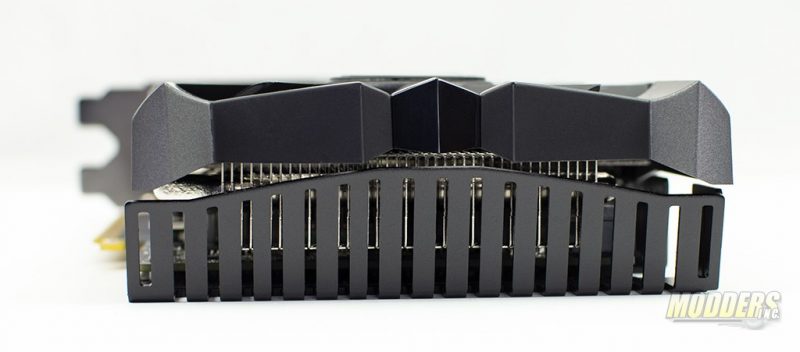 While the card is small in terms of length and width, the Zotac RTX 2070 mini is still a double slot card. The I/O is a bit different than other RTX cards we've reviewed. Most do not include a DVI port which Zotac does have. The Zotac RTX 2070 also lacks the VirtualLink connector. The GPU's I/O includes 1x DVI, 1x HDMI, and 3x DisplayPort connectors.