PC Case Fan
2017 RGB Fan Multi Vendor Roundup
If you want to RGB the inside of your case, you *must* start here!
« Solid RGB Solutions - DeepCool
|
Individually Addressable RGB Solutions - In Win »
Coolermaster
Masterfan Pro 120 and 140
Pro 120 Product page here
Pro 140 Product page here
Per box: 3 fans, 1 controller with 4 channels, 4 RGB cables, SATA power, M/B USB pin header to 3 pin micro USB @ controller, 16.7m colors. Fan motor power is separate connector (standard header molex) with separate LED RGB connector plug. No daisy chain.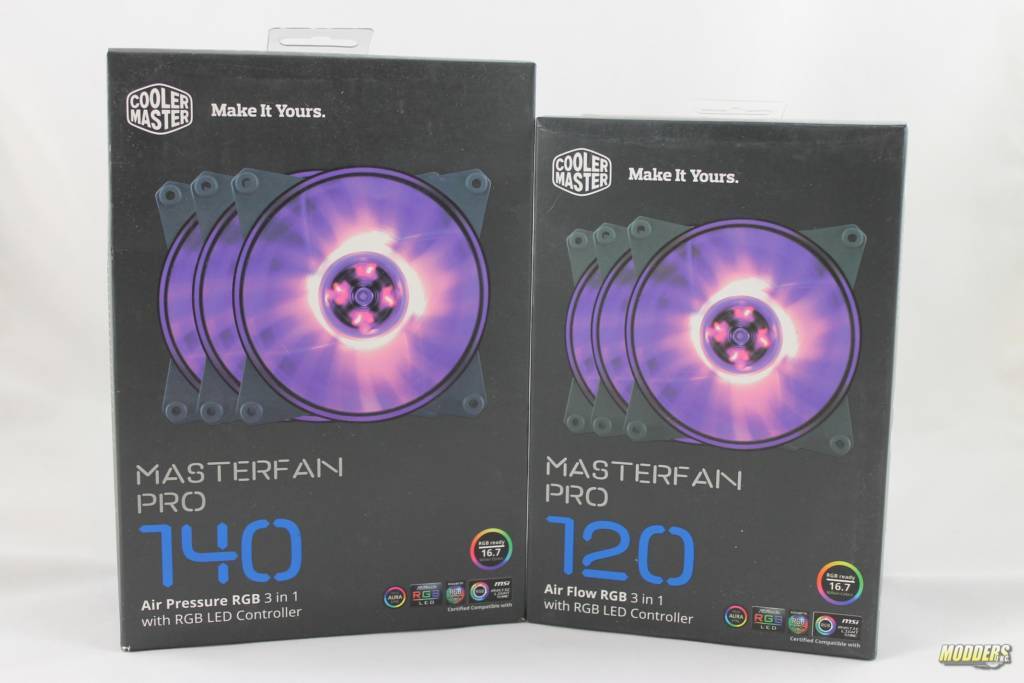 Software control has limited action program-ability, unlimited color effects. Standard breathe/color scroll effects. 3 levels of brightness, 5 levels of speed. One unique setting is "Mirage" which is LED frequency is adjusted within the color selection, which makes for unique light play effects with the fan blades.
4 LED's on the center hub motor area of the fan. M/B Aura Sync types of functionality are possible by using a Coolermaster 3 – into – 1 "Trident" cable (Not sold with fans, additional cost adapter cable linked here). The source end goes on to the M/B RGB header, the Trident cable can be daisy chained to allow for more fans. All color effects are then controlled by m/b sync software. So, the fans are compatible with motherboard RGB headers, but the Coolermaster controller that comes with this boxed set of fans is not. If you do not have a motherboard with an RGB header then the included controller is critical to your value. If you have a RGB header on your motherboard, you can either run independent of your motherboard, or you can tie them together by purchasing a Trident cable and bypassing the Coolermaster controller. LED power is not separate from fan power.
UNIQUE POINT – The fan mounts are all rubber and attached to the circular fan wall by bolts. This is not just molded plastic with rubber grommets inserted in the holes, the entire wing and grommet section are rubber, and screwed onto the fan wall. This makes painting the plastic a cinch and removal of the anchors is easy!