PC Case Fan
2017 RGB Fan Multi Vendor Roundup
If you want to RGB the inside of your case, you *must* start here!
« Individually Addressable RGB Solutions - NZXT
|
RGB Fan Conclusion »
Corsair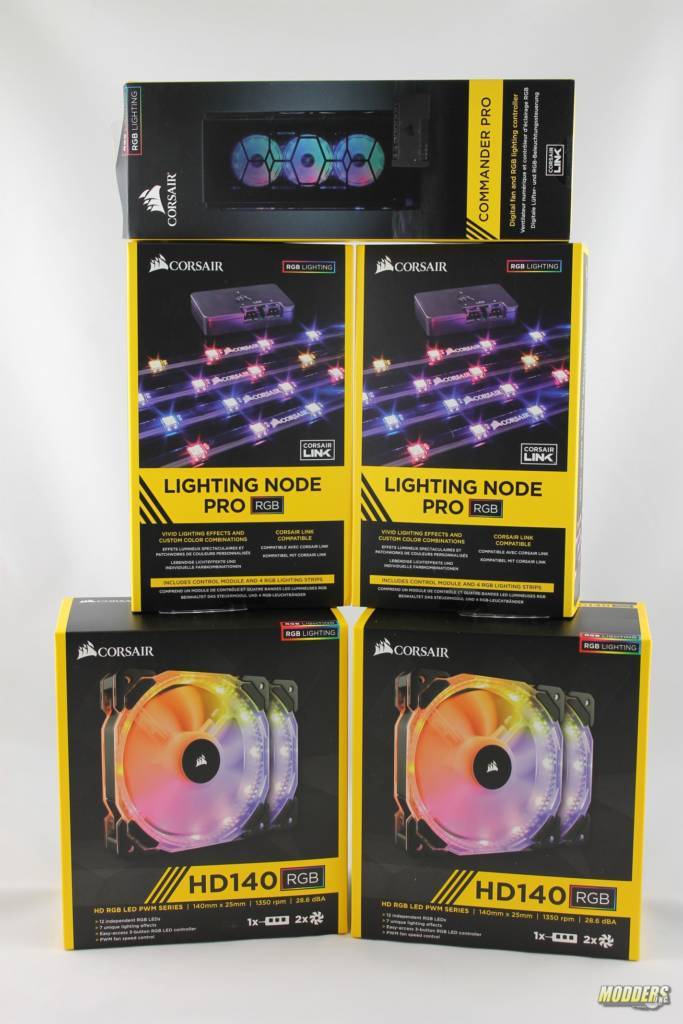 HD140 fan kit – 2 fans, 1 3 button LED controller
HD140 twin pack with controller Product page here
3 LED effect speeds, 7 preset colors (R/G/B/Wh/Y/Or/Purple), 7 LED lighting effects (Solid, Breathing, Blink, Incremental Fill, Marqee, solid color wash, demo), fans contain 12 individually addressable LED's in a ring around the inner circumference of the fan blade housing.
Has a breakout cable that will allow external momentary switches (power, reset, etc) to control the Speed/Color/Mode settings.
No USB, no M/B interface, included RGB hub will control 6 connected LED devices.
Lighting Node Pro Product page here
4 RGB lighting strips + 2 channel control module
2nd channel can be patched into RGB control on fan kit (disconnect 3 button input line from LED hub of Fan kit, insert 3 pin patch from Lighting Node Pro) which then allows the Lighting Node to fully control the LEDs of the Fans as well as the strips. Once Corsair LINK is installed, you can program the individual devices via the software
Commander Pro Product page here
6 Digital fan (4 pin PWM) and 2 RGB lighting controller, 2 USB m/b connectors, and 4 thermal probes.
Corsair Link software is used to control all of the attached *internal* RGB devices. External RGB (mice/keyboards/headsets/mousepads/etc.) are currently managed by CUE… but there is a rumor going around that Corsair is working on "one software to rule them all" which …would…be….AWESOME!!! LINK can potentially interfere with RGB LED memory *unless* you are using Corsair Vengeance RGB modules, in which case it will identify them and allow you to control them. Product page here