« New FX Processors, Different Weight Class | Test System and Testing Procedures »
Second Generation FX Processors and the AMD 9-series Chipset Revisited
The three new FX processors share the inner workings of the FX-8350 processor released almost two years ago utilizing two cores per Piledriver module sharing fetch-and-decode front-end, FPU, and 2MB of L2 cache (8MB in total for 8-core CPUs). A shared 8MB L3 cache which can be accessed entirely by a Piledriver module.
Like the Piledriver and Bulldozer FX series processors before them, the FX-8370, FX-8370E and FX-8320E are fully unlocked , supports dual-channel 1866MHz DDR3 memory and work with AMD 9-series chipset motherboards which were initially launched in 2011. Backwards compatibility with older AM3 CPUs, up to 14 USB 2.0 ports, PCI-E 2.0, and native SATA 6 Gbit/s with Trim are shared features across the 9-series chipset lineup.
The flagship 990FX sits at the top providing a pair of 16-lane PCI-E 2.0 for graphics (via HyperTransport 3.0 interconnect) which can also be configured as 8x/8x/8x/8x for 4-way CrossFire. Multi-GPU support in the form of NVIDIA SLI support also made its return to AMD motherboards on the 990FX. Ten more PCI-E 2.0 lanes are provided by the 990FX chipset for other expansion slot devices up to six PCI-E x1. The AMD SB950 south bridge paired with the 990FX chipset provides the rest of the platform functions including 4 more PCI-E x1, USB 2.0 ports, Ethernet, SATA and audio.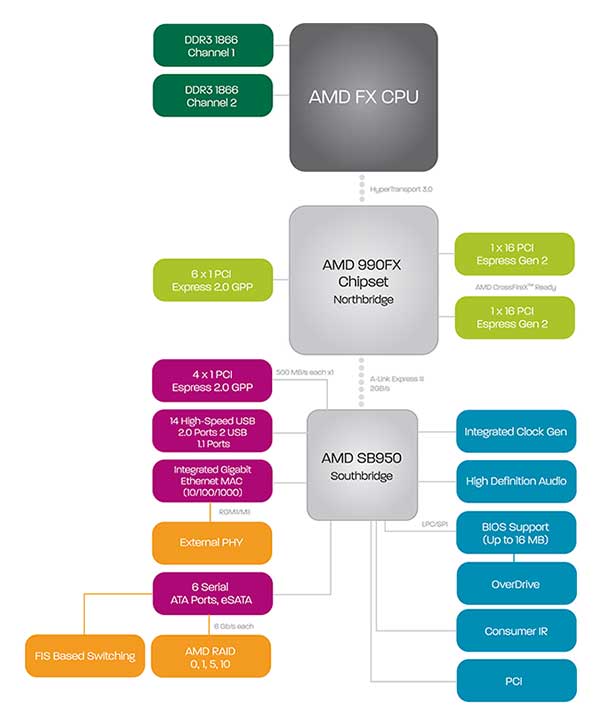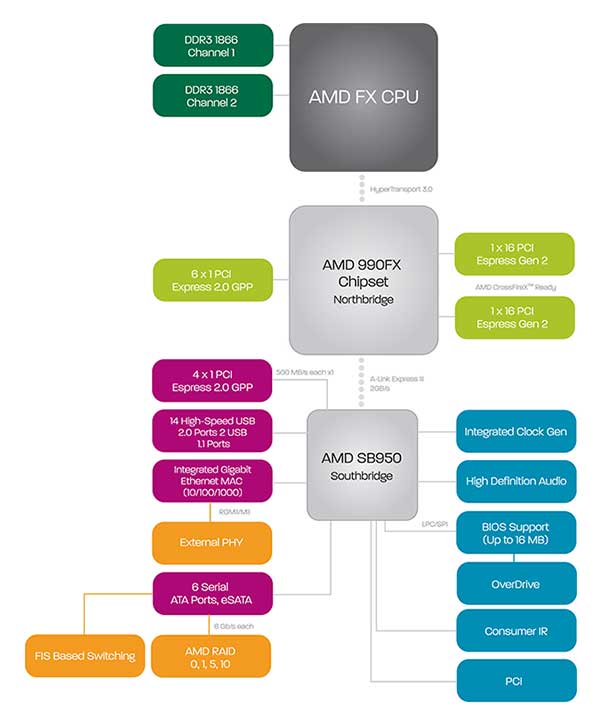 Aside from the 990FX, other 9-series chipsets include the 990X which supports up to two graphics cards (PCI-E 2.0 x16 @ x8/x8), 980G which has a single PCI-E 2.0 x16 slot and integrated Radeon HD4250 graphics and 970 which has one PCI-E 2.0 slots and slower HyperTransport 3.0 up to 2400MHz. Plus, there are also other AM3+ mainboards using older chipsets offered at a lower price point.
The most obvious difference between the 9-series mainboards and the latest Intel Core CPUs or AMD APUs is the non-integrated Northbridge which is now on the processor die itself rather than on the motherboard with the FX-series systems. USB 3.0 is also not natively supported, so 9-series mainboards often offer USB 3.0 support via 3rd-party solutions such as EtronTech or ASMedia controllers.
FX-series CPU Compatibility and Limitations
Despite support for AM3+ CPUs however, compatibility with the latest FX series CPUs is dependent on the motherboard's VRM power capability so make sure your motherboard supports the CPU before buying an FX processor or vice versa. AMD lists the TDP for each processor and compatible CPUs are often listed on the motherboard product page. AMD's flagship monster FX-9590 and FX-9370 for example have 220W TDP ratings which limits its motherboard compatibility to a handful of capable 990FX motherboards with beefy VRMs. The FX-8370, FX-8350 and FX-8320 are 125W CPUs while the new "E-series" FX processors FX-8370E and FX-8320E are 95W TDP CPUs the same as the FX-6300 and FX-4300.
Even factoring in overclocking, these 95W CPUs can be perfectly paired up with 970 chipset AM3+ mainboards which can cost as low as $70 or higher-end 990FX CPUs suitable for overclocking the 125W FX chips.
However, running the 220W FX-9590 or FX-9370 is restrictive and official support currently limited to the following motherboards:
Asrock 990FX Extreme 9 (P1.20 BIOS or later)
Asrock 990FX Fatal1ty Professional (P1.90 BIOS or later)
ASUS Crosshair V Formula-Z (1403 BIOS or later)
ASUS M5A99FX PRO R2.0 (1903 BIOS or later)
ASUS TUF Sabertooth 990FX R2.0 (1708 BIOS or later)
Gigabyte GA-990FXA-UD3 (Revision 4.0 – F1 BIOS or later)
Gigabyte GA-990FXA-UD5 (Revision 3.0 – FC BIOS or later)
Gigabyte GA-990FXA-UD7 (Revision 3.0 – FC BIOS or later)
MSI 990FX-GD80 v2 should be able to as well but the official product page is down so I cannot verify for sure and which BIOS version supports it. We have an FX-9590 processor on hand, although results have not been included in this review as running it proves too much for our 990FX motherboards so stay tuned as a review is forthcoming in a short while.