CPU Reviews
AMD Ryzen 3 3300X and AMD Ryzen 3 3100 CPU Review
Are These The Best Budget CPUs For The Gamers
« Test System and Benchmarks
|
Conclusion and Final Thoughts »
Multimedia, Compression, Synthetic, and Gaming
HandBrake is a free and open-source video transcoder, originally developed in 2003 by Eric Petit to make ripping a film from a DVD to a data storage device easier. Essentially, it can convert video to almost any modern format. HandBrake is available for Linux, macOS, and Windows. The workload video file is a file that I've used for years called Sintel. It is a 1.09-gigabyte file that is full HD. I used the Apple 240p preset for this test.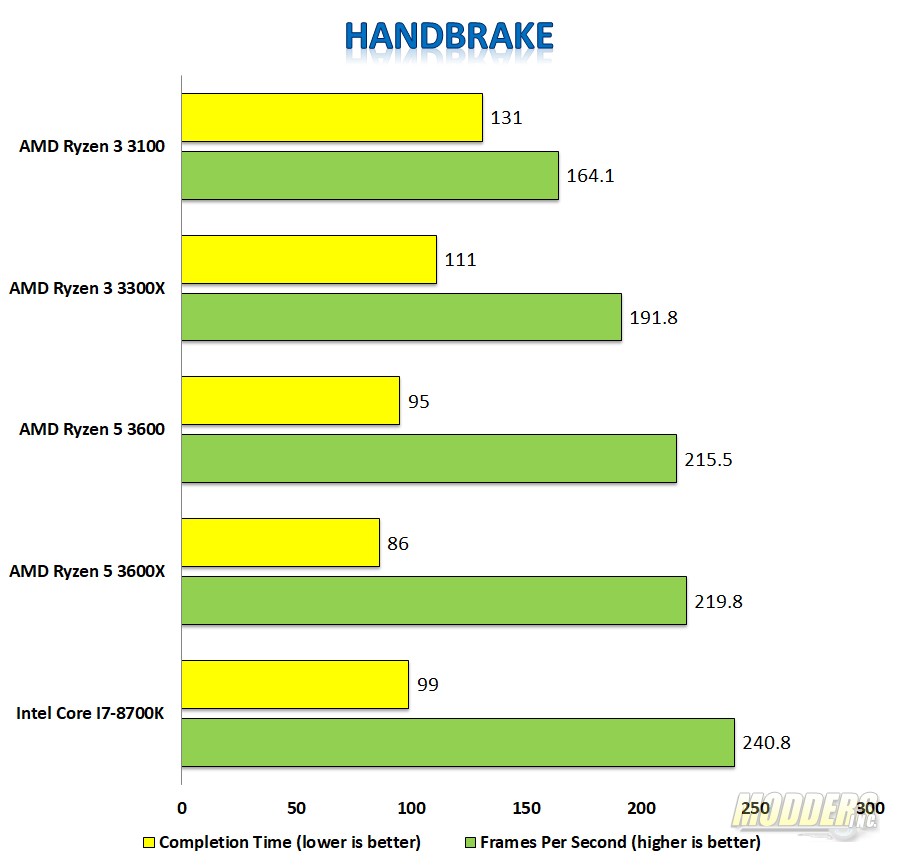 Handbrake is less of a synthetic benchmark and more real-world performance as you can actually use it to encode videos. The Ryzen 3 3300x came in with a time of 111 seconds with an average Frame rate of 191.8 and the Ryzen 3100 finished the job in 131 seconds with a 164.1 average frame rate.
7-Zip
The 7-zip benchmark shows a rating in MIPS (million instructions per second). The rating value is calculated from the measured speed, and it is normalized with the results of the Intel Core 2 CPU with the multi-threading option switched off. So, if you have a modern CPU from Intel or AMD, rating values in single-thread mode must be close to real CPU frequency. There are two tests, compression with the LZMA method and decompression with the LZMA method. Once the total passes reach 100, the score is taken. 7-Zip gives the resulting score for decompressing, compressing, and an overall score.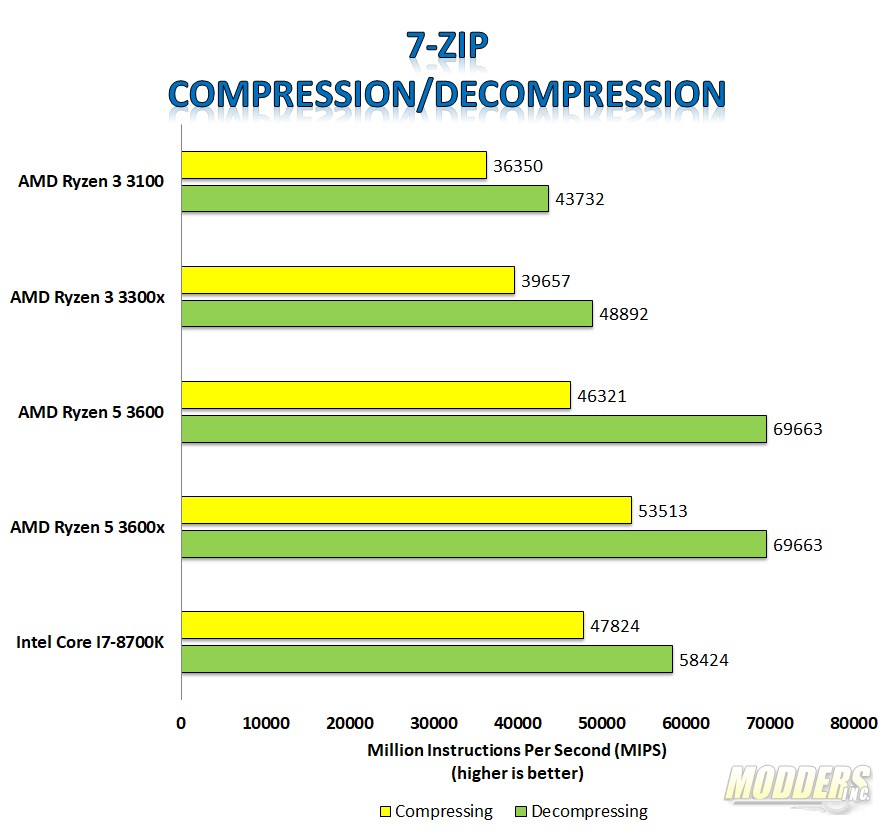 The differences between the two lower-end CPUs is minor at best and is because of a frequency difference. The Ryzen 3 3100 scored 36350 MIPS in compressing and 43732 in decompressing. The Ryzen 3 3300x scored a little better with 39657 in the compressing test and 48892 in the decompressing tests.
PCMark 10
PCMark 10 is a system benchmark for Windows PCs that focuses on common tasks performed in the office. PCMark 10 offers a variety of workloads categorized into four groups. The Essentials group includes web browsing, video conferencing, and app start-up time. The Productivity group includes tests based on spreadsheets and writing. The Digital Content Creation group includes photo editing, video editing, and a rendering and visualization test. The final group, Gaming, includes tests for real-time graphics and physics. It has three different benchmarks, PCMark 10, PCMark 10 Express, and PCMark 10 Extended.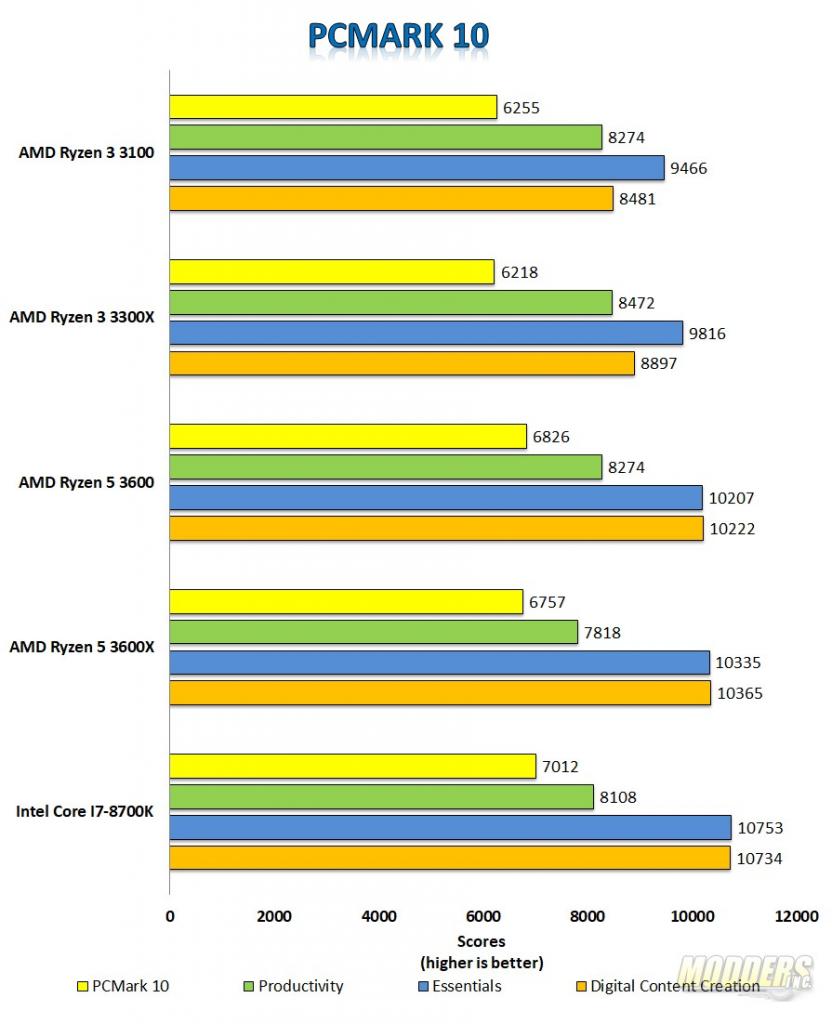 PCMark 10 shows how little performance difference in office style applications there really is between these two CPUs. The differences are minor at best and still come close to the 6 core CPUs included in the graph.
3DMARK
3DMark is a computer benchmarking tool created and developed by Futuremark (now UL) used to determine the performance of a computer's 3D graphic rendering and CPU workload processing capabilities. It does this through a series of graphics and physics and or CPU tests. I ran the extreme and ultimate version as I wanted to see how well AMD could handle the Nvidia GeForce RTX 2080ti and keep the testing platform consistent.
3D mark testing starts down the path of the gaming tests. In these tests, the 6 core CPUs enjoy a little bit of a lead but not much. In Time Spy and Firestrike the two Ryzen 3 CPUs score close to each other. The Ryzen 3 3100 scores 4448 overall and 2243 in the CPU category were the Ryzen 3 3300X scores 4588 overall and 2476 in the CPU category in the TimeSpy Extreme tests. In Firestrike Ultra, the Ryzen 3 3100 scores 6748 overall and 13622 in the CPU category whereas the Ryzen 3 3300X scores 6833 overall and 15279 in the CPU category.
For the gaming tests, I took a few tests that we use in our GPU testing and set the resolution to 1080p with medium quality in-game settings. I am a big fan of 1st person shooters as well as flight simulators. Lately, FPS games have become more multi-core aware and utilize more cores. Flight simulators, on the other hand, tend to do best on fast single cores.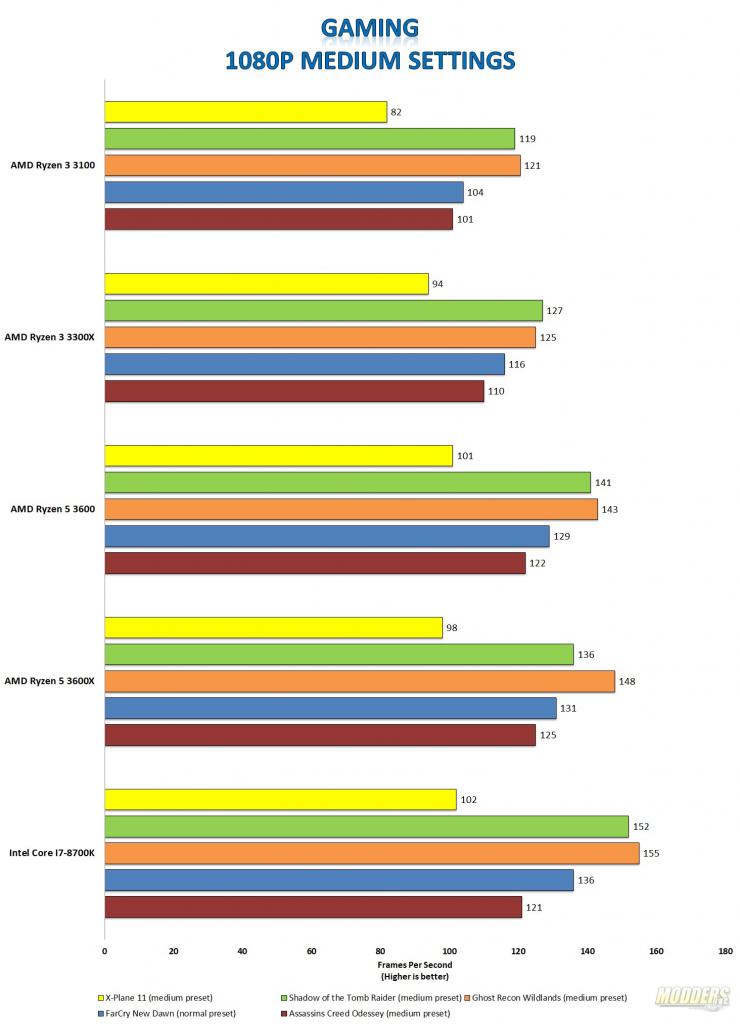 As one would expect, the Ryzen 3 CPUs don't have quite the FPS punch that the Ryzen 5 CPUs do. However, these CPUs can pull their weight. In Xplane, the Ryzen 3 3100 averaged 82 FPS, In Shadow of the Tomb Raider it averaged 119 FPS, in Ghost Recon Wildlands 121 FPS, in FarCry New Dawn 104 FPS, and Assassin's Creed Odessey 101 FPS. The Ryzen 3 3300x averaged 94 FPS in Xplane, 127 FPS in Shadow of the Tomb Raider, 125 FPS in Ghost Recon Wildlands, 116 FPS in FarCry New Dawn and 110 in Assassin's Creed.