« ASRock B550 BIOS
|
ASRock B550 Extreme4 Testing Continued »
Benchmarks for the ASRock B550 Extreme4 Motherboard
Component

Product Name
Provided By
Processor
AMD Ryzen 9 3900x
AMD
Motherboard
ASRock B550 Extreme4, MSI B550 Gaming Carbon Wifi, ASUS ROG Strix B550-I Gaming/ASRock X570 Taichi
Asus/ASRock
Memory

G.SKILL Trident Z Royal Series 16GB (2 x 8GB) DDR4 3600 16-16-16-36 (XMP)

Drive
Adata SX8200NP, Crucial MX500 1 TB SATA III SSD, Adata SU650
Adata/Crucial
Video Cards
Nvidia GeForce RTX 2080 Super Founders Edition
Nvidia
Monitor
BenQ EL2870U 28 inch 4K HDR Gaming Monitor 3840×2160 @ 60 Hz
Case
DimasTech EasyXL
DimasTech
Power Supply
Cooler Master Silent Pro M2 1500W
Cooler Master
Operating System
Windows 10 2004 x64 Pro with latest patches and updates
Since opportunistic boost clocks are now a thing on both AMD and Intel platforms, For every CPU review, I run a single-core test in POV-Ray and capture the clock speeds for 60 seconds to verify the motherboard and CPU can hit the advertised speeds. Keep in mind that the workload doesn't stay focused on a single physical core. As needed, the CPU moves the workload around.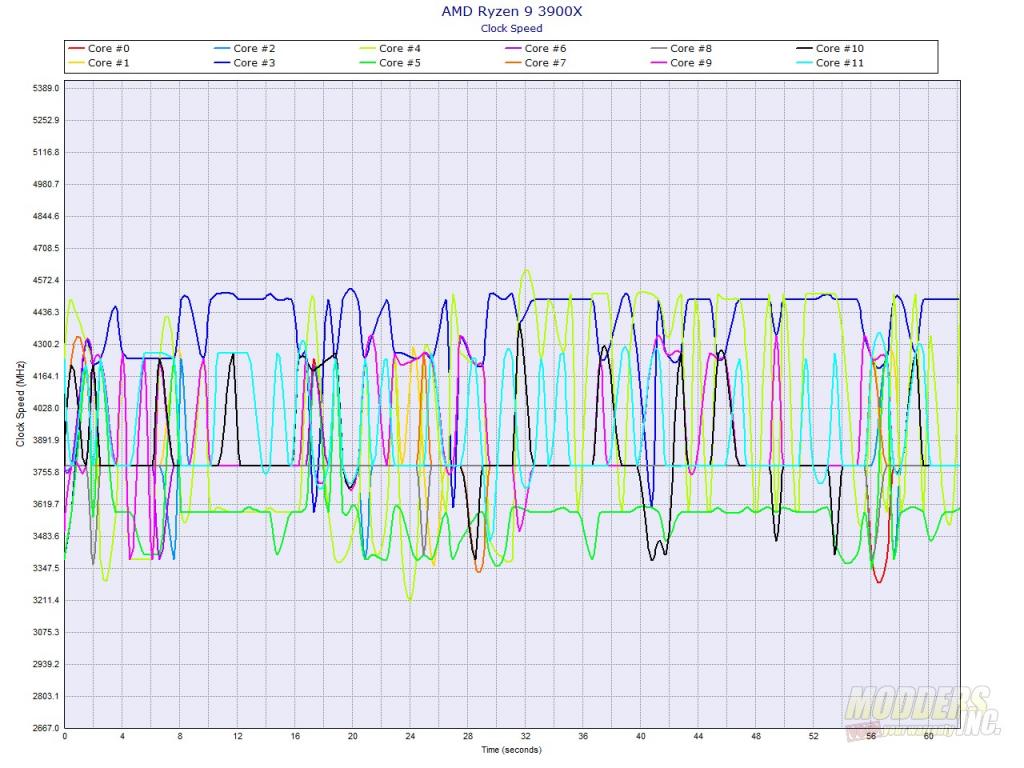 The stated boost clock for the Ryzen 9 3900x is "up to" 4.6 GHz and we had a single peak that hit that around the 32-second mark. But for the most part, the 3900x was hovering in the 4500 MHz
Testing and Performance
AIDA64 ENGINEER
AIDA64 has a set of several 64-bit benchmarks to measure how fast the computer performs various data processing tasks and mathematical calculations. Multi-threaded memory and cache benchmarks are available to analyze system RAM bandwidth and latency. Benchmark pages of AIDA64 Extreme provide several methods to measure system performance. These benchmarks are synthetic, so their results show only the theoretical maximum performance of the system. The AIDA64 suite has various benchmarks for CPU, FPU, GPU, storage, and memory testing.
Performance wise, the B550 Extreme4 falls within the margin of error as the results are very close throughout the tested motherboards. I included the other motherboards not as a direct comparison but more so as a test to ensure that performance is similar across the board. If one board were to drop performance by a significant margin, then it could be an issue with the motherboard, BIOS settings, etc.
Memory bandwidth tells the same story. ASRock's motherboard is within range of other boards I've tested.