« Multimedia, Compression, and Semi-Synthetic Benchmarks for the ASRock B550 Extreme4
|
ASRock B550 Extreme4 Synthetic and Gaming Benchmarks »
ASRock B550 Extreme4 Sub System Benchmarks (Storage, Audio, and Networking)
"CrystalDiskMark 5 is designed to quickly test the performance of your hard drives. Currently, the program allows us to measure sequential and random read/write speeds."
Audio Testing
To test the on-board audio on the ASRock B550 Extreme4 motherboard, I use the Rightmark Audio Analyzer benchmark. To test the onboard audio of any motherboard, I follow the guide on RMAA's site that talks about how to review Asus Xonar D2 in RMAA 6.0.5.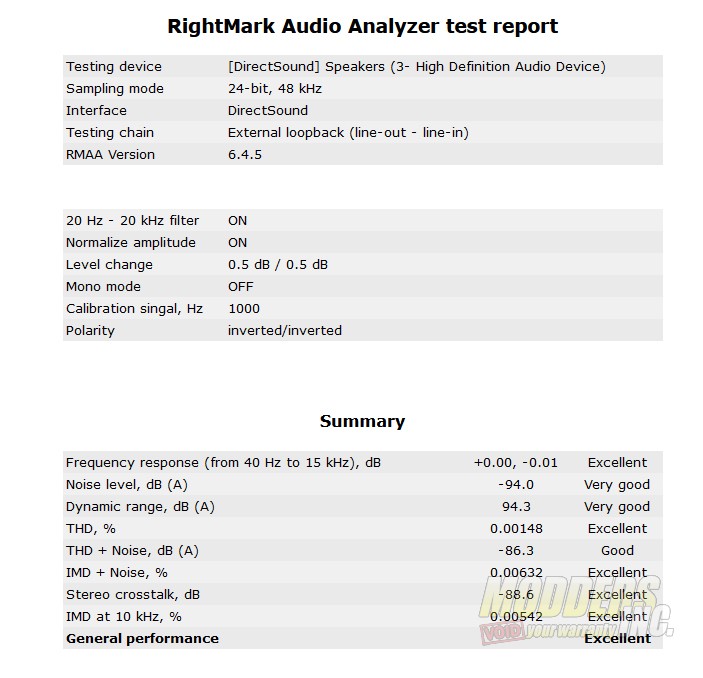 Network Testing
For network testing, I have a QNAP QSW-1208-8C 10 GbE switch that is capable of Multi-gigabit switching. This means the ports on the switch will negotiate at 1 Gb/s, 2.5 Gb/s, 5 Gb/s, and 10 Gb/s. Since the LAN port on the B550 Extreme4 is 2.5 Gb/s capable I used this switch and another PC that is 2.5 Gb/s capable and tested using Performance Test 9's network testing tool.
I test both TCP and UDP connections. TCP connections are connection based. This means the server and client talk back and forth to each other for every packet. Typically TCP will never reach line speeds due to network overhead. Still, I was able to average 1664 Mbps over TCP. UDP on the other hand is connectionless with little overhead. This means the network clients (either server or client) send traffic without any back and forth communication. If the packet gets there, it gets there. UDP typically is a good indication of line speed and it shows here. My testing averaged 2399 Mbps.