Page 2 »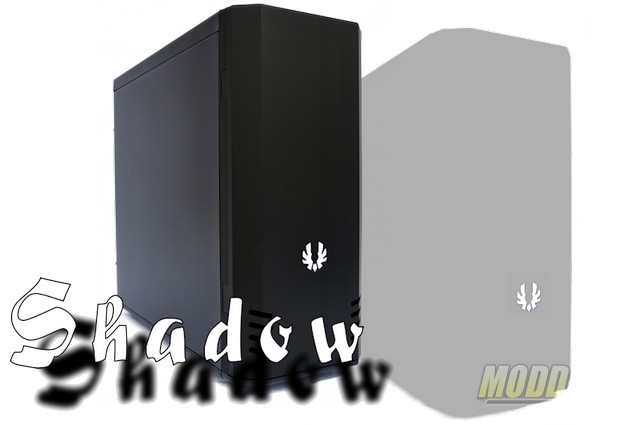 BitFenix: "Combining a deep understanding of gaming and other high-demand computing applications with superior engineering and design know-how, the BitFenix team is dedicated to creating the go-to computing products and peripherals for those who refuse to quit."
The BitFenix SHADOW is an ATX form factor supporting motherboards with form factors ATX, Micro-ATX and Mini-ITX. October 2013, Bitfenix released the Shadow, a small ATX stone carved monolithic looking case.
Review Sample Provided by: BitFenix  and Lutro0 Customs Product Name: Shadow
FIRST LOOKS
Made of Steel with dimensions of (LxWxH) are 506mm x 190mm x 440mm, 19.92″ x 7.5″ x 17.3″ it's artfully accented brushed NS Flat matte look with LED front base Red, Blue and Off, boasts Sleek, Savy and Sinister look.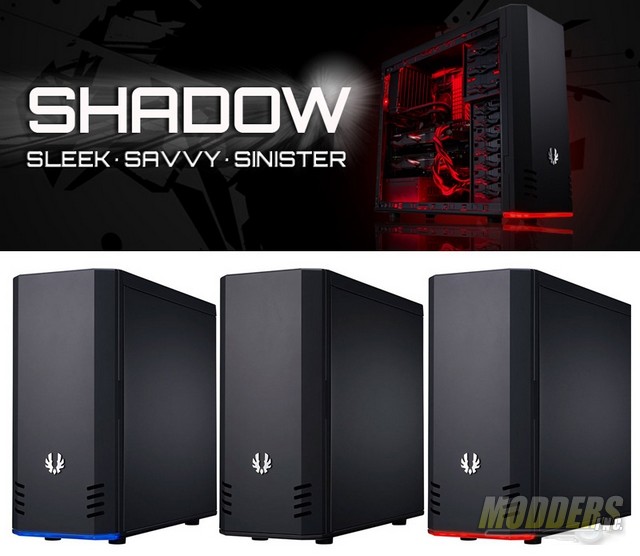 Right off style and beauty come to mind. Let's dig in and find out if that's the case.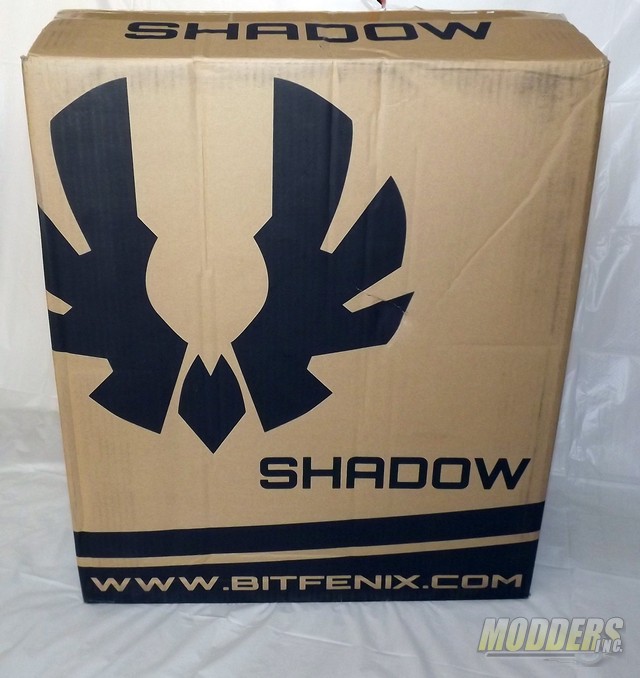 Boxing is decent and strong. Unmistakeably labeled with the company logo, case name and web address.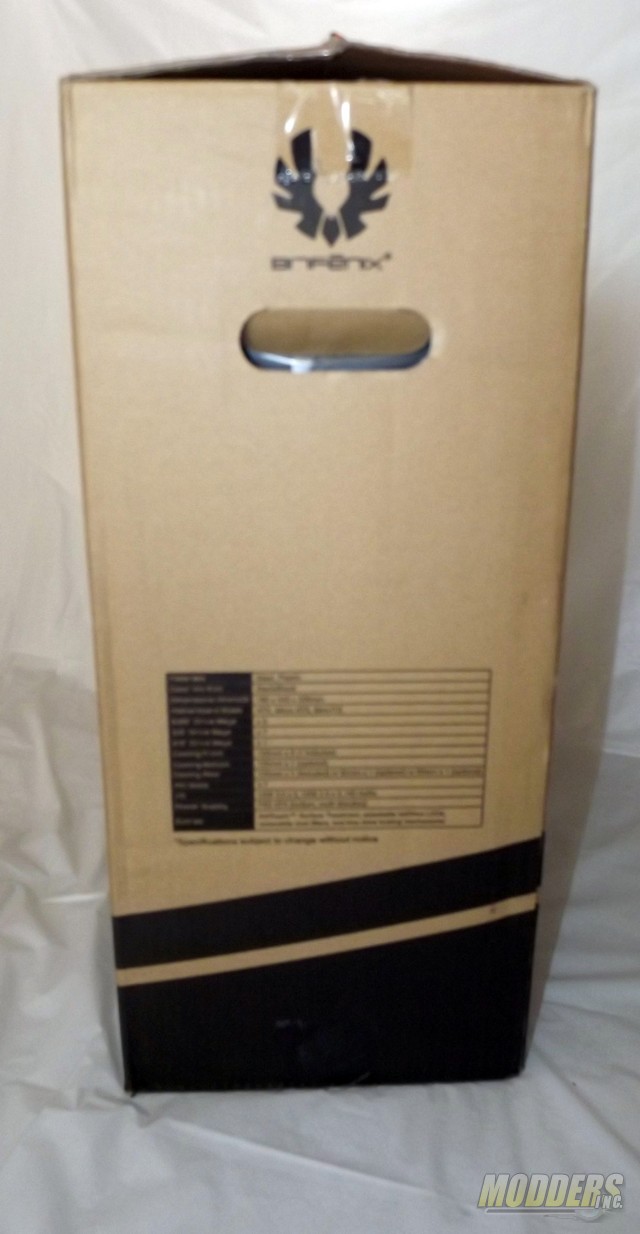 Side handles on both sides with Specifications on one.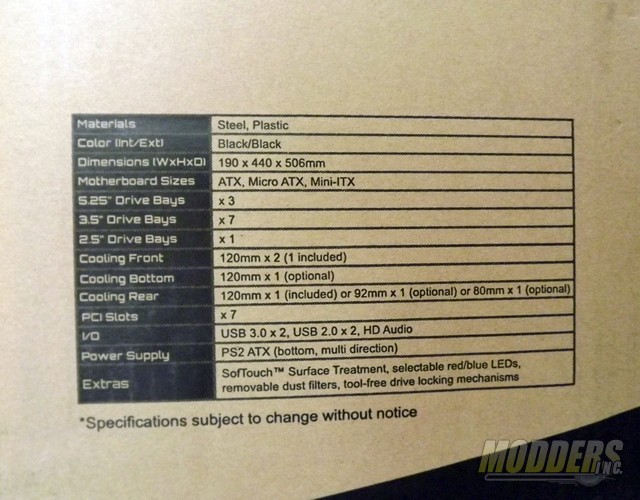 Side Specs. for the Shadow.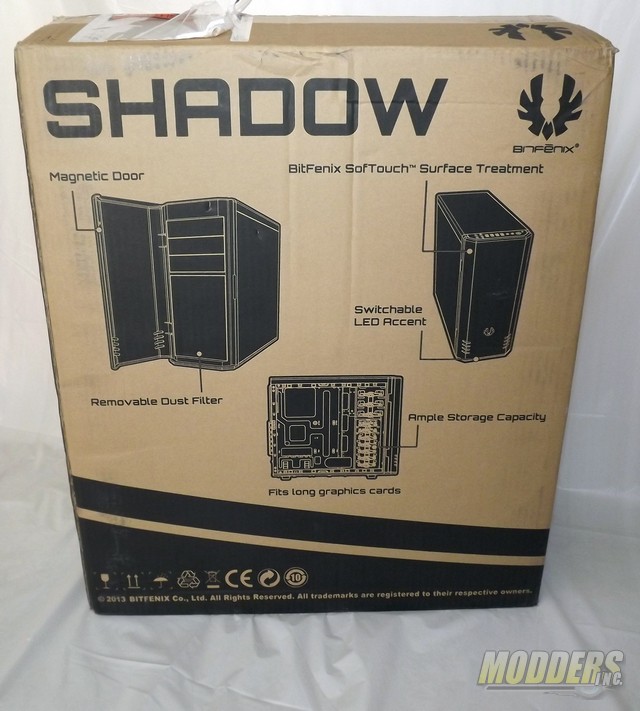 Back of the box has Identity along with a few of the case features in presentation form.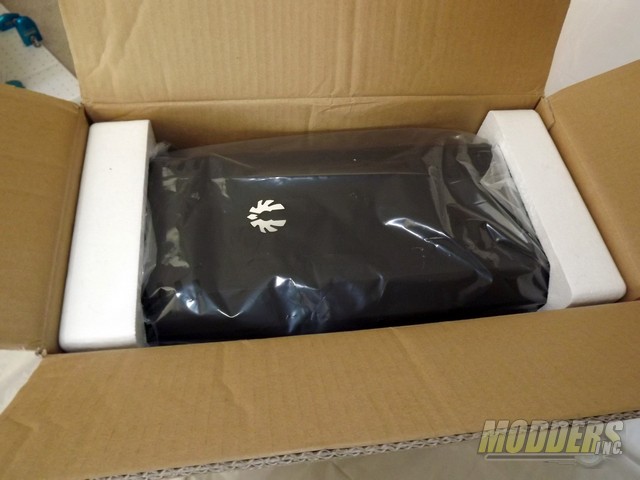 I'm a big fan of cases packaged with a buffer space and this case we have a nice gap of safety, snug and wrapped well.
Double cardboard, firm and rigid hugged in a very dense and thick styrofoam bracing wrapped in a plastic bag.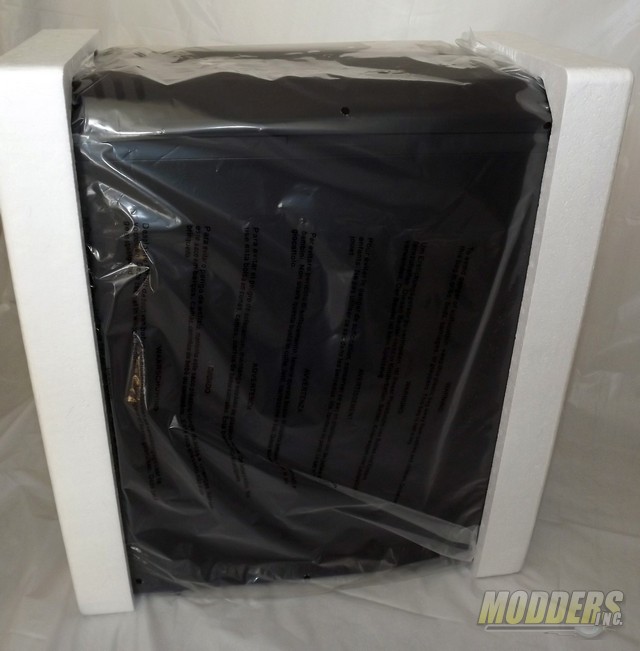 Out of the box and it's safe, secure and shows excellent packaging.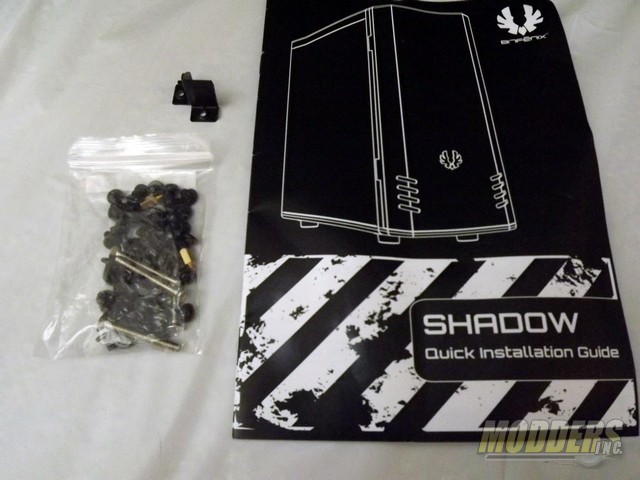 Inside the case you'll find the accessory bag with a Installation Guide Manual and bag consisting of;
1 x PSU Bracket 4 x 6/32 long fan screws
28 x 6/32 Flat MB and HDD screws (black)
6 x 6/32 Hex PSU/PCI Brecket screws (black)
12 x M3 Round ODD/SSD Screws (black)
2 x MB Standoff for mATX MOBO mounting (brass)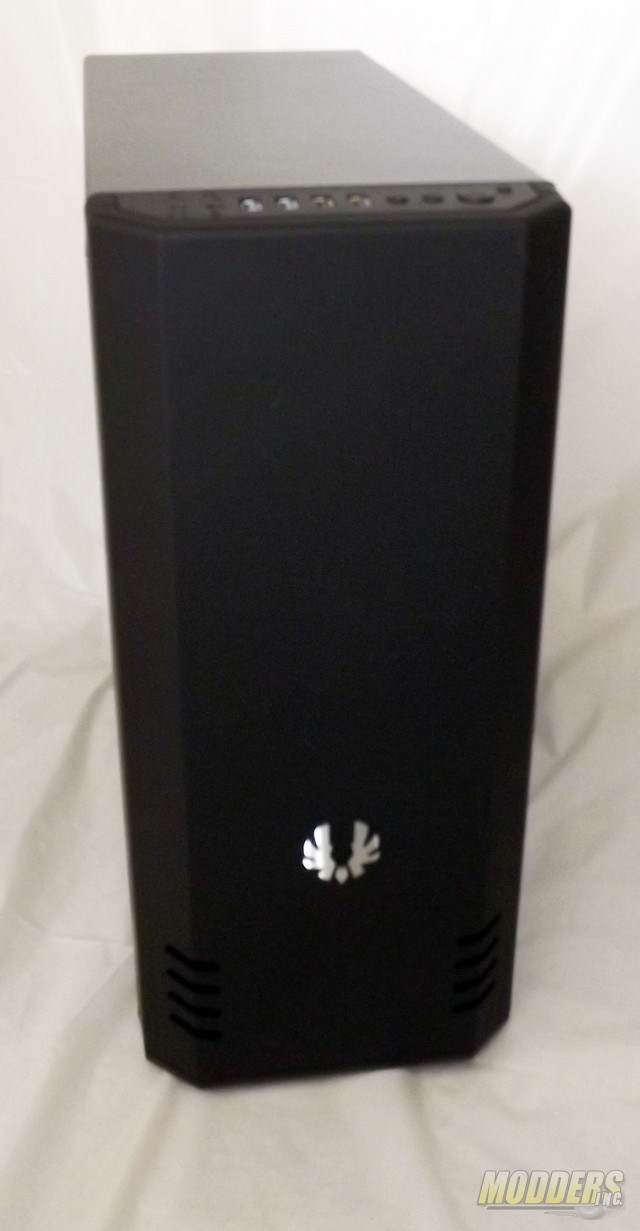 Stylish cuts on the front bezel door, the BitFenix emblem glistening it's brushed aluminum look. The bezel/door has a soft touch, anti smudge matte black coating front and over the top covering the I/O control section.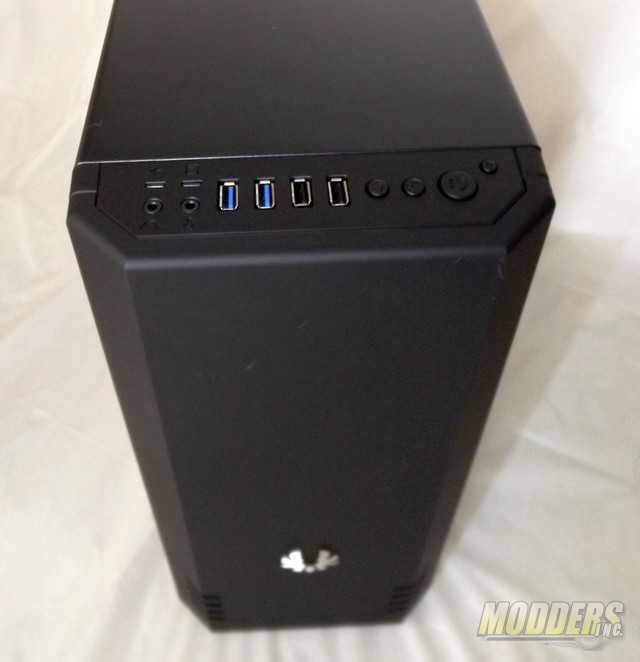 The soft touch covered I/O control section includes Head Phones w/led, Mic w/led, 2 USB 3.0, 2 USB 2.0 ports, LED Color change, LED on/off, Power and reset controls.
Both Side panels are attached by thumb screws on rear and a 180 degree swing out hold mount to the panels.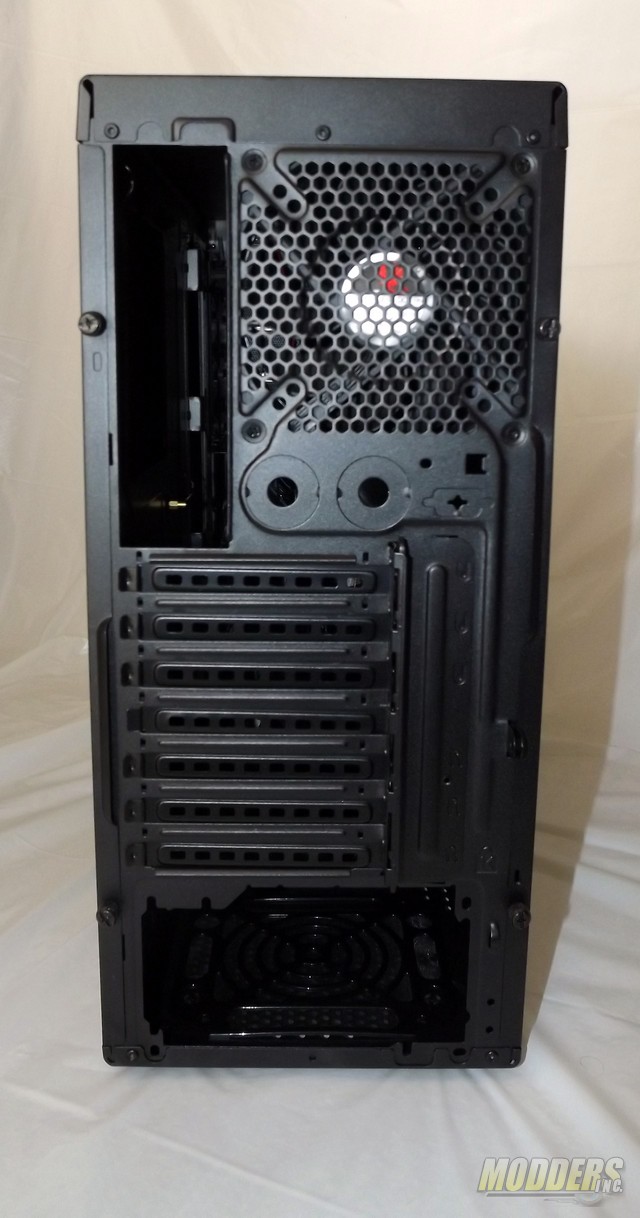 The rear of the case bottom up is the PSU opening, 7 slot access for up to ATX sized MOBO's, I/O panel opening, 120mm fan exhaust section with what I'm assuming is access ports for Water Cooling tubing allowing the option to pop out larger sized access for connectors and tubing and a pop out serial port.