« Page 4
Final Thoughts
Stylish looks, no flaws in paint or appearance. All parts and accessories are of good quality and everything in fine working order.
If I based my determinations on just the written claims, specs and web site details and used a stock or small air cooler I would say this case is well built with a classy monolithic look and for a simple build I would give it high scores and even a Editors Choice.
However, in the BitFenix web site gallery and primary ad a build is showcased as part of the product descriptions showing 2 GPU's, Sleeved Cables and a AIO thick radiator CPU cooler set-up (pictured below).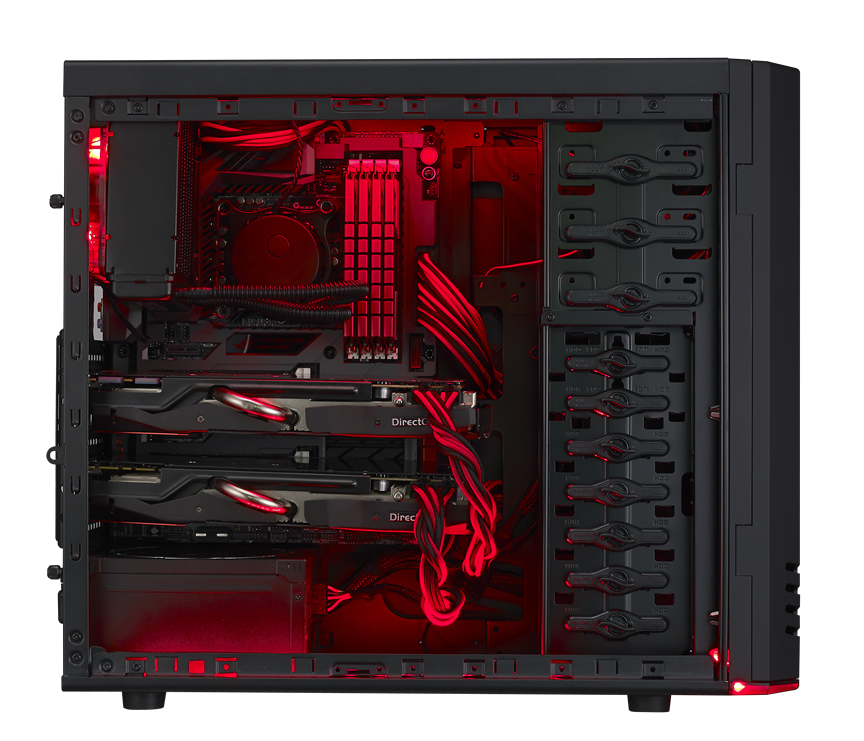 I learned something on this review. Not to let bias, preference or my personal choice of building influence the review of a product. I should base the review on product specifications, company claims, advertisements and yes even the galleries included in the product presentation on the company web site because it leads you to believe your safe doing something even if it's not in the literature. When I planned this build I seen this picture and planned a AIO cooler only to find a difficult and specific undocumented fitting solution. Please plan carefully when you are in tight spaces like small ATX cases like this. Read all the specs. and in a small case measure your parts out for fit. And BTW, Notice that darn red SATA Case Cable, even in this beauty of a build it's about the only bad look I would take notice of.
The only "fault" or drawback on this case is the AIO limitations. I have to assume BitFenix is suggesting this is set-up for AIO coolers by showing the Shadow with it in pictures but I feel not giving any information of the limitations, configurations to mount or size restrictions, customers may have difficulties or have to buy a number of AIO units looking until one fits. During this build/review I found that if your are using any smaller case combined with a x79 motherboard (DDR3 modules are located on both sides of the CPU) you will have issues installing any AIO liquid cooling setup and since the smallest of PSU's don't leave space for a radiator on the floor an AIO cooler is probably out of the question without a MOD of some type.  This is a lesson learned and noted for you and me. Other than that and details like the one red Sata LED case power cable, no mention about PSU size restrictions, meaning you lose the lower fan with anything but the smallest PS2 ATX sized PSU the drawbacks are few.
Without the AIO cooler problem or the web site AD presentation and impression that your all set using AIO cooling I would have issued a EDITORS Choice Award. Since I feel very strong about planning a build and hoping the manufacturer will assist my planning and provide information on restrictions using standard products to build what I like. Price, good looks and high quality construction I award the Bitfenix Shadow the Recommended Hardware Award with a recommendation that you plan more carefully than I did if you want to build especially a gaming or mining rig in such small spaces.