« Page 4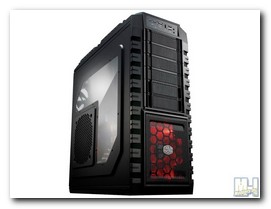 From my stand point the HAF X has proved to be the easiest case I have worked with in some time. In fact I would go as far as to say, the Cooler Master HAF X is my new all time favorite case. Why? You may ask. Well, simply put the case is rock solid and is made for the performance and longevity, this case will last. 
   Despite all the ruggedness of the case I found not one sharp edge during the installation build. I didn't even get a paper cut from the manual. Ya, I know that is kind of out there … what can I say. Seriously though the build went without a hitch, was quick and straight forward, exactly what you want when approaching a system build in a new case. The cable management, system if you will, was as easy as can be for even a novice to use, with more than enough room to hide the cables behind the motherboard tray. There was more than enough room inside the case for even the biggest monster systems, including water cooling. The tool-less build of the case was the icing on the cake, made things easy and very quick.
   The aesthetic design of the case, which was a military style no doubt, was done effectively all the way down to the new side window. This window has a shape similar to the chevron design found on military uniform rank patches. A single chevron stripe means a private in the military, if this is the case here I can hardly wait to see the 5 Star General version of the Cooler Master HAF. 
   I found it very hard indeed to find a flaw with the case at all, in fact I can not personally say that I did. The Cooler Master HAF (High Air Flow) series has become one of, if not the most sought after cases on the market and this new addition to the Cooler Master HAF series is perhaps the best version yet. If you have need of High Air Flow for an Xtreme system, then you need the Cooler Master HAF X!
Pros

---

Cons

---

Excellent build quality
Matte Black Finish Inside and Out
USB 3.0 support on front panel
Great Airflow and Cooling
Plenty of room
9 expansion slots
EATX motherboard support
Solid Tool Free Design
Dual Hot Swappable Docks
Can Fit The Huge PSUs
Great  Cable management
PSU Cover for a clean look
Large Graphics Card support