« Page 3
Observation: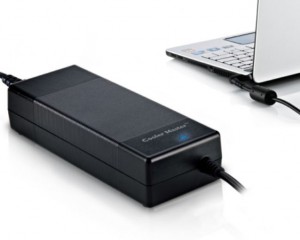 Per Cooler Master :

Designed to be an all-encompassing power solution that provides power to nearly all laptops. It is equipped with 10 included charger tips that can be swapped on-the-fly to quickly power most laptop brands.

Maintaining an eco-friendly energy efficiency of up to 90%, The NA 120W provides a high 19V output that often outperforms that of the original notebook power adapter. Being designed for travel, NA 120W comes equipped with a convenient cloth storage bag for accessories and an inline Velcro cable management strap.
[dhr]
Over the past few years I have found myself having to diagnose and repair many a laptop, and one of the most frequent problems I find is a broken power adapter plug or just a plain dead power adapter. During this time I have also used several different universal power adapters. For the most part, outside of the ones that are solely proprietary and have special dc jacks, I have had good luck with universal power adapters.
However, I will have to say that I do have several things that I have come to enjoy having on some of the universal power adapters I have used. Those things include a button to set the voltage to where I want it, an LED read out of the set voltage, multiple interchangeable power tips / plugs, long cables and last but not least a USB charging port. This is not to say that a universal power adapter must have these things to be a good power adapter, after all the standard power adapters do not have them. It's more of a personal preference I suppose, but the only short comings I had with the Cooler Master NA 120 were the lack of being able to set my own voltage, and LED readout and the lack of a USB charging port, other wise it was a great unit.
In my testing of the Cooler Master NA 120 Universal Notebook Power Adapter 120W, I did not have an available way to test the voltages and wattage of the unit. However, I did test it on my personal HP computer which requires 90 watts and 18.5 volts to charge the laptops battery. And while I can not attest to a higher wattage unit, I can say that the Cooler Master NA 120 did indeed put out enough wattage and volts to charge my HP. Not only did it charge my HP, I noticed that the Cooler Master NA 120 was somewhat cooler while charging my laptop, as my standard HP power adapter get pretty warm.
I have no doubt that the Cooler Master NA 65 and Cooler Master NA 90 power adapters will do an equally good job, so if your not in need of a 120 watts and 19 volts of power one of the smaller wattage versions may be all you need. However, I never know what wattage or volt adapter I may need next to try on a laptop, so the Cooler master NA 120 is just the ticket here.
With the overwhelming numbers of older and newer laptops out there today in need of new power adapters, it can sometimes be a daunting task to find one that can work on more than one laptop. It is nice to see manufacturers like Cooler Master stepping up and making the effort to help fill the need for people who have broken power adapters. And with them being more energy efficient, that makes it even better.
In conclusion, I would have to say  that, overall I found the Cooler Master NA 120 Universal Power Adapter 120W to do an excellent job at what it was designed to do, and that is charge many different brands of laptops.
[dhr]
PROS:

Up to 88% efficiency to certified  Energy Star Level V
Does not get as hot as the standard power adapter
Blue power on LED Indicator
Long power cords
90° dc adapter tips (better than straight line tips)
10 different color coded dc adapter tips (for various laptop brands)
Comes with a storage bag
2 year warranty

 CONS:

No USB charging port
No Voltage setting button
No LED voltage readout