« Intro
|
Page 3 »
Impressions:
Once the package is opened we see that Cooler Master has all of the components packed neatly inside their very own containers and plastic bags.
With all of the inside packaging removed we get our first look at the Cooler Master NA 120 Universal Power Adapter 120w. It comes with the NA 120 power adapter and cord, the 10 interchangeable power tips and holder, and a handy carrying / storage bag.
Power Tip and Applications: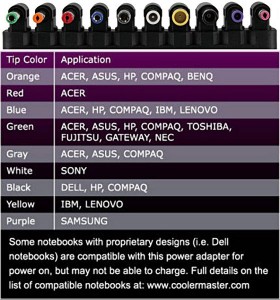 In the image above we have the power tips already placed in the tip tray, so you will be able to see the various color coded tip ends. Each tip end helps identify the particular brands they will fit. You will notice several brands may have different sized tips that will be for a specific model of said brand. However, the image above will give you a very good stating point.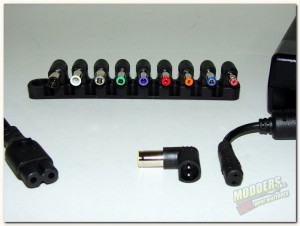 The above image gives you a closer look at the connector ends of the NA 120. First is a standard power adapter figure 8 female end that connects to the adapter itself from the wall outlet. Next we have one of the 90° adapter power tips, as you can see there are actually two male ends, one end plugs into the laptop and the other 2 prong end end plugs into the female end of the power adapters cord. You can tell by the picture above that the power adapter ends of the 90° tip can only be connected one way.