Test System and Benchmark Results of the Cooler Master Nepton 140XL

All case and heat sink fans were running at 100% unless otherwise specified. The testing room was temperature controlled at 24 degrees Celsius. Ambient temperature monitored at case intake and data was discarded whenever the ambient temperature would rise beyond 0.5C higher or lower than 24C. Video card is installed on the third PCI-E x16 slot for full CPU heatsink clearance compatibility. Fresh Noctua NT-H1 thermal compound is applied per run in a small center cross method due to the large surface area of the LGA2011 IHS instead of small center dot. Temperatures are averaged from individual core temperature results monitored by AIDA64 after 15 minutes. Peak temperature is the highest recorded per-core temperature during the duration of the load test. All tests were taken three times to get the final result. Stock settings have all power saving features enabled in the motherboard and set to "Balanced" in Windows. OC settings have power saving and Hyper-Threading disabled, Vcore voltage manually set to 1.375V at 4.4GHz and 1.45V at 4.5GHz and Windows power setting changed to "High Performance".
Processor
Intel Core i7-3960x (Engineering Sample)
Motherboard
ASUS P9X79 WS Motherboard
Memory
Patriot Viper 3 "Black Mamba" Low-Profile 4x8GB DDR3 Memory
Drive
OCZ Agility 4 256GB SSD
Video Card
AMD HD 6570 Video Card
Thermal Compound
Noctua NT-H1 (small center-cross application method)
Case
NZXT Switch 810 SE (top 140mm fan removed and placed as front intake)
Comparison Coolers

Corsair H100
Corsair H110
Noctua NH-D14 SE2011
Noctua NH-U14S
Phanteks TC14PE
Cooler Master Nepton 140XL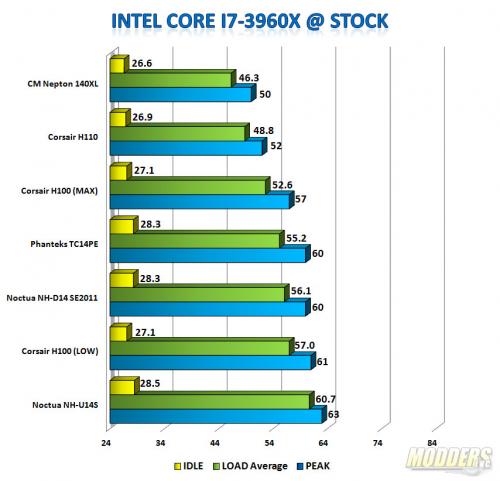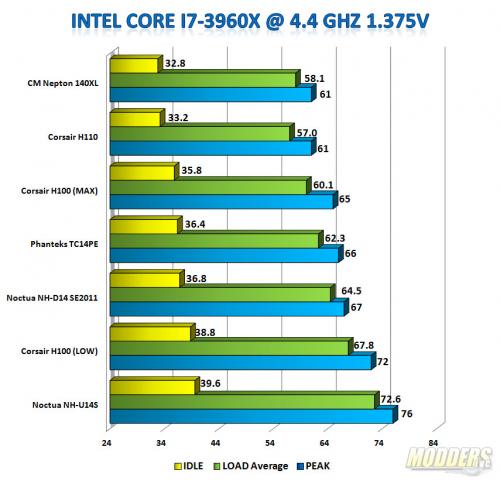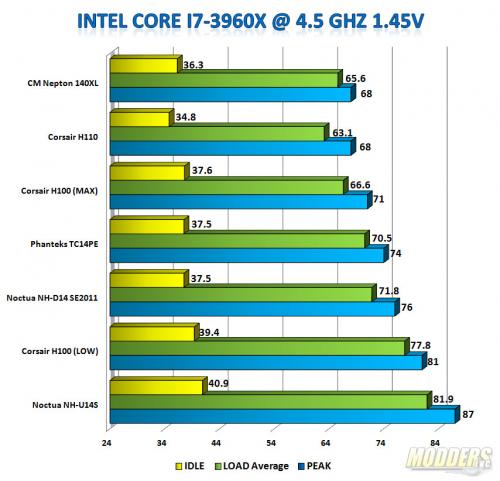 Performance Summary:
Quite an incredible showing by the Nepton 140XL here, leading the pack in the stock benchmarks and even with the overclocked settings, it only trailed behind slightly against the larger 280mm Corsair H110. The fans are very loud at full speed but since they are PWM fans, it is easy to lower it down and at an audibly tolerable 60% fan speed ~1700 RPM, performance was still decent when overclocked to 4.5GHz with 1.45Vcore idling at 36.5 degrees celcius and peaking at 72 degrees with a load average of 69.5 degrees celcius.