Final Thoughts about the Cooler Master Nepton 140XL

It comes as no surprise that the Nepton 140XL performed extremely well and I have to attribute that largely to the JetFlo fans. Although these are slightly modified JefFlos compared to the retail version, they push considerable amount of air and have a very high static pressure which makes them ideal for radiators. Like with most self-contained kits however the drawback is in the amount of noise produced. While I would not describe the JetFlo fan noise at 2000 RPM as pleasant, it is devoid of distracting high pitch noise unlike other high RPM fans so it is more tolerable in that regard, although still objectively loud.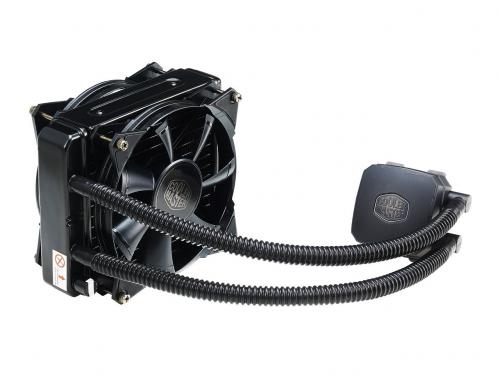 The Nepton 140XL's $99 price tag is also very competitive in this price range, offering some advantages over the typical Asetek or CoolIt solutions. Unlike Asetek, the mounting kit is mostly metal instead of plastic so they are a lot more durable and resilient through multiple re-installations. The only plastic parts in the mounting kit are the four plastic locks that secure the metal posts but even if you break one of those plastic locks, you can still install the Nepton 140XL and hold it in place firmly, it will just take some effort to mount it as the posts will move around more during installation. The pump is larger than most $99 self-contained kits and obviously performs better, even when the fan speed is lowered to a tolerable level.
There were some obvious concessions made to keep the Nepton 140XL's price tag under $100 but they are mostly cosmetic (aside from the absence of POM bearing fans) such as the metal mounting bars and the lack of finishes. Thankfully, Cooler Master did not cut the value short to sacrifice performance, providing two 140mm fans and extra radiator mounting screws for different scenarios. For the price, flexibility, and sheer cooling power, the Cooler Master Nepton 140XL receives the Modders-Inc Editor's Choice Award.
[sc:editors_choice_award ]