Closer Look at the Deepcool Captain 240EX RGB »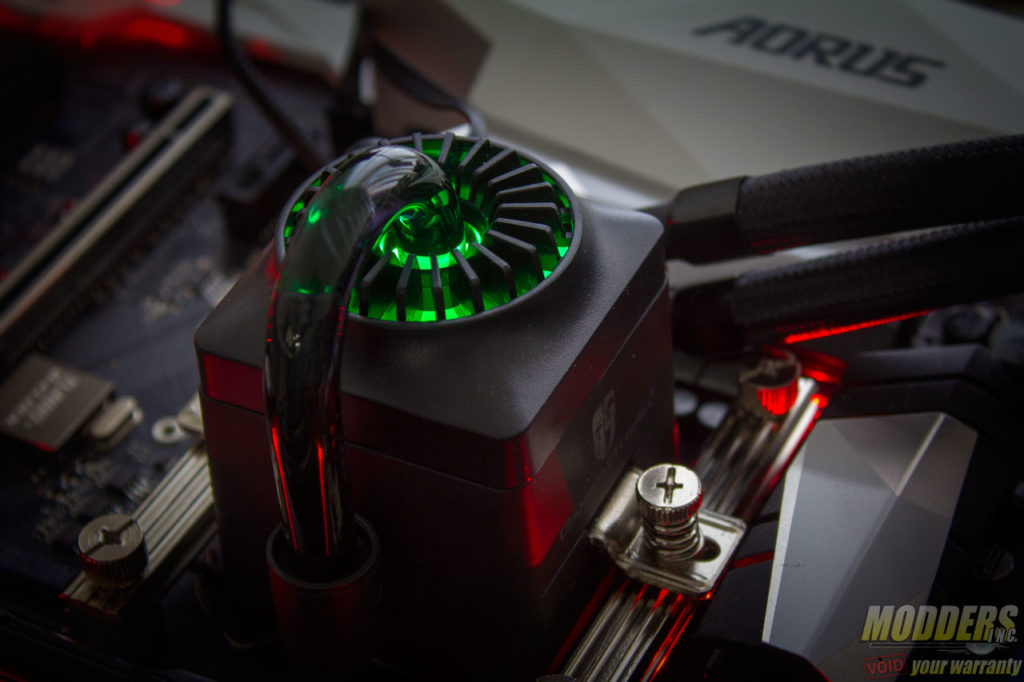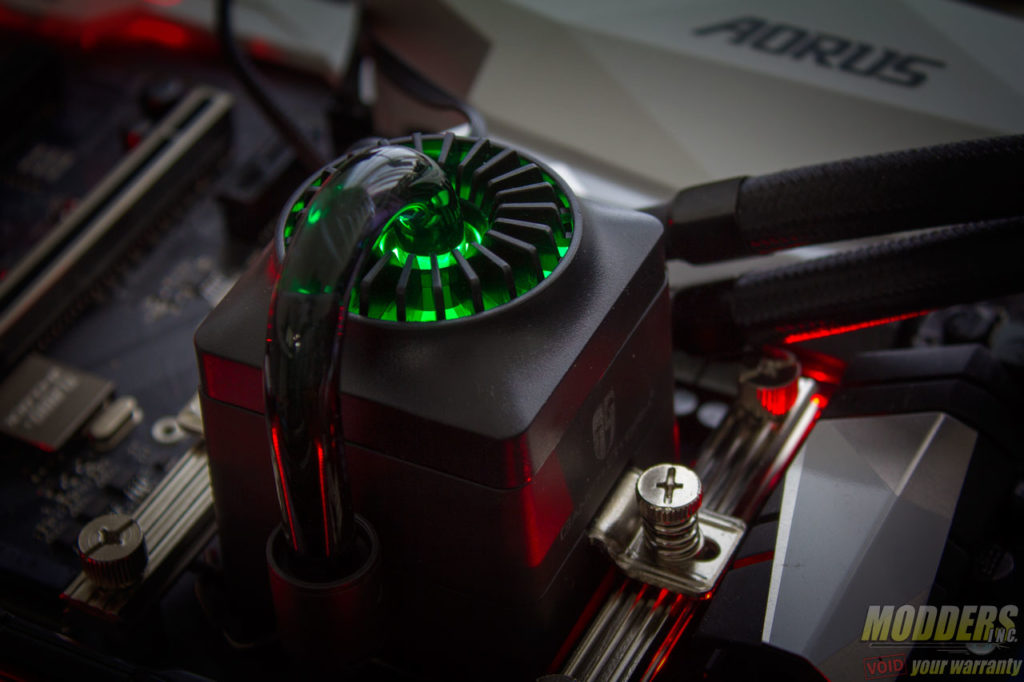 Deepcool's product line has been incorporating several formerly disparate products into one convenient package. This was seen before with their Deepcool Genome case which integrates a chassis with an all-in-one liquid cooler. The new Captain 240EX RGB on the other hand, is an AIO liquid cooler which comes with an RGB LED controller and RGB LED strip. It is the exact same upgraded Captain 240EX core, supporting the Intel LGA115x/20xx and AMD AM3/AM4 sockets with some colorful extras.
[sc:sponsor sponsor="Deepcool" product_link="https://www.alphacool.com/shop/sets-und-systeme/eisbaer/20225/alphacool-eisbaer-240-cpu-black" product_name="Captain 240EX RG" product_price_link="https://www.newegg.com/Product/Product.aspx?Item=N82E16835856098&cm_re=captain_240EX-_-35-856-098-_-Product" product_price="$129.00″ ]
Packaging
The Deepcool Captain 240EX RGB displays its most prominent feature up front, having a multi-colored pump block using the same familiar design as previous Captain cooler models.  The back has a diagram showing the pump and the radiator measurements so users can assess whether it will fit in their system.
Inside, the contents of the package are compartmentalized in a recycled cardboard cradle and further wrapped in plastic individually.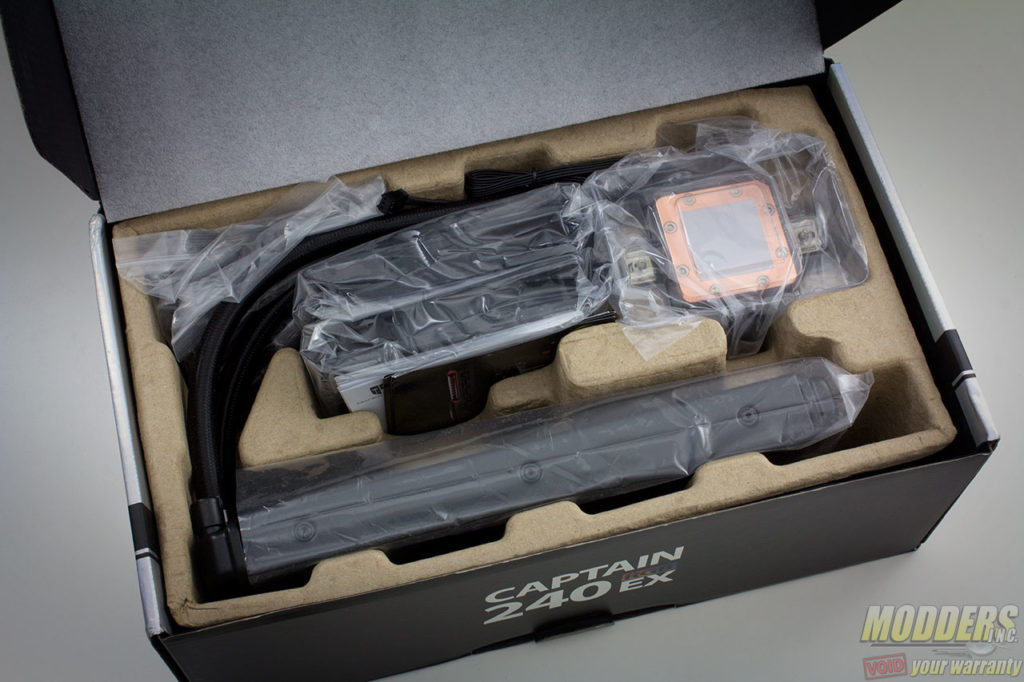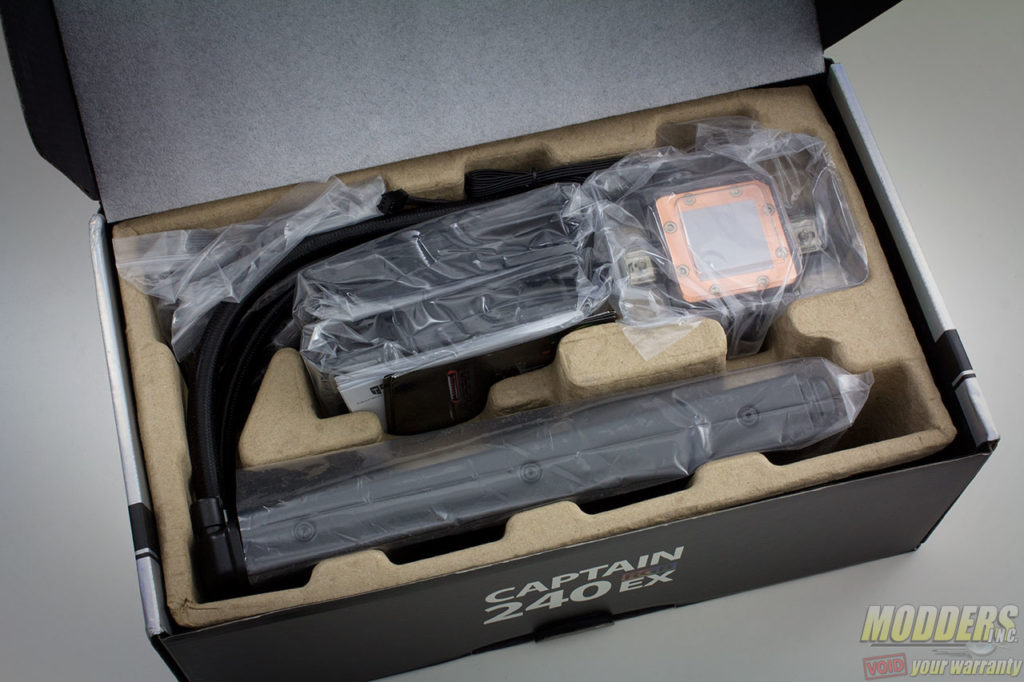 Accessories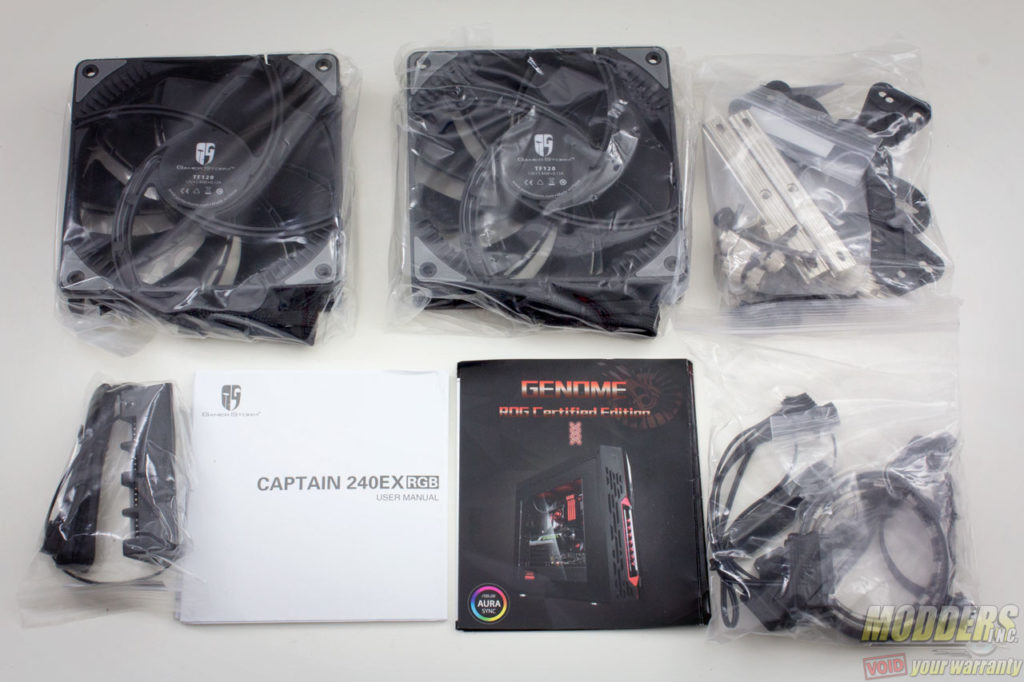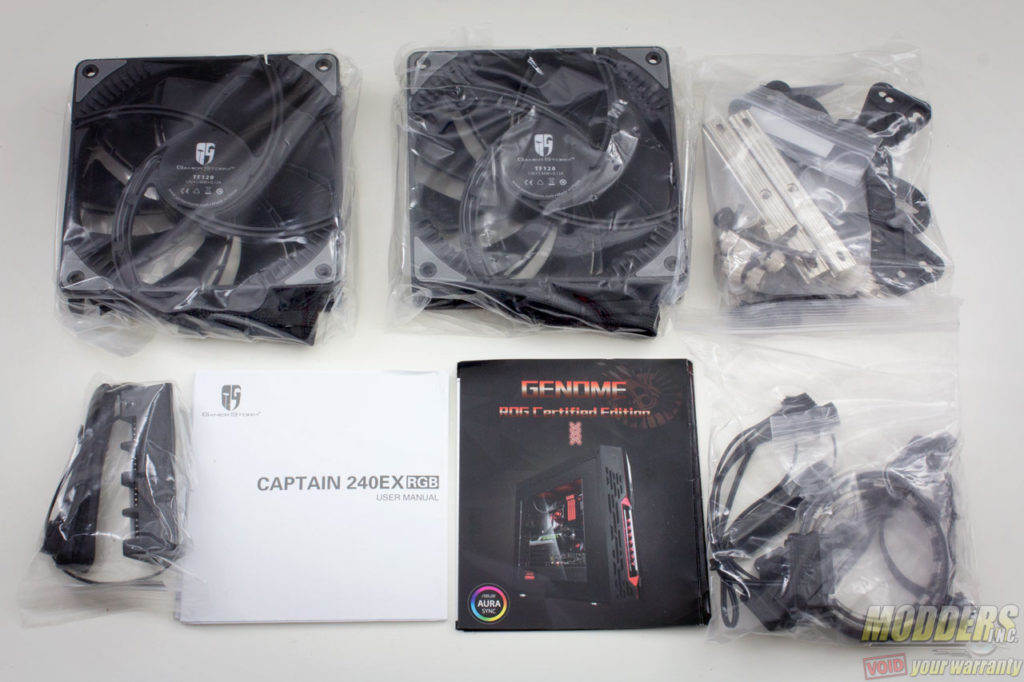 The Captain 240EX RGB is packed with plenty of accessories. There are the essential ones that it shares with the regular Captain 240EX, but there are also several extras that are only available on the new RGB-enabled version.
The contents include
2x TF120 fans
1x Universal backplate
8x long radiator screws
8x short radiator screws
1x Deepcool Gamerstorm case badge
4x locking nut
4x insulated locking metal stand-offs
2x AMD metal mounting bar
2x Intel metal mounting bar
4x mounting post
4x Intel LGA20xx mounting posts
1x fold-out user guide
1x promotional flyer
1x RGB LED strip
1x zip tie
1x in-line RGB LED controller
1x RGB header adapter
4-pin PWM cable extender
4-pin PWM hub
The RGB LED strip has an adhesive back and has a clear coating (non-diffused) cover for protection. It has 21 RGB LED lights across it and also has magnets between each point so it can be mounted on steel cases without using the adhesive. Although it uses 4-pins (+12V, G, R, B) the terminal end requires the bundled RGB LED cable and cannot be plugged in directly to a standard header without any modification on the plug housing. It also cannot be daisy-chained like a typical RGB LED strip.
Specifications
| | |
| --- | --- |
| LED Strip | 350mm × 1 pc |
| Fan Dimensions | 120X120X25mm(2PCS) |
| Net Weight | 1249±10g |
| Fan Speed | 500±200-1800±10%RPM |
| Fan Air Flow | 153.04CFM(MAX) |
| Fan Air Pressure | 3.31mmH2O(MAX) |
| Fan Life Expectancy | 50000 hours |
| Fan Noise Level | 17.6~31.3dB(A) |
| Fan Bearing Type | Hydro Bearing |
| Fan Connector | 4Pin |
| Fan Rated Voltage | 12VDC |
| Fan Rated Current | 0.12±10%A(MAX) |
| Fan Power Consumption | 1.44W |
| Main system Dimensions | 92.5X93X85mm |
| Radiator Dimensions | 274X120X27mm |
| Radiator Material | Aluminum |
| Pump Life Expectancy | 120000 hours |
| Pump Connector | 3Pin |
| Pump Operating Voltage | 6~13.8VDC |
| Pump Rated Voltage | 12VDC |
| Pump Speed | 2100±10%RPM |
| Pump Current | 0.15A(Max) |
| Pump Power Consumption | 1.8W |
| Tubing Length | 310mm |