« Introduction and Specifications | Installation Procedure and Clearance Compatibility »
A Closer Look at the Deepcool Captain 240EX RGB

The Deepcool Captain AIO CPU Cooler series is unmistakable with its distinct "reactor" style pump block unit. Internally, it has been upgraded quite a bit since the original Deepcool Captain released, now having denser copper microchannel fins, better motor, better tubing, better mounting kit and in the case of the new RGB version, a lot more colorful.
Pump Unit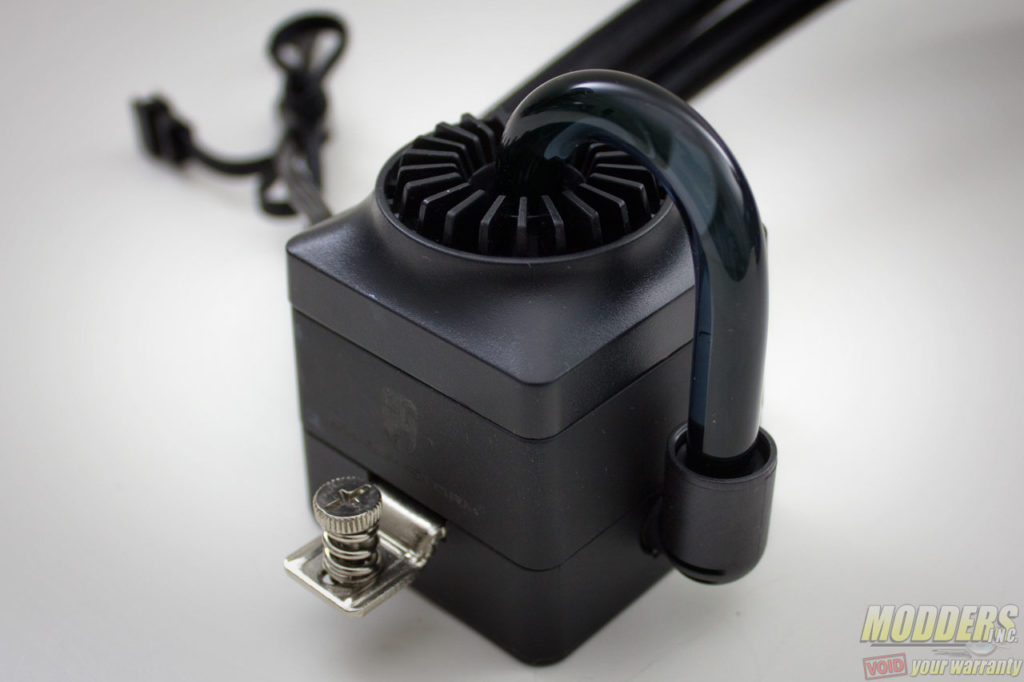 The pump block unit stands 85mm tall, with a clear hard tube visibly moving the coolant from the bottom to the top compartment. On the other side, the two tubes act as the intake and the other taking the fluid through the radiator assembly. The cabling for the RGB LED of the reactor and the pump power is also located on the same side as the tubes.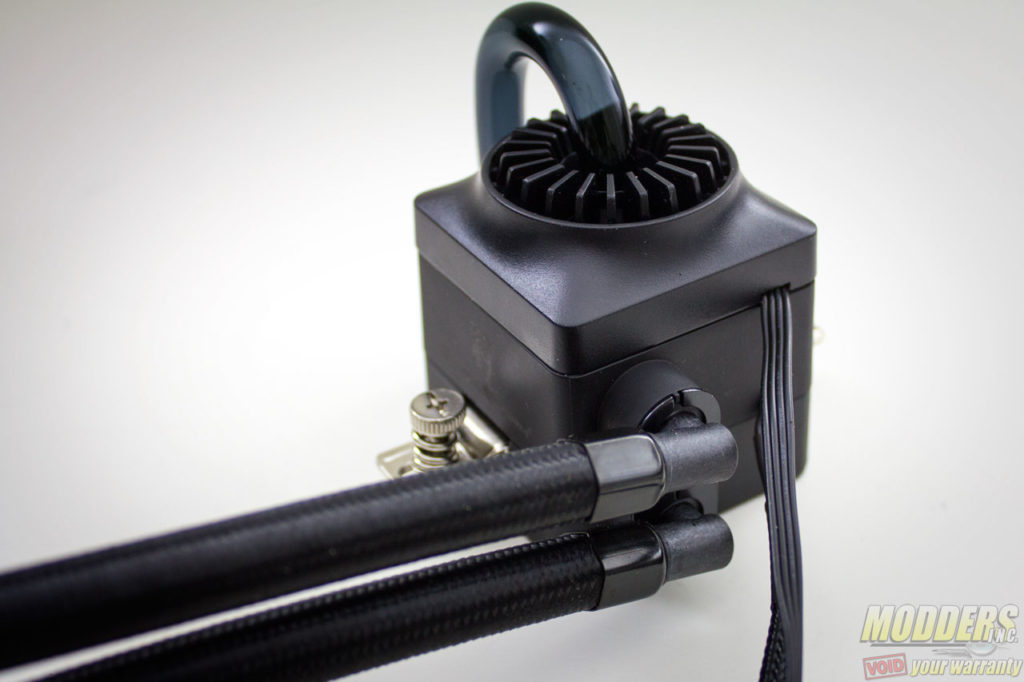 The pump connects via 3-pin power and the RGB LED can be attached directly to a motherboard with RGB LED headers. Users using an older motherboard can also plug-in the RGB LED lighting to the bundled in-line RGB LED controller.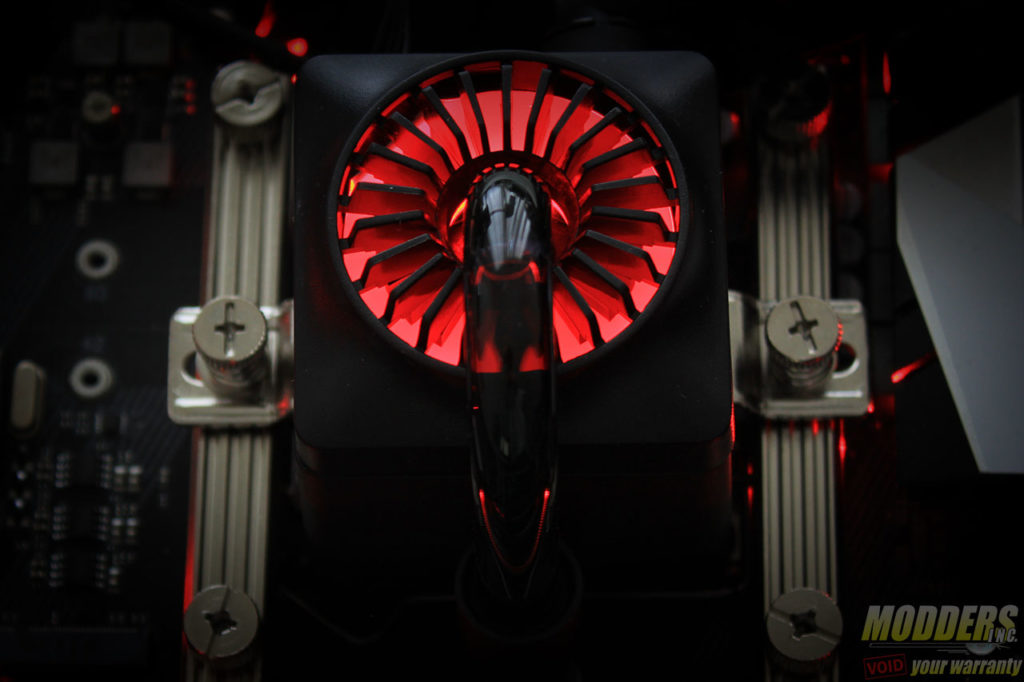 Plugging the fan on the in-line controller provides seven color options which can be set to alternate quickly or in breathing mode. The speed which the LED behaviour changes can be adjusted with the controller as well. Plugging the pump block LED directly on the motherboard header opens up greater customization options.
Radiator
The radiator measures 274mm long and is 27mm thick. It has 22 fins-per-inch and is made of aluminum. 27mm is the typical thickness of aluminum radiators used on all-in-one CPU coolers. Both the in and out tubing is on the same end of the radiator with the fill-port.
Tubing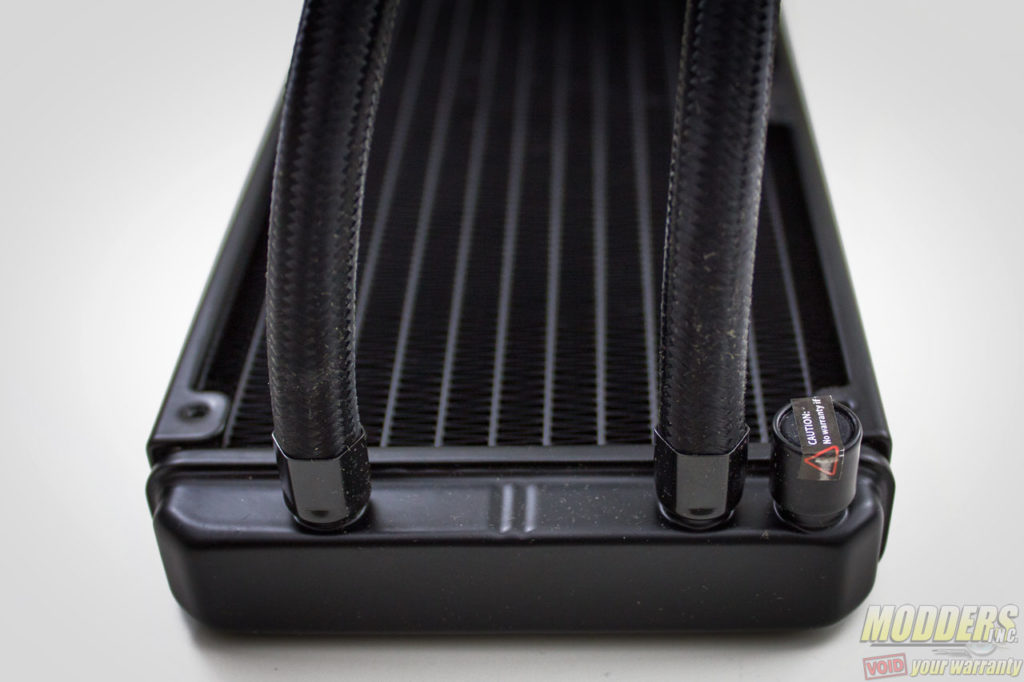 The tubing has been upgraded from the non-EX Captain 240 with corrugated hose. The Captain 240EX RGB has rubber tubing that is sleeved for a cleaner look.
Contact Surface
Underneath, the contact surface is exposed copper with pre-applied thermal paste. This surface is machined flat and is fairly reflective but not thoroughly polished. The actual contact square measures 53 x 53mm which is more than enough for all current desktop CPUs since Intel's LGA2011 has a 38x38mm IHS surface area. The only exception is AMD's Threadripper which requires a special block size.
Bundled Fans
Another upgrade from the non-EX Captain 240 is the use of TF 120 double-bladed fans. These are designed for high-static pressure and are ideal for high-density radiators. Although these do not have RGB LED lighting, it uses fluid-dynamic bearing rotating its nine-blades to produce a lot of airflow.
The blades have an opening on the trailing edge and there are channels along the exhaust side of the frame for reducing noise. The mounting positions are also dampened with silicone inserts to eliminate vibration during operation. These fans are identical spec-wise to the retail Gamerstorm TF 120 fan, operating in PWM mode from 500 to 1800 RPM.