« Page 5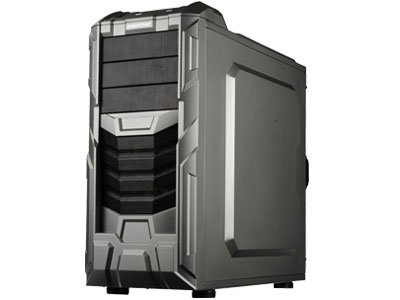 The Coenus is an amazing case for the price point. It's not perfect, but it does many things right. It offers flexibility for future augmentation of the cooling system, both from a huge air cooler stance (by virtue of the raised beveling of the window) as well as liquid cooling possibilities on the chimney top of the case and tube pass thru grommets on the back of the case. Adding into that the mounting options of 120/140/180mm fan diameters is a welcome addition. 
The lack of cable management grommets on the inside to help hide the cabling in the back is a bothersome point for me given that the color of this case is nearly silver, and that will act as a highly reflective backdrop to essentially black cables. To those that plan on actively building their computer for walk by appearance through the tinted window, the lack of cable grommets offers too much contrast against the back panel and will need to be modified in order to address. 
Also, the bottom filter, while implemented externally (thank you!) has been implemented in such a way that the case will have to be turned over in order to reach. It would have been a good thing to have a pull tab so that the bottom filter could have been easily removed and reinserted. 
All edges were finished and rolled, and not fingers were harmed during this review. A professional, tight, mid tower case that has some high end-esque execution, without the high end price. 
[sc:recommended_hardware_award ]