« Intro
|
Page 3 »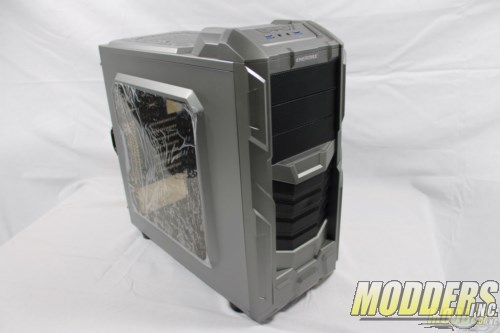 Once removed from the case, you can see the more aggressive styling on the case's plastic front bezel. The side panel is secc steel with an extrusion for mounting the window. Also pictured is the static wrap on said window (no…. it is not cracked!). This window lift serves 2 purposes.
It breaks up the side with an angular design element.
It provides clearance inside the case for taller CPU heatsinks.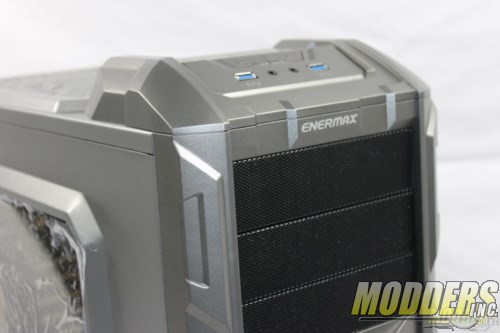 Looking at the above picture it is worth noting the presence of the USB3 connectors, and the front panel outs for the speakers/headphone and microphone jacks. The front 5.25 bay covers are metal mesh for airflow, and backed on the reverse side with air wick-able foam, so that you have dust filters behind each bay cover. Also of note is how well they blended the color of the metal and the plastics. Some companies don't take the time to color match. Enermax has. Discrepancies there can make a case feel cheap, Enermax has good color continuity throughout the build.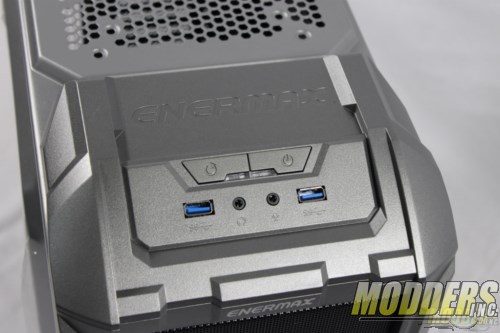 Power and reset buttons are inlay-ed, flush plastic to the top, above the front panel plugs. You will notice small notches below the buttons, those are the Hard Drive activity and power LEDs. Above the power/reset (or behind… depending upon how you approach things), is a flat tray with Enermax imprinted into the plastic.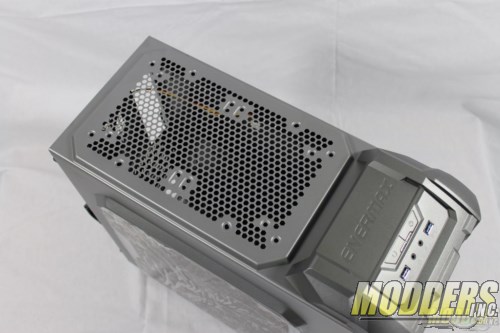 The top of the case, over the motherboard is ripe for additional air cooling fans, or for the mounting of your radiators. If fans are your flavor, the top has holes for dual 120mm or dual 140mm fans, or a single 180mm  fan. Due to the sizing of the case, some "all in one" CPU cooling kits might have to be creatively mounted, or their fans removed and mounted on the outside of the case while the rad is mounted internally. But there is a good amount of flexibility drilled into the top of this case.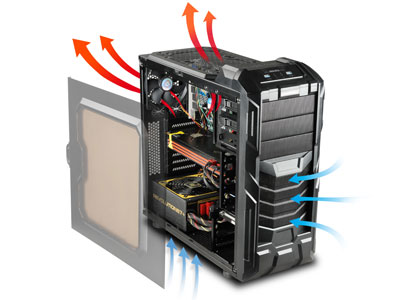 The case uses convection well, by pulling in copious amounts of cool air from the bottom, via the front inlet fans or the bottom inlets, and circulating it through the case and exhausting it out via the top chimney point or the back exhaust fan. The side window is solid, not perforated, so that means no fan. But it also means no dust. So, all inlet points on the case have dust filtering which should lead to longer periods between internal case cleanings.