PC Water Cooling
Enermax LiqFusion 240 RGB: RGB Sync Your Whole World
LiqFusion 240 RGB
« Installation and Clearance Issues
|
Final Thoughts »
Test System and Benchmarks
Test System and Benchmark Results of the Enermax LiqFusion 240 RGB
Ambient temperature monitored at case intake and temperature Delta was used.
All case and heat sink fans were benchmarked with fan control settings disabled and running at 100% unless otherwise specified.
Temperatures are averaged (last minute) from individual core temperature results monitored by AIDA64 after 15 minutes.
FPU load average is used to simulate worst case scenario load levels similar to Intel Burn Test or OCCT, results marked "0″means thermal limit was reached and the CPU was throttled and thus the results were discarded.
Stock settings have all power saving features enabled in the motherboard with Vcore set static to 1.1625V and set to "Balanced" in the OS. Multiplier at 16 at stock speed of 3.2GHz.
Overclocked settings have Vcore voltage automatically set to 1.264V with adjusted multiplier set at 18 to gain overclock at 4.2GHz.
All tests were taken at least three times to get the final result.
TDJ 834 was used for noise level measurement in dBA, 20CM away from the center fan exhaust.
Benchmarks: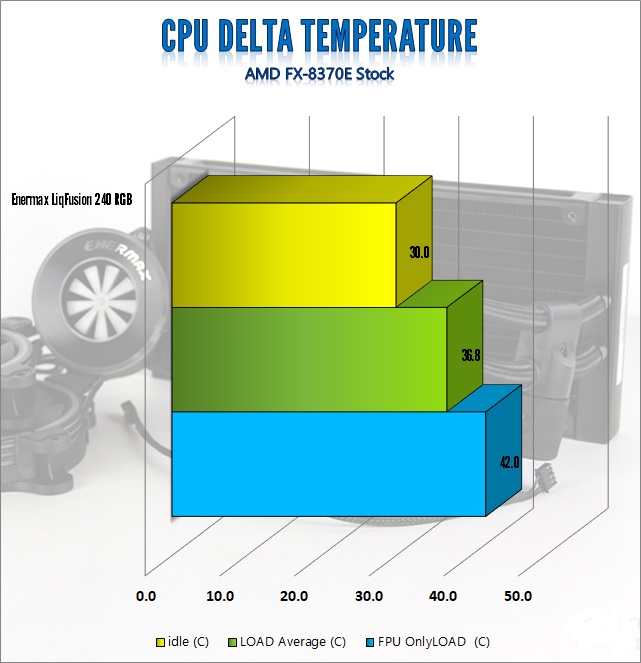 Performance Summary:
LiqFusion 240 RGB has performed well in my benchmarks. In my testing, I used the AMD FX837E instead of the 8320E. Both chips are identical in architecture, however, 8370E is slightly higher clocked. Still performing at the same TDP of 95 watts. This is an eight-core chip so my temperature expectations were a little higher than for 8320E. Never the less the temperatures at stock 3.2GHz were about 36C and being overclocked to 4.2GHz temperatures remained relatively low as well, 42C. The FPU load temperatures on the stock clock were slightly higher than CPU, 42C. And FPU temperatures while overlocked were around 48C. All of the benchmarks were done with fans operating at 100%. I did have a difficult time measuring the sound level coming from the fans. Lowest reading I have recorded was 38.1dBA. This is very close to the Reveen Naia 240 All In One cooler I recently reviewed.