PC Water Cooling
Enermax LiqFusion 240 RGB: RGB Sync Your Whole World
LiqFusion 240 RGB
« Introduction and Specifications
|
Installation and Clearance Issues »
A Closer Look at the Enermax LiqFusion 240 RGB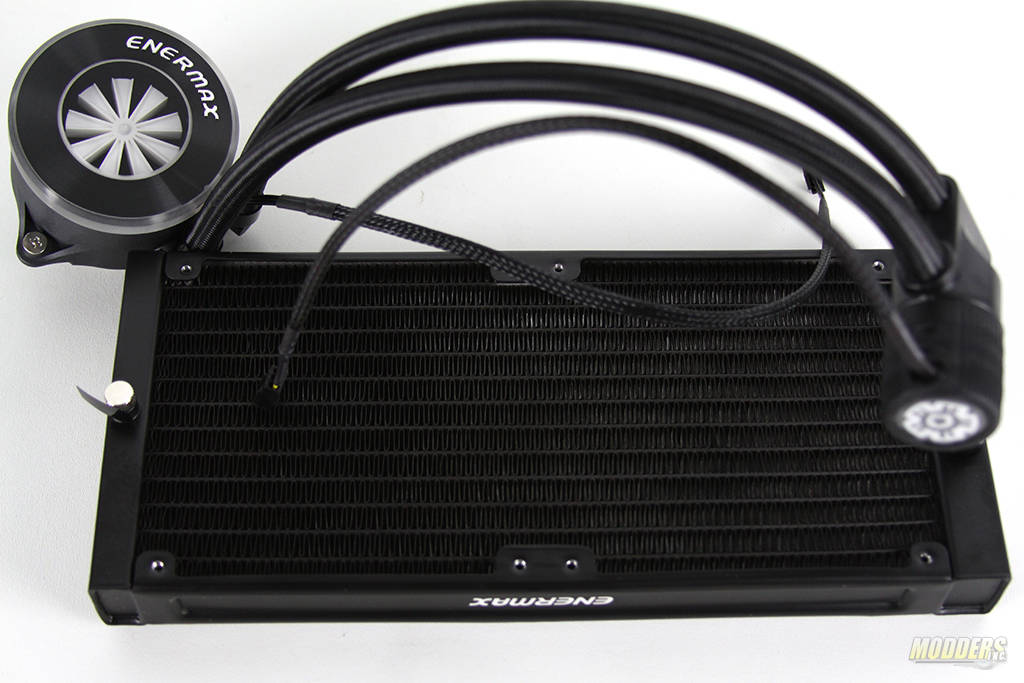 LiqFusion 240 RGB is based on a 240mm radiator. The dimensions of the radiator are 120mm x 272mm x 53mm. If you have very little space to work with this low profile radiator would be a perfect fit. What is interesting about LiqFusion 240 RGB is that it has a ceramic pump that is placed very close to the radiator and is attached to the tubing. It is powered by a 4 pin PWM enabled connector. Most of the pumps we see with AIO systems are located on the water block itself but not in this case.
The tubing of LiqFusion 240 RGB is about 400mm and is consists of rubber hoses and weaved sleeves. Tubes are flexible so you will have no trouble bending and adjusting the positioning. On the opposite side of the radiator is a maintenance thumb screw. When you are planning to flush the radiator, you would use this service port to drain the liquid for it.
Water block itself is mostly made from plastic. It features a large window where you can clearly see the patented flow indicator mechanism. The top layer of the water block is clear so the RGB LEDs could be seen. On the side of the water block, there is a maintenance knob for when you plan to flush the system. The heat sink itself is nickel coated and the surface finish is semi-smooth as machining marks can be seen on the base.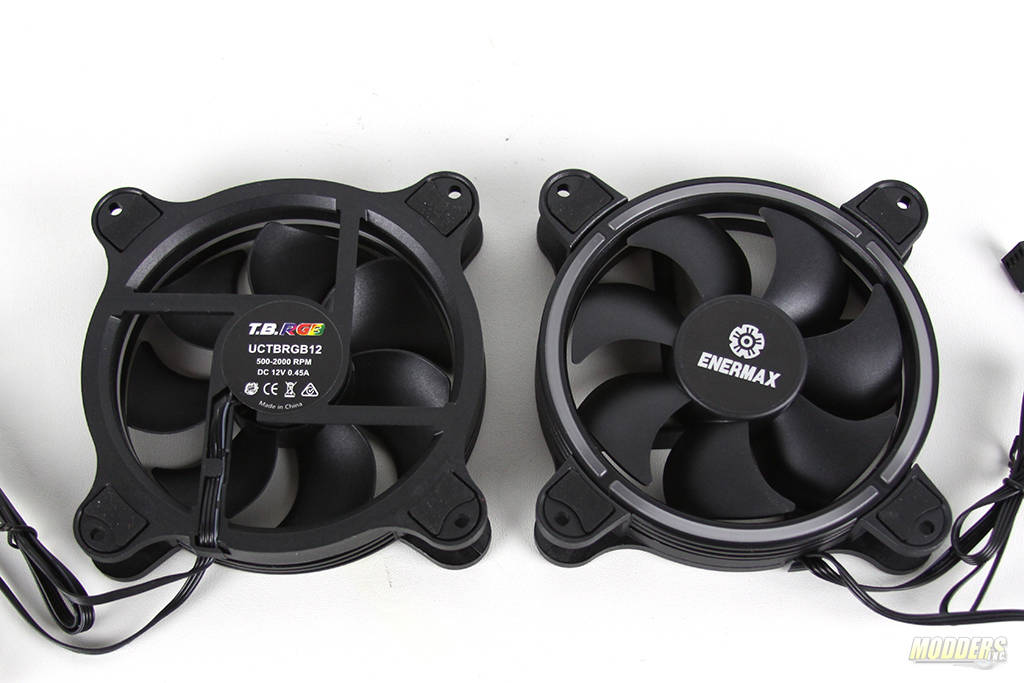 To keep heat away from the radiator Enermax included two UCTBRG12 fans. These fans are PWM capable and just like the water block are RGB. These fans rotate at a maximum speed of 2000 RPM and a minimum of 500 RPM.
Running at lower speeds greatly contributes towards low sound levels. On each corner of the fan there are eight rubber vibration mounts. These tend to keep rattling and vibrations from being noticeable inside of the case. Since these fans are RGB capable there are four clear rings on each of the fans. These rings help to bring out the RGB lighting of LiqFusion 240 RGB's fans.
The controller box comes with a power connector and 3-way cable for the water block and the two fans to connect. The device itself is about 8cm in length so it is easy to hide it in the case. On top of the controller are three buttons M, Up, and, Down. There are 14 presets available to choose from with this controller box. If you have RGB Sync options on your motherboard (currently supported on Gigabyte, MSI, and ASRock) you can connect LiqFusion 240 RGB directly to the motherboard and control it with Sync software that comes with the motherboard. But for those of you who do not have a Sync capable motherboards, this controller box would be most beneficial.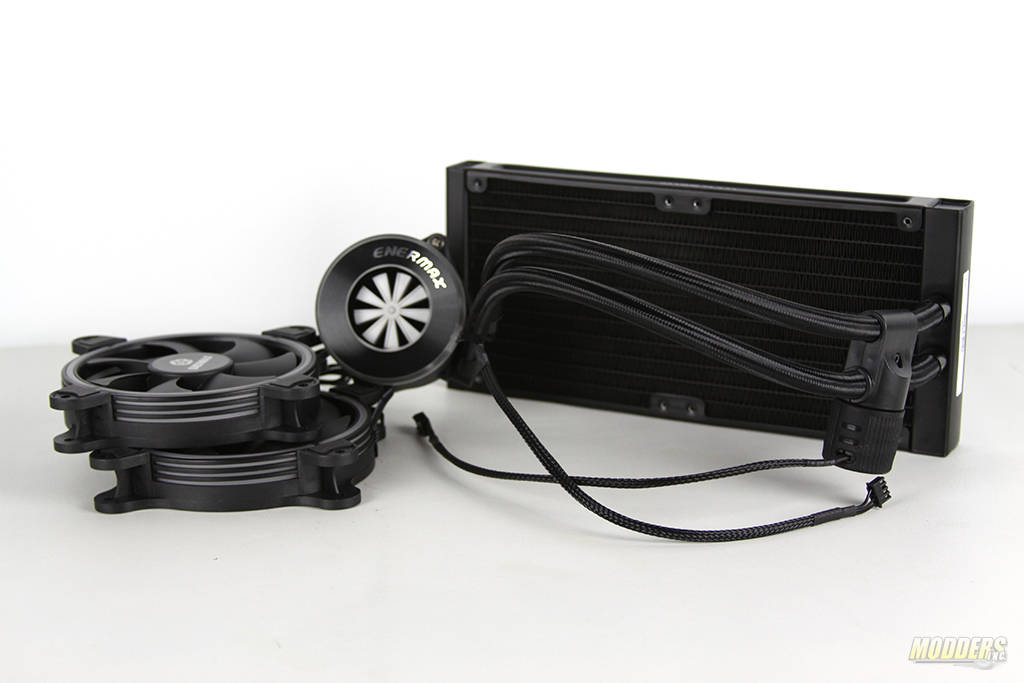 Bundled Fan Specifications:
Bundled Fan Dimensions

120 x 120 x 25 mm
4.9 x 4.9 x 1 inch
Bearing Type

Twister Bearing
Fan Color

Black (RGB Capable)
Fan Speed
500 – 2,000
Max Airflow
23.81 ~ 102.17 CFM
Max Air Pressure
0.673 ~ 6.28 mm-H2O
Acoustical Noise
14 ~ 28 dBA