PC Water Cooling
Enermax LiqFusion 240 RGB: RGB Sync Your Whole World
LiqFusion 240 RGB
« Test System and Benchmarks
Final Thoughts
LiqFusion 240 RGB acts as a dual purpose component. On one hand the cooler provides exceptional cooling at higher temperatures and on the other hand, it provides a great RGB experience for those who looking for some eye candy. The product is well built and has some very cool features such as flow indicator and flexible tubing that make installation a breeze. One aspect of LiqFusion 240 RGB that I have a concern for is the ceramic-based pump which is installed very close to the base of the radiator. The short time I had this AIO cooler I had no issues with the pump or the operation of it, however, I am a little bit skeptical about how long it will last. The pump itself has a mean time before failure of 50k hours, that is roughly 5 and a half years of constant running. Only time will tell how long this pump will last. I am looking to be pleasantly surprised.
What I found great in LiqFusion 240 RGB is the ability to integrate with Sync based motherboards. The latest craze is the Sync functions of the motherboards and being able to sync all of your RGB LED accessories (memory, fans, motherboard, etc.) to the color or pattern scheme you desire. LiqFusion 240 RGB supports ASRock, MSI and Gigabyte type of motherboards with Sync abilities. Don't have a Sync ready motherboard? No problem. You can still use included controller box with 14 random functions to spice up your case.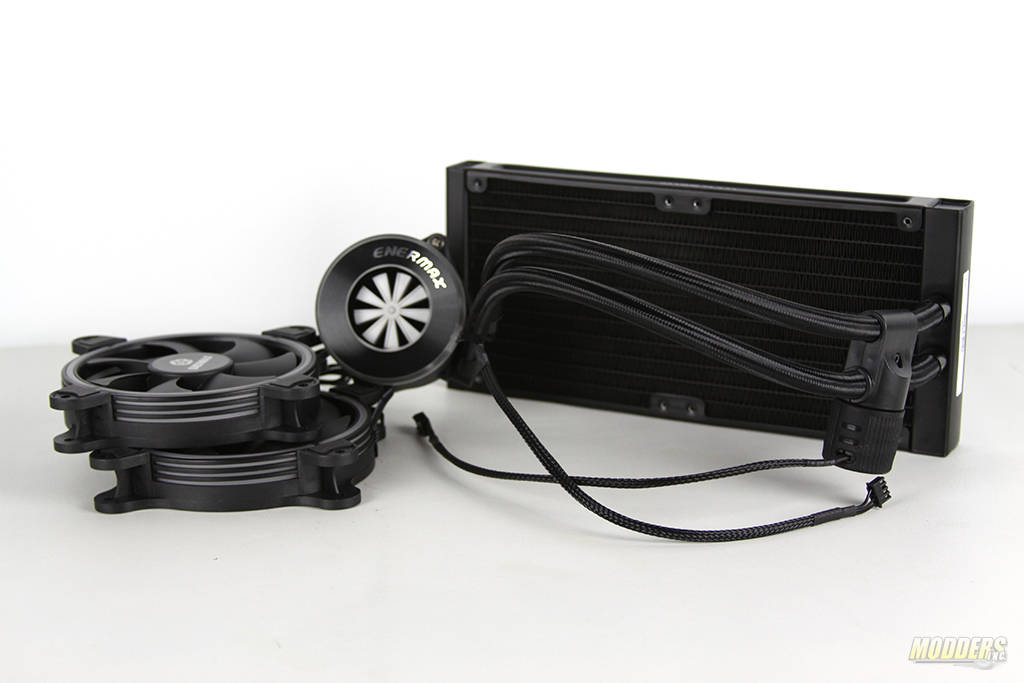 When the time comes to perform basic maintenance on the radiator, you can easily flush it with included access ports on the water block and radiator itself. Enermax provides 100ml of cooling liquid so you really have everything you need to have and keep a healthy All In One cooling system in your case.
Currently LiqFusion 240 RGB retails for $ 119.99 USD.  This is a highly competitive price for AIO cooling system with RGB Sync support. Comparing to other manufacturers of AIO RGB Sync solutions like DeepCool I feel that this price is fair.
Overall I am impressed with the LiqFusion 240 RGB. I like the simplicity of this product and performance results in my testing. If you're looking to move to an AIO from an air cooler or looking to upgrade an older AIO, give the LiqFusion 240 RGB a good look.