« RTX & DLSS Testing
Conclusion and Final Thoughts
Performance
Nivida claimed the RTX 3070 was as fast as the RTX 2080TI. In my benchmarks, I can see where that claim is true. In most cases, the RTX 3070 XC3 matched the RTX 2080 TI in performance. In my opinion, this is fantastic. Typically in a new generation, we see the performance levels bump up to the next level. For example, the xx70 series of a new generation will have the performance of an xx80 series of a previous generation. However, Nvidia took it just a bit further and it matches the previous generation's flagship. A flagship that was launched at $1200 for the founder's edition. Now, that same performance level can be had for $500, or in the case of the EVGA RTX 3070 XC3 Black Gaming edition at $529.
In 1080p, the RTX 3070 was able to pull out over 100 frames per second in most games and a handful of games surpassing 200 FPS. However, CPU bottlenecking still occurred in a few games. Farcry New Dawn and Mechwarrior 5 are the worst offenders and resulted in the RTX 3070 and the RTX 2080 TI matching performance of the RTX 3080.
When the games were benchmarked at 2560×1440 or 2K, the RTX 3070 gets to stretch its legs a bit. At this resolution a lot of games still reached over 144 frames per second and with a little tweaking to the in-game settings, the RTX 3070 would be a sweet 1440 144hz beast. The games that didn't reach 100 FPS still manages to reach over 60 FPS on average and resulted in smooth gameplay.
When tested at 4K, most games averaged around the 60 FPS mark. Some performed lower coming in around the 40 FPS range. Others were still able to achieve over 100 FPS. Still, even while gaming at 40 FPS visual performance wasn't terrible. There was some tearing and studdering at times but overall not bad. Dropping the image quality down a notch or two should allow the RTX 3070 to hit the magical 60 FPS in 4k.
For Raytracing performance, a similar pattern of matching the performance of the RTX 2080 IT is seen. Turning on raytracing causes a performance impact and in some cases, the performance impact can be significant. However, Nvidia's DLSS can regain some of the lost performance and keep the visuals high. Raytracing looks fantastic when it is fully implemented. I remember the first time I fired up Control and was shocked at the reflections in the glass. Single-player games I tend to enable raytracing and DLSS but in games like Call Of Duty or other multiplayer competitive games I turn off Raytracing as I need every frame I can get.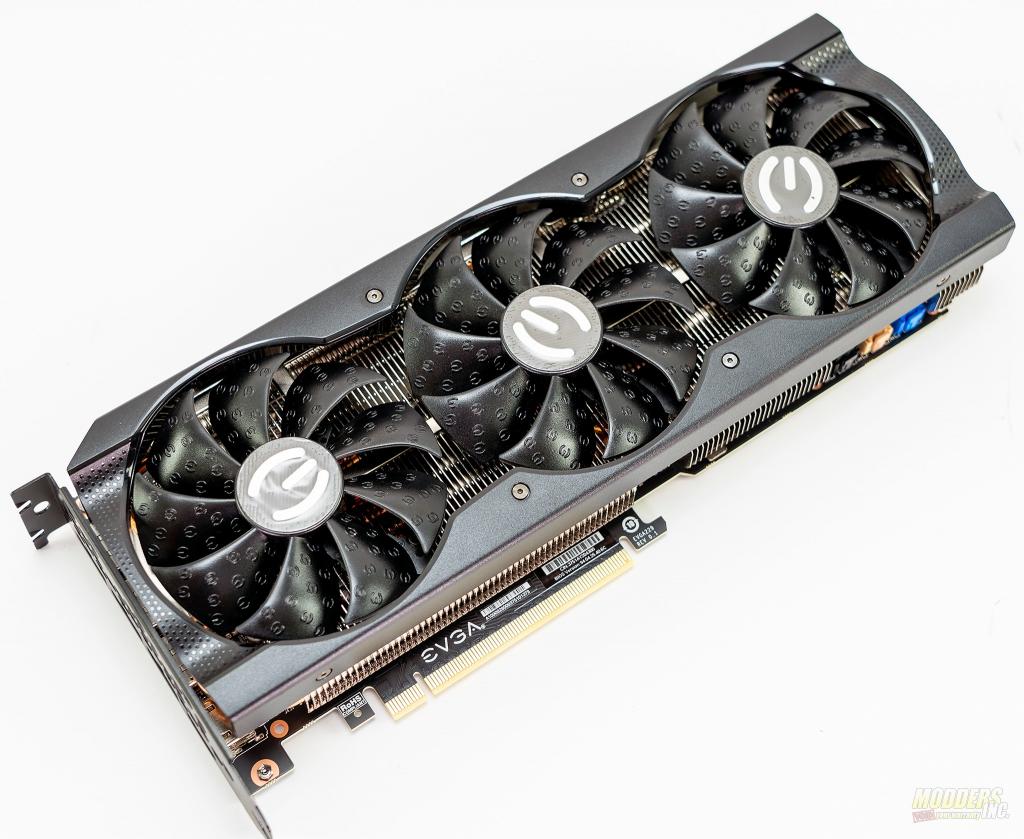 By default, the RTX 3070 XC3 ships with a very slight overclock. Which yielded an 1860 MHz boost clock during stock testing. I was able to easily boost past published specifications when testing. For overclocking, I was able to push the card just a little bit further and was able to settle in on a stable clock of 2080Mhz on the GPU. For stability testing, I ran a 2-hour loop of the Superposition benchmark at 4K settings. Any crashes or artifacts on-screen caused me to bump the clock and memory speed down a bit. Thermals on this GPU are good as well. During stock testing at 1860 MHz boost clocks, I averaged a temperature of 63°C. Overclocked, the temp jumped up a little bit to 67°C. I didn't mess with the fan curves at all during this review as temperatures weren't an issue. The RTX 3070 XC3 was nearly practically on the Dimastech test bench. Sitting just a few feet away during benchmark runs, I never noticed the fans spinning up when temperatures crept up over 55°C and didn't hear the card at all as testing progressed.
I've long been a fan of the xx70 series cards from Nvidia because they've always met my needs when I needed a new GPU. For me and until I got into high resolution gaming, those cards pushed 1080p well enough for me to enjoy my gaming sessions at high image quality and I felt the price to performance ratio was justified. As resolutions pushing past 1080p are becoming more common, the RTX 3070 can accommodate.  I really like that this GPU doesn't have a ton of lighting. There are times where I do like the lighting. The EVGA logo is the only part of the GPU that is lit. The card has an overall subdued appearance. It seems in this case, the EVGA RTX 3070 XC3 doesn't want to be seen or heard and that's not a bad thing. The EVGA RTX 3070 XC3 Black Gaming edition is a great performer for the lower end of the $500 range.