Motherboard Reviews
EVGA X99 Classified Motherboard Review Featuring Kingston Hyper-X Fury DDR4 2400MHz
« Introduction
|
Under The Hood »
A closer look at the EVGA X99 Classified Motherboard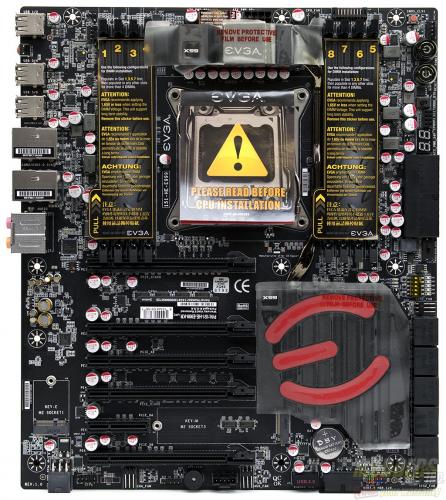 EVGA has done quite a bit to help users help themselves. Stuck on to the memory slots is a sticker (easily removed) that clearly states which slots to populate first and what the maximum voltage should be to ensure long life of the DIMMs. Attached to the socket protector is more instructions on how to install the LGA 2011-3 CPU.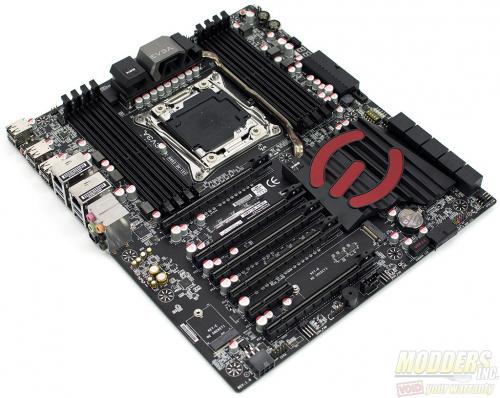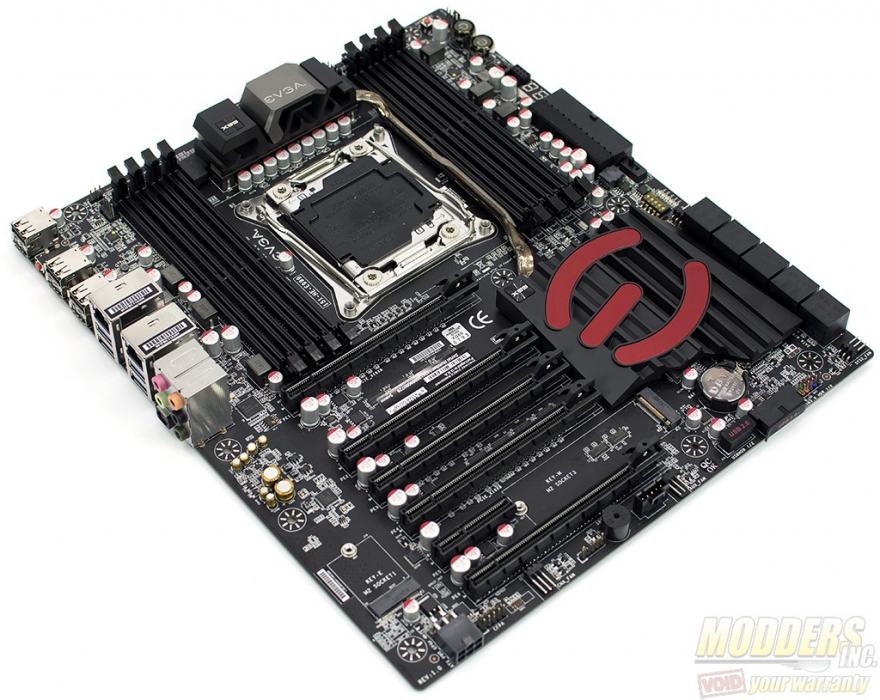 EVGA's layout is nice and open. Most of the connectors are angled at the boards edge at 90°. This makes for a much cleaner install in the case and causes less interference when installing multiple GPUs in the X99 Classified. The EVGA x99 Classified motherboard is an Extended ATX (EATX) motherboard which means that it is roughly an inch wider than a standard ATX motherboard (12 x 10.3″ vs 12 x 9.6″). The motherboard is mainly blacked out except for EVGA's trademark E on the PCH heatsink. The area around the CPU is uncluttered and should allow for large air coolers without much of a fuss. I don't seen an issue with waterblocks here either.
This motherboard is all about delivering power to the components. Up top, there are two 8-pin CPU power connectors that are capable of delivering up to 600 watts of juice to the power hungry i7 extreme series of CPUs. Along the lower left edge of the motherboard is an additional 6-pin PCI-E power connectors to deliver more power to the PCI-E slots when using a multi-GPU setup such as SLI or CrossFire. The 24-pin ATX power connector is turned 90° from what is standard on most other motherboards.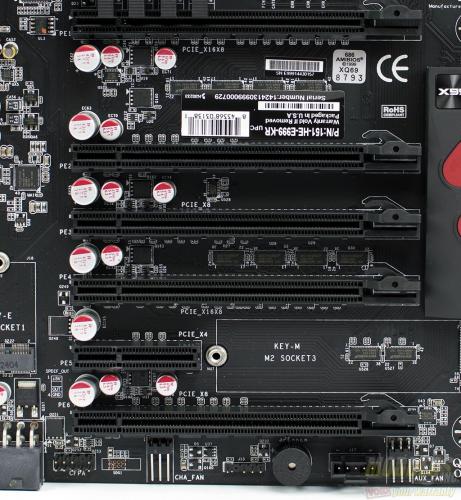 Physically there are five 16x PCIe slots and one 4x PCIe slot. Since the i7-5820K has only 28 PCIe lanes available, not all of the PCIe slots can be used. Sandwiched in between the 4th and 6th slots is the M.2 Socket "M". This socket is used for M.2 SSDs whereas the M.2 socket "E" on the left side of the board is used for other PCIe cards such as a wireless card.
PCIe Slot Breakdown
40 Lane Processor
28 Lane Processor
Slot 1
16x (x8 if slot 2 is used)
16x (8x if slot 2 is used)
Slot 2
8x
8x
Slot 3
8x
Not available with a 28 lane CPU
Slot 4
16x (8x if slot 3 is used)
8x
Slot 5
4x (gen 2, pulled from PCH)
4x (gen 2, pulled from PCH)
Slot 6
8x
4x

Ten SATA 3G/6G ports are available and are native to the X99 chipset. No 3rd party controllers here.  Only six of those ports are supported in any RAID arrays. The other four are available in an AHCI configuration only.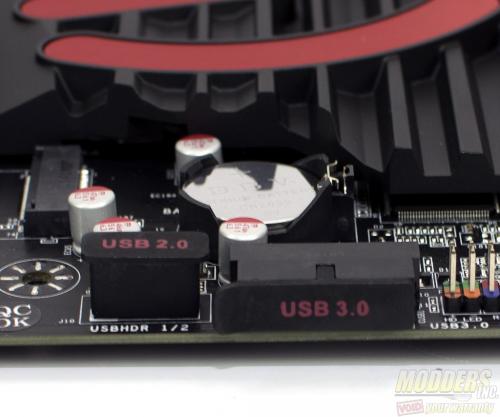 A single USB 2.0 & USB 3.0 header are located at the bottom edge of the motherboard. Both ports allow for an additional two ports each for the respective USB header.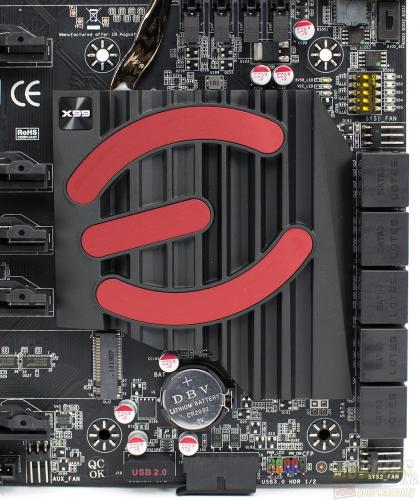 The PCH is passively cooled via a large heatsink that is connected to the VRM heatsink via a single heatpipe.

The back panel I/O contains six USB 2.0 ports, four USB 3.0 ports, dual RJ45 10/100/1000 network ports, and support for 5.1 audio with optical out.