« Page 3
|
Page 5 »
Hardware Installation
The Define XL R2 has great options for cable management with rubber grommets, tie down points, and 26mm of routing space behind the motherboard.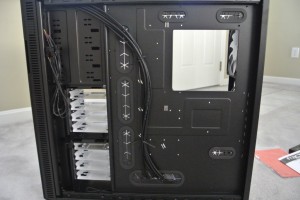 Fractal Design includes a good amount of screws, washers, and zip ties allowing you to do any sized setup. With 9 PCI slots, you can install any sized motherboard. Anywhere from ITX all the way to E-ATX. In the accessories box you will find:
4 PCS PSU Screw
11 PCS M/B Standoff
11 PCS M/B Screw
32 PCS SSD Screw
16 PCS for ODD Thumb Screw
12 PCS Rubber Spacer
32 PCS Anti-vibration HDD Screw
6PCS Cable Tie
They also include a motherboard standoff tool so you can screw in all of the standoffs by hand without effort. One thing that I don't understand; why don't they include fan screws?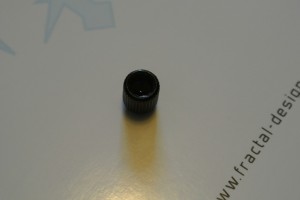 The HDD trays are extremely sturdy and well build. They have pre-installed rubber washers for anti-vibration so you won't hear an annoying buzz every time your HDD reads or writes and Fractal Design also includes anti-vibration screws to reduce HDD vibration noise even more.
The PSU mount sports a foam border to prevent scratching or pressure markets when it is screwed in. There are also tall rubber standoffs to allow the PSU to have a lot of breathing room below it as well as on top of it. This was a very good idea and one that I haven't really seen in other cases. Especially one in this price range.
When the motherboard is installed you will find that there are two rubber grommets above the motherboard to route your CPU cables, three rubber grommets to the right of the motherboard to route your 24 pin M/B and PCI-E cables, and two rubber grommets below the motherboard. One to route your USB and misc. cables through, and one big grommet right near the PSU to route all of the cables from the PSU to the back of the motherboard tray. This case makes difficult cable management a thing of the past and I couldn't ask for anymore grommets. They accommodated them perfectly throughout the case. Cable management will be a breeze!!